Supercharge your Fourth of July weekend-to-weekend at an all-LGBT resort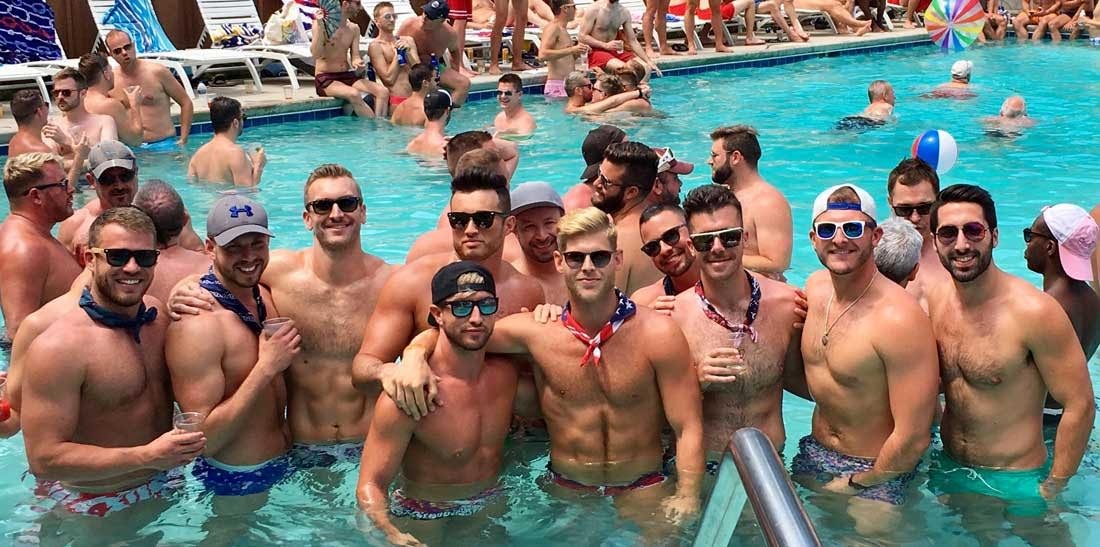 photo credit // dunes resort
The Fourth of July falls smack within the middle of the week this year, making it the perfect time to plan a weekend-to-weekend getaway to an all-LGBT resort just a couple hours away from Chicago.
A favorite vacation hot spot,
The Dunes Resort
is pulling out all the stops for an incredible ten days of summer with non-stop parties and events.
"We'll kick off the 4th of July weekend on Friday, June 29th," says Mike Jones, co-owner of the Dunes Resort.
"On Saturday we have Hector Fonseca. Sunday is the first Tea Dance of the holiday and DJ Grind will be here. We're always excited to see him again."
"Every day of the week we have a pool party. On Wednesday we have our 4th of July Tea Dance with
Ralphi Rosario
. Then on Thursday night we have Chicago DJ Cindel, and then on Friday, we have Porn at the Pool, which is something that we started with Chi Chi La Rue about twelve years ago. This year, we'll have Falcon stars with Roland Belmares spinning."
"Saturday night we have DJ Paulo; and Sunday, to end the weekend, we have Barry Harris."
The impressive line-up includes cabaret favorites
Amy Armstrong and Freddy Allen
, who have been performing together for 23 years and will also be performing that weekend.
Owners Mike Jones, Danny Esterline and Greg Trzybinski, who purchased the Douglas Resort almost two decades ago, have created an inviting family atmosphere that beckons visitors to come to the resort and the surrounding Saugatuck-Douglas lakefront area year after year.
"We're just an element of what makes the community amazing," Jones says. "We have a beautiful beach and great restaurants. And on Friday nights, the Ox-Bow, the summer art school for the Chicago Art Institute, it's always led us to have an artsy, gay-friendly area. They have an open house to go and view and meet the young artists for the summer, and that starts this Friday."
"The Center for the Arts starts its first production next week and it's a professional theater, and it's in our own little town. Their first show of the year is
Mamma Mia!
"
In addition to the Fourth of July weekends, the Dunes has some amazing events planned for the rest of the summer.
"For what we do, the pool is always the hot spot for us. We have themed weekends every week, and there's always a different theme behind what we're planning. That gives people an excuse to be a little crazy in what they do and what they wear. Right now Christmas in July is the weekend of July 21st, and people come year after year after year. There's a group of them that plan the theme, and this year's theme is "Hard Candy Christmas." They'll decorate all of their hotel rooms, they'll decorate the outside, the inside, and we'll will put up Christmas trees. And they have this huge Christmas parade with insane outfits and that's on Sunday during Tea."
"Then we have a Venetian weekend. We have Porn weekend that we partner with a studio and bring some porn stars here. We have a Mardi Gras weekend. We have a White Party weekend that partners with an LGBT organization to raise money and gives it away in the name of the LGBT community."
"We have a big Labor Day with Dan Slater and Alex Acosta. We're busy in the Fall and it's beautiful with the changing of the colors. We have a big antique car show one weekend. We partner with
Grab Magazine
another weekend [Columbus Day weekend]. We have a transgender weekend. We have a bear weekend."
"Halloween is one of the busiest weekends in all of Saugatuck-Douglas. Douglas has an adult parade and we're the official after party for the parade. It's literally as busy as any Saturday in July. It's something that people come and say, "I'm coming to Halloween every year." It's insane."
If you've never been to the Dunes Resort - or haven't visited in a few years - it's well worth taking a weekend to check out the resort this summer.
"We try really hard to continue to invest in the property so that when people have missed a season, or even if they come every year, something is noticeable. Whether it's the new pool cabanas, the new façade on the building, a new Tea Dance deck, a new Cane Building or room renovations, our goal is to keep our customers surprised," says Jones.
"We have customers who save all year and this is their one vacation. That means something to us," Jones added. "In everything we do, we try to remember that."
"We take a lot of pride in this place, and we take a lot of pride in being welcoming to everybody, including straight people. There are so many gays from small towns, gays and lesbians, transgenders that don't have the opportunity to express themselves at home or can't express themselves at work and we try to give them a venue where they can. They can be exactly who they want to be and no one will judge them."
"I think that's what the legacy of the Dunes will always be - an opportunity for people to come and just be who they are."
To start planning your summer weekends and for more information about the Dunes Resort and all of their upcoming events, visit the Dunes Resort
website
and follow the Dunes Resort on
Facebook
or @dunesresort on
Twitter
.