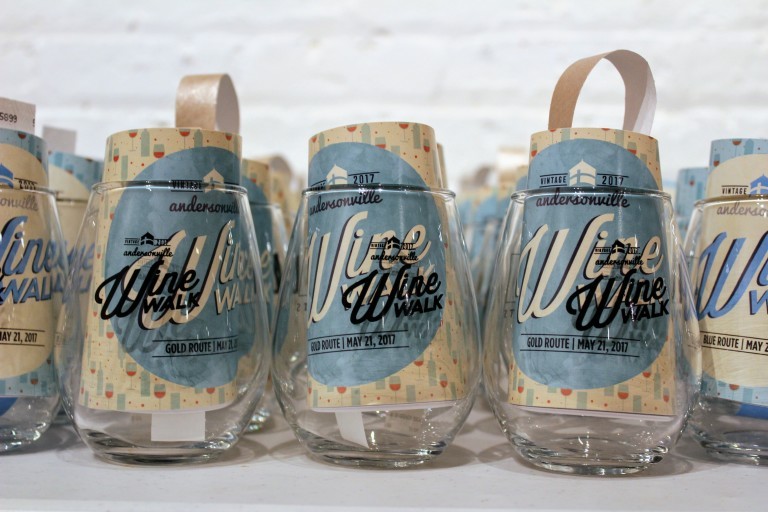 andersonville wine walk, sunday may 20
photo credit // andersonville chamber of commerce
Chicago, IL - In its 12th year, the Andersonville Wine Walk will once again invite guests to walk, sip, and shop their way through the commercial district on Sunday, May 20 from 3-6PM, but this year, the event is undergoing a growth spurt. Instead of the two routes of years past, the
Andersonville Chamber of Commerce
(ACC) has expanded the offerings this year to include a third route of tasting destinations for visitors.
"It is an exciting time in Andersonville, with many new businesses opening," says Laura Austin, ACC Community and Events Manager. "We are so fortunate to be able to welcome ten new businesses into this event, eight of which opened in 2017-18 season."
The event will feature 30 of Andersonville's businesses (10 per route) including event newcomers: Chicago Magic Lounge, Strange Cargo Tees, Foyer Shop, Lakeshore Dental Studio, Chicago Mindful Psychotherapy, Hutch American Kitchen + Bar, Transit Tees, Transistor, Clark Haus, and Cowboys and Astronauts.
Local wine shop and event sponsor, In Fine Spirts, curates the majority of the wine for the event, with expert wine educators staffing the pouring tables at each location. The Guesthouse Hotel will also participate again this year, but with their own curation of wines, as the hotel is able to sell their own bottles with a newly obtained liquor license.
"We always look forward to this event because we get the opportunity to meet and thank so many of our neighbors that have contributed to the success of the hotel," says Rick Verkler, General Manager of The Guesthouse Hotel. "We also have the chance to introduce our property to a whole new audience that may have never discovered us unless coming on the wine walk. We'll be pouring some fantastic wines from boutique wineries located in both the US and France, including a really special rosa just in time for summer."
Tickets $35 - $40 benefit the Andersonville Chamber of Commerce and are
available online
.
A full list of this year's participating host destinations include:Cellar Route:
Andersonville Antiques | 5245 N Clark
Athletico South | 5033 N Clark
Candyality | 5225 N Clark
Chicago Magic Lounge | 5050 N Clark
Clark Haus | 5059 N Clark
Andersonville Chamber of Commerce 5217 N. Clark St. #3 | Chicago, IL 60640
Foyer Shop | 1480 W Berwyn
Hutch American Kitchen + Bar | 1477 W Winnemac
Re: chiropractic + wellness | 5347 N Clark #2
The Guesthouse Hotel | 4872 N Clark
Transistor | 5224 N Clark
Cork Route:
Andersonville Galleria | 5247 N C
Lark Chicago
Mindful Psychotherapy | 5537 N Clark
Early to Bed
| 5044 N
Clark Foursided | 5061 N Clark
Jameson Loves Danger | 5208 N Clark
Milk Handmade | 5137 N Clark
Norcross and Scott | 1476 W Berwyn
Transit Tees | 5226 N Clark
TrueNorth Cafe | 5507 N Clark
Pastoral: Artisan Cheese, Bread and Wine | 5212 N Clark
Bottle Route:
Athletico North | 5545 N Clark
City Olive | 5644 N Clark
Cowboys and Astronauts | 1478 W Summerdale
Jerry's Sandwiches | 5419 N Clark
Lakeshore Dental Studio | 5505 N Clark
Mercantile M | 5409 . N Clark
Murray & White | 5416 N Clark
Orange Shoe Personal Fitness | 5609 N Clark
Strange Cargo Tees | 5612 N Clark
Women & Children First | 5233 N Clark
*Wine Walk Routes are subject to change
The Andersonville Wine Walk is ONLY for persons 21 years of age or older. All attendees must present proof of age, and all attendees must check in individually with valid photo ID in exchange for a wristband.
Tickets to Andersonville Wine Walk include admission, wine tastings, and a one of a kind commemorative wine glass. Check in for the Wine Walk will begin at 1PM on Sunday, May 20. To purchase tickets or for more information, visit
andersonville.org
. Proceeds support the ongoing programming of the Andersonville Chamber of Commerce.
In Fine Spirts works with the following distributors to curate the wine walk selections: Blue Crane, Bodin Street, Breakthru Beverage, Burke Bev, Candid, Compass, Conn, Cream, Glunz Wines, H2vino, Haus, Heritage, Lagniappe, Martine Wines, Maverick, Original Wine Co, Pure. Sabaca, SWS, Vinejoy, Vino et Spiritus, Winc, and Winebow.
The Andersonville Chamber of Commerce fosters a vibrant environment in which Andersonville businesses can thrive by attracting a diverse customer base; providing business support services and advocacy; and engaging in business attraction, long range planning, and economic development.