More than 250 participate in annual Santa Speedo Run, generating $70,000 for charity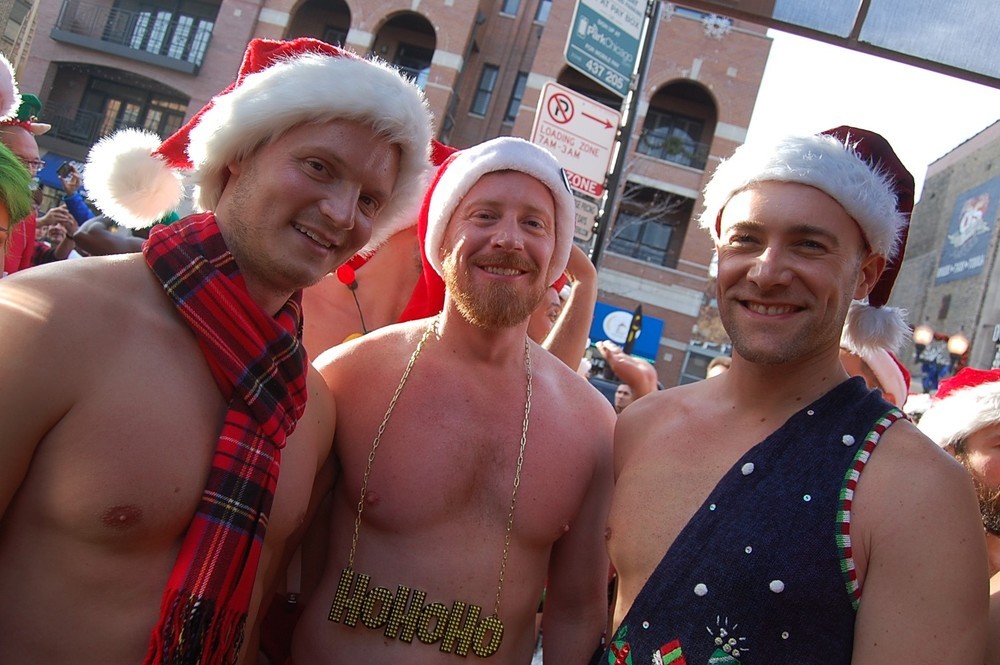 santa speedo run in boystown
photo credit // anthony meade
800 in attendance as more than 250 runners participate in Santa Speedo Run, raising funds for Center on Halsted
Chicago, IL - The 7th annual Santa Speedo Run – a colorful, creative and certainly eye-catching one-mile run through Chicago's Boystown neighborhood, starting and ending on Saturday morning, Dec. 2, at
Sidetrack
– raised more than $70,000 for the
Center on Halsted
.
"The Boystown Santa Speedo Run puts me in the Holiday Spirit," said Brad Balof, Sidetrack General Manager. "This is one of Sidetrack's favorite events each year."
Related:
Photos from Santa Speedo Run 2017
David B. Roberts was the top fund-raiser, generating $8,510 and marking the fourth time he has claimed the No. 1 fundraiser title – and he's only participated in the event four times.
Last year he raised about $7,600.
"I just throw myself into it and try to be the best fund-raiser I can be. I was not expecting to break records this year because I know people's wallets are stretched thin between the hurricanes and the (upcoming) holidays, so I was overwhelmed by the generosity of my friends and co-workers," said Roberts, 46, who lives in Rogers Park and, for the past 16 years, has worked as a legal secretary at Chapman and Cutler.
Roberts was born and raised in Chicago. He grew up in Albany Park, moved to Lincoln Park at age 15.
Roberts is known for wearing holiday-themed pasties every year in the run. It started as a joke and has developed into his thing. "The first year it was red sequins with white fur trim, then a wrapped present, last year was snowflakes and this year a festive red bow," he said. "I am quite hairy, so I have learned over the years that ... it is not fun getting them off."
Roberts said his annual fundraising has been aided by a "very supportive and inclusive" company.
"I typically promise them that they do not have to see my speedo pics and that is all it takes," to assist his fundraising, he said, laughing. "On Facebook, I post every day asking for sponsors and everyone who sponsors me gets a personalized shout-out. I don't believe in doing a mass thank-you, but instead give a unique individual touch."
Roberts was sick on the Saturday morning run, with a nasty cold, "but I still participated and was amazed at the turnout this year." He said his highlight this year was the energy of the crowd. Plus, event host Debbie Fox looked amazing, he said.
"Each year the crowds seem to get bigger," Roberts said. "It is always fun to see what outfits people are going to have on, though I like to joke to people that it is the speedo run and not the super cute box-cut short run. Bring out the Speedos, boys!!"
Roberts ran in 2013, 2015, 2016 and 2017, missing the 2014 event as he was, instead, on the RuPaul Drag Cruise.
Roberts said the best part of the jolly run is, "seeing the community come together to raise money for the Center on Halsted, which does so much great work for the community."
Roberts added that event organizers Jeffrey Colgan and Karl Sponholtz, "do such a great job keeping the energy up and growing it each year."
A Little More About David B. RobertsFavorite Chicago Bar:
Sidetrack
Drinks of Choice:
A madras, which is a mix of vodka, cranberry and orange juices. At Sidetrack, he opts for a kurant/cherry slushie.
Favorite Chicago Restaurant:
Calo's
Favorite Holiday:
"My birthday because for once I am justified in saying that the day is all about me. Otherwise I love Halloween."
One Celebrity He'd Like To Meet:
Ben Affleck, "so my years of lusting after him can come to fruition. My friends make fun of me because I randomly run into celebs at the weirdest places. I ran into Susan Lucci at the Wynn in Vegas and I almost fainted."
Dream Vacation Destination:
London, Provincetown or Puerto Vallarta.
Preferred Pizza Ingredients:
"I am cheese-only. I am the world's pickiest eater, but a great night to me is cheese pizza and mozzarella sticks."
(Complete this sentence): I'm Better Than Most ... "At being quick with a one-liner or a witty response."
(Complete this sentence): Even Close Friends Will Be Surprised To Learn ...
"probably nothing. I am a master of TMI, so my friends probably wish they knew less about me."
Boxers or Briefs:
Boxer-briefs. "My dog, Fairchild, sleeps with me and likes to sleep between my legs so I have to wear something to keep him from getting at my bits."
Personally-Speaking:
"I am single, (with) a 12-year-old pug named Fairchild. Dates are welcome."
Make-A-Wish Foundation:
He annually participates in the Slay-A-Thon, in which a group of friends watch Buffy the Vampire Slayer from noon to midnight, and people sponsor them to do so. He has been doing it for 13 years, benefitting the Make-A-Wish Foundation.
On Charity:
"I participate in various LGBT fundraising events, such as the AIDS Run/Walk and (late-June) Proud To Run (race). This year for the AIDS Run my friend Matt Leyes organized a cheerleading squad where we dressed in drag and cheered on the runners as Judy Rosenblatt and her sisters. That was a lot of fun."
LGBT Activism:
"I am an activist for lifting the ban on gay men being able to donate blood. I am very vocal about this open form of discrimination and speak out about it to try to get this archaic rule overturned. A lot of my straight friends are unaware of this rule and I am more than happy to speak to them about it, explaining how wrong it is."