Sidetrack bartender Calvin Drent to compete in the Stoli Key West Cocktail Classic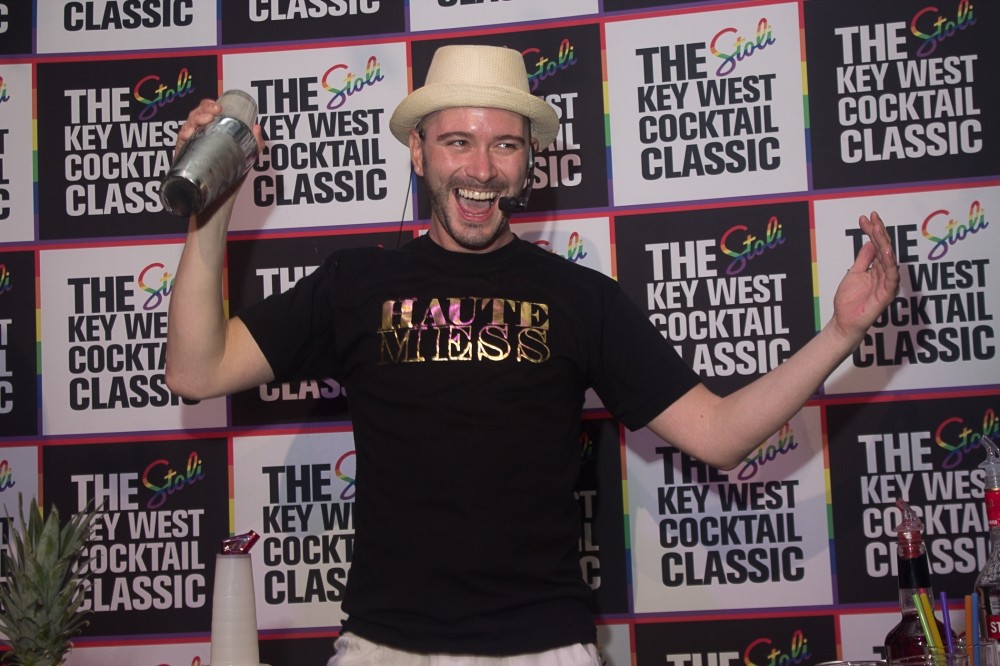 calvin drent to compete in the stoli key west cocktail class
photo credit // sidetrack
Fourth-annual event challenges 17 national LGBT bartenders
Chicago, IL - Calvin Drent is taking is shaker on the road, as he now heads south for the final rounds of the Stoli Key West Cocktail Classic, believed to be North America's largest annual LGBT bartender competition.
Drent, 33, who lives in Rogers Park, is one of 17 regional bartending champions heading to Florida for the fourth-annual event, which runs June 7-11, and is presented in partnership with the Key West Business Guild and is a highlight of Key West Pride.
The contest features regional winners from LGBT bars in 17 North American cities, all competing to create an original Key West cocktail that reflects the island's creativity and spirit.
Drent is the night manager and a bartender at
Sidetrack
in Chicago's Boystown neighborhood. He has worked at Sidetrack for five years after moving to Chicago from his native Grand Rapids, Mich.
The first-prize mixologist is named honorary grand marshal of the 2017 Pride Parade and receives $12,500 for charity — $5,000 for a Key West charity and $7,500 for the winner's hometown charity of choice.
Events in Key West kick off with a Pride gala where cocktail fans can meet the Stoli contestants and judges. The event starts at 5 p.m., on Wednesday, June 7, at Key West's acclaimed Island House.
"I love the social aspect of bartending. I get to meet and chat with people from all over the world, (and) the people that you get to work with always become like a second family," said Drent, who has been bartending since 2004.
Drent claimed the Chicago crown on April 26, edging out five other area bartenders. The finalists were Chuck Hart (
Kit Kat Lounge & Supper Club
), Jonathan Lumley (Hydrate/Elixir), Vlad Novikov (
Elixir Andersonville
), Adrian Reyes (The Closet), and Lucy Stoole (Berlin).
In the Chicago finals, held at Sidetrack, Drent created the "Key West Crush," which is "a strong drink that I would drink on vacation," he said. "It (includes) Stoli, Stoli Crushed Pineapple, rhubarb bitters, sour mix, ginger beer and a dash of grenadine."
Drent said he was "shocked" to win.
"Everyone did a great job and brought their A-game," he said. "I can't wait to represent Chicago and hopefully take home the trophy."
The finals in Key West will be held on Saturday, June 10. Stoli USA's national LGBT ambassador Patrik Gallineaux will host, accompanied by "Real Housewives of Dallas" star LeeAnne Locken.
A panel of celebrity judges will rate Drent and the dueling bartenders. Judges include singer/actress and former "American Idol" finalist LaToya London and renowned Key West female impersonator Sushi.
Hit recording artist Kym Sims is scheduled to perform.
"Sidetrack is proud of Calvin for winning the Chicago Stoli Key West Cocktail Challenge (and) we wish him luck at the international finals in Key West," said Sidetrack general manager Brad Balof. "All of the (local) contestants were amazing and this was the most competitive year for this event. Stoli has been a strong partner of the LGBTQ community, both in Chicago and nationally. As an ongoing sponsor of The Legacy Project in Chicago, Stoli has shown a deep commitment to our community."
There will be fan favorite voting online prior to the contest in Key West. Please go to
https://gopride.com/Zd93
through June 4 to vote daily for Drent. The top 5 fan favorites get a chance to compete for extra prizes.
At The Bar With Calvin Drent:Personal Drink-of-Choice At A Bar:
"I'm usually a beer guy, but I also drink Stoli vodka and Red Bull."
Favorite Chicago Restaurant:
Chilam Balam
Favorite TV shows:
Scandal, Frankie and Grace, and Game of Thrones
Musically Speaking:
"I love all kinds of music, (though am) partial to '90s (to) early '00s pop."
Favorite Show-tune Played At Sidetrack:
"Anything Spring Awakening, Rent or Hedwig."
(Complete the sentence): Many Will Be Surprised To Know That I ...
"Went to school for audio recording and in the past have had the pleasure of working live concerts for many famous artists."