Olympic Medalist Kelsey Serwa to lead Peak Pride Parade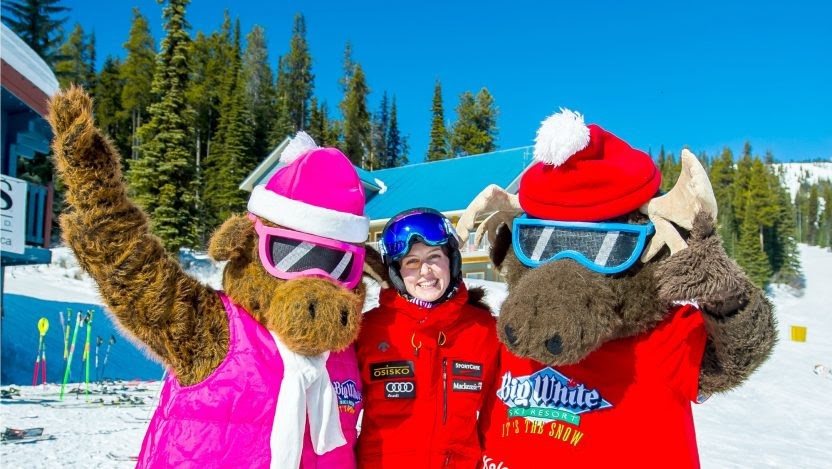 kelsey serwa at big white ski resort w/ lucy & loose moose
photo credit // bigwhite.com
Kelowna, BC, Canada - Kelsey Serwa, Olympic silver medalist, reigning FIS World Champion and Winter X Games champion, will be leading the Big White Ski Resort and Peak Pride parade as grand marshal on Saturday April 8.
Peak Pride's parade is definitely unique - it's a ski parade.
The parade is one of the events in the line-up for Peak Pride, Canada's newest LGBT2Q+ winter destination event. Visitors to the area can expect a full calendar of social gatherings during the three-day event, from slope-side après ski parties to high-voltage nightlife and the family-friendly, colourful pride parade.
Serwa is a world-class athlete who began her skiing career on the slopes of Big White at the age of two. Her grandfather Cliff Serwa, along with his partner Doug Mervyn, were the first to discover the trees outside Kelowna and open Big White mountain in 1963. With such a rich history and strong connection to the mountain, Kelsey continues to support Big White, never forgetting the community from which she got her roots.
"I volunteered as the grand marshal for the Peak Pride Parade because I am really happy to support our LGBT2Q+ community," says Serwa. "I'm a strong believer in following your heart! Love does not need be restricted by gender, race or sexual identity."
With family friendly festivities beginning in the Big White Ski Resort (bigwhite.com) village at 11:00am on Saturday, guests are invited to come out and participate in the colourful spectacle. Live music by Superstar Festival DJ D3viant and Calgary's Entertainer of the year, Visa DeKline, will keep the party going.
"Leading the Peak Pride parade and participating in some of the fun events that will be featured around Big White Ski Resort next weekend is a great honor and will be loads of fun!" Serwa adds.
"The one thing I've learned over my 30 years in the Okanagan Valley is that the world wants to play in this beautiful part of Super Natural British Columbia," says Michael J. Ballingall, Senior Vice President of Big White Ski Resort. "We are over the moon with excitement that our local LGBT2Q+ are inviting their friends and family from all over to celebrate spring with the pride festival at Big White Ski Resort."
Peak Pride will take place Friday April 7- Sunday April 9. Tickets and accommodation specials can be found at
peakpride.ca
along with the full schedule of events.