Neverland's first party of the spring promises man-cubs and tigers and bears -- oh my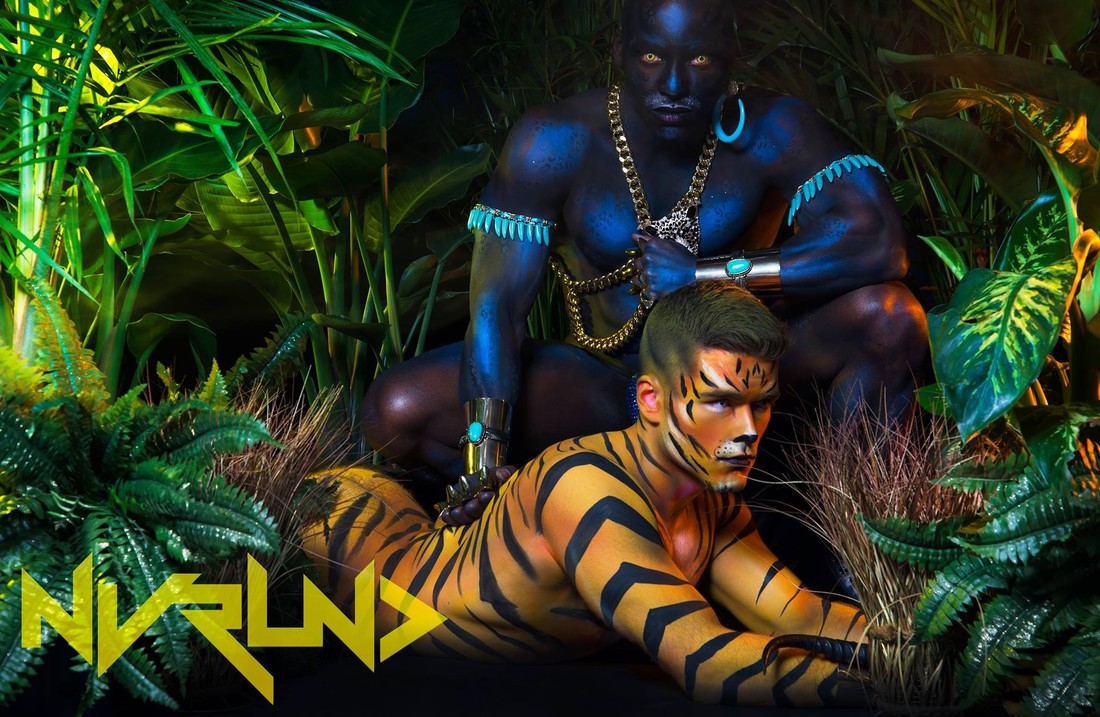 neverland presents 'the jungle book'
photo credit // adam ouahmane
Welcome to the Jungle (Book)
Chicago, IL - Celebrate the end of those cold, dark winter months and welcome in a warmer season with Neverland as they present "The Jungle Book", their spring kick-off party this Saturday, April 1. Per usual, the high-concept themed production was first announced with one of Neverland's signature photo shoots, in which Adam Ouahmane photographed the always buff and beautiful Neverland models as three favorite characters from the legendary story -- undressed to their bare necessities.
"We created our own little 'jungle' inside Fantasy [Night Club] on a Friday afternoon," Anthony DiFiore, co-founder and creative director of Neverland, told ChicagoPride.com. "To get the jungle effect we had to fill my SUV with large plants from Home Depot. There's still a gut-wrenching amount of dirt in my car from the plants that I'm not even going to bother cleaning until after the party is over."
With the party now only days away, the team is ready to transform
Fantasy Night Club
into the steamy jungles of India where their models and gogo boys will be prowling in the form of sexy Mowglis, Bhageeras and Shere Khans. Sets by resident designers Timmie Foley and Derrick Joseph Taylor and lights by guru Joe Gillan mean you won't leave disappointed. Expect the colorful decor and body painted beauties to transport you to a jungle where the beats are as wild as the animals who came to party.
Local hosts Eva Young and Nico are joined by special guests and veterans of the San Francisco nightlife community, Locoya Hill of Locoya Hill Entertainment and Mercedez Munro. Hill, a friend of DiFiore's, started throwing dance parties in San Francisco at the same time that he and co-founder Martin Luna started Neverland and their careers in the industry have risen in parallel. DiFiore is excited to join Hill the weekend after Jungle Book to host and costume his
"I Just Wanna Fuckin' Dance" party
in the City by the Bay.
Spinning both that party and Saturday's "Jungle Book" soiree is Neverland veteran and world-headliner
Isaac Escalante
. The Circuit King was last in Chicago spinning at 2016's Neverland Halloween bash, since when he's brought his beats as far as Asia, South America and Europe and across the U.S. at some of the most celebrated parties in the country, from NYC's Allegria to the infamous White Party and Winter Party.
"In 2012, Martin [Luna] and I first heard Isaac Escalante when he opened for the legendary Peter Rauhofer at the nightclub Mansion in Miami Beach," DiFiore said. "Right away we reached out and booked him for one of our first Neverland parties. Since then he's become a staple of our brand for many years. He's a musician who knows how to create that indescribable feeling and energy that's at the center of what makes a Neverland party a Neverland party."
Grab a loincloth, paint yourself with tiger stripes or come dressed in just your bare necessities, but don't miss Neverland at Fantasy Night Club, 3641 N Halsted, this Saturday from 11 until 5 a.m. Tickets are available online at
www.NeverlandJungleBook.com
with pre-sale tickets for $25 available until Thursday, when the price raises to $29.99, and again to $40 at the door.