Up-and-coming queer nightlife gets JUICE-y with post-parade party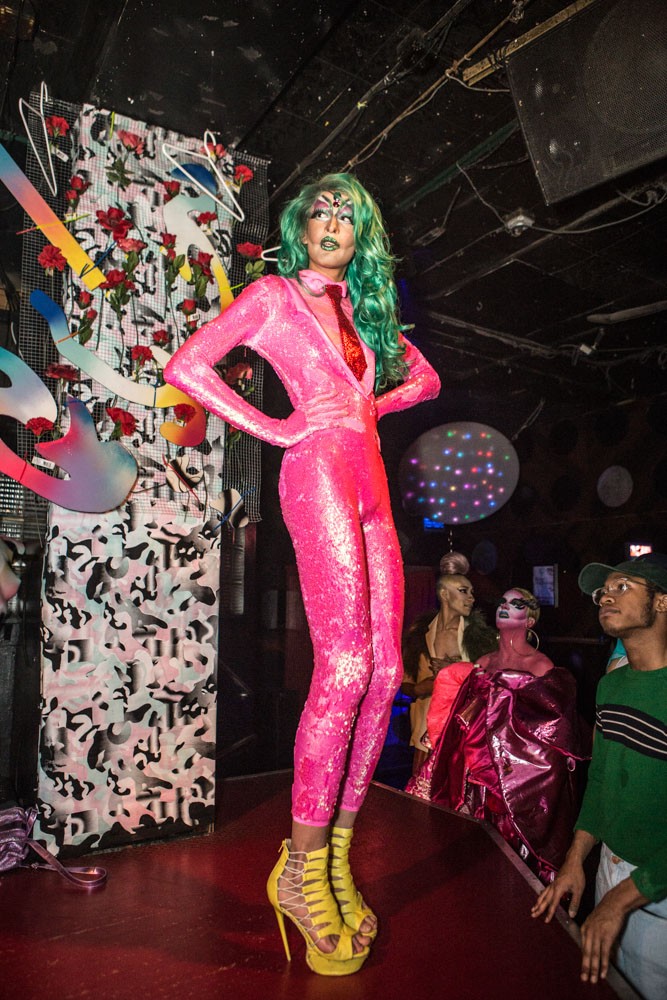 photo credit // cpr & events
Queer nightlife collective IT Presents is producing a party Sunday at the Annoyance Theater
This year, spend your post-parade celebrating with some of Chicago's hottest up-and-coming artists, performers, club kids, DJs and designers at JUICE -- a huge, multi-room celebration of all things fabulous courtesy of IT Presents. JUICE takes over the Annoyance Theater at Clark and Belmont starting at 2 p.m. after Sunday's Pride Parade.
"IT Presents: JUICE is the perfect place to continue your Pride celebration, and enhance, intrigue and heighten all your senses," IT Presents told ChicagoPride.com. "We have a stacked lineup of DJs, live music, drag performers, plus all the cutest clubkids twirling in fashions from seven up-and-coming designers...And all of this is taking place in a huge, multi-room space filled with incredible art, installations, live visuals, and fun interactive surprises."
If you've been partying at Berlin recently, you're probably lucky enough to have experienced one of the unique, edgy parties thrown by IT Presents -- a collective of five local queer artists whose parties "bring together fashion, music, performance art, drag, installation and video, and a diverse cast of performers into a unique and powerful celebration that redefines notions of queer and trans bodies (and their role in nightlife) with tongue-in-cheek humor and politics."
If you haven't, you've been missing out, and this Sunday is your chance to make up for it.
IT Presents -- collaboratively, Abhijeet, An Authentic Skid Mark, Ariel Zetina, Bon Bon, and Imp Queen -- has been producing events alongside Scott Cramer (Club Daddy) since his Pride party Froot Salad at the Annoyance last year, where many of them worked together for the first time. Since January, the collective has been bringing a whole new brand of nightlife to Berlin and they're excited to return to the Annoyance this Pride with something bigger, better and juicier than ever.
An amazing visual team is transforming the huge Annoyance space with interactive installation pieces and stunning live visuals, including aerial performer Darling Violet, a full-sized swing set, ball pit, a mirrored infinity hallway, balloon-drops, glow-sticks, pinatas and two separate dance floors.
"We always want to provide a full sensory experience (breathe deep and enjoy custom fruit scents in each room) and for Pride we're taking it to the next level," the collective said. "While it's really a cliche to say 'expect the unexpected,' an IT Presents function is just that. It's ripe. It's juicy. It's bursting."
Music comes courtesy of DJs Jarvi (Acid Daddy), Spice Boy (TEEN WITCH FAN CLUB), Claudia De Châlon, CJ Milli, DJ All The Way Kay (Lesbifriends), Ldy Prblms (Fabitat) and Ariel Zetina (WITCH HAZEL), with a live performance by Yoko And the Oh No's, an emerging Chicago queer punk band (you can read more about them in
Out Magazine
). Add to that lineup Jeez Loueez, ranked the fourth best burlesque dancer in the world, and a host of other fabulous drag queens, artists, performers, gogo dancers and club kids decked in fashions from seven up-and-coming designers and you have a Pride party you won't want to miss.
Among the impressively crowded roster of nightlife personalities collaborating on JUICE are Lucy Stoole, Ophelia Bulletz, Jarvi, Scott Cramer and Megan Fondacaro. NYC based visual artist/nightlife persona/Instagram celeb Ryan Burke is also flying in to host and the list of up-and-coming names goes on.
IT Presents: JUICE kicks off after the 47th annual Chicago Pride Parade this Sunday, June 26 at the

Annoyance Theatre

, 851 W Belmont, from 2 to 10 p.m. Tickets are available for only $10
online
(and will increase at the door).
For more information, including a full list of everyone involved in JUICE, check out their
Facebook event
.