ICU nurse Kelsey Casey has blossomed in her latest sporting venture—football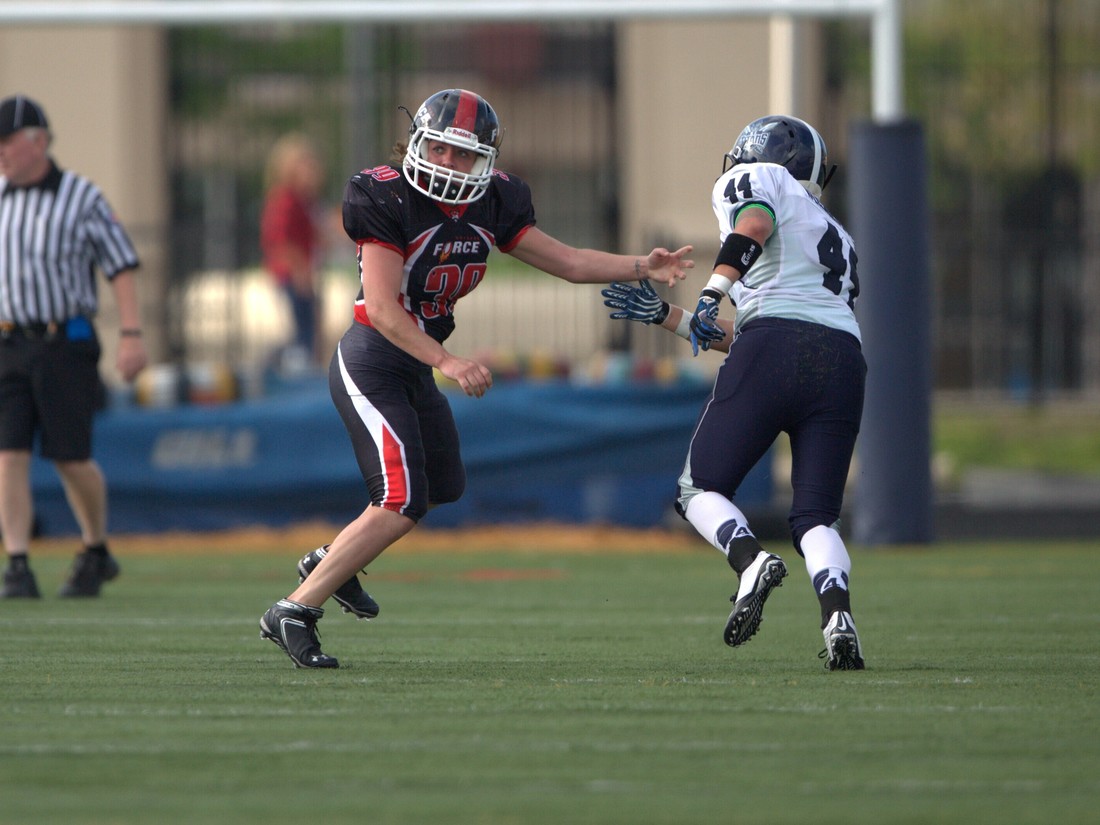 photo credit // chicago force
A defensive standout, Casey shines for the Chicago Force
Playing for the perennial powerhouse Chicago Force, a women's tackle football team, might just be the easiest part of the day for Kelsey Casey.
Off the field, Casey is an Intensive Care Unit Nurse at Rush Oak Park Hospital.
"As an ICU nurse, I work three to five 12-hour shifts per week and am responsible for the care of multiple complex patients," she said. "In addition, I participate in several nursing committees in the hospital, including being chair of the Employee Safety Committee, a core member of the Stroke Committee," and more.
Casey, 26, also has participated in hospital-wide education and is a certified in Advanced Cardiac Life Support, Pediatric Advanced Life Support, Emergency Neurological Life Support, and she specializes in reading electrocardiograms.
"It is one of the most rewarding careers as I am able to interact with patients and families to improve their health, educate and heighten health knowledge so that patients and their families can be more active participants in their healthcare decisions and care, support families in difficult end-of-life care, and be a loving support system with open ears and mind to allow patients and their families to discuss their holistic health, treating mind, body and soul.
And, Casey is a member of the Chicago Gay and Lesbian Medical Association.
SPORTING BACKGROUND
Casey was a multi-sport athlete at Upper Arlington High School in Ohio, then just basketball and rugby at Wittenberg University. And she continued playing rugby after college, too.
Casey won numerous defensive MVP awards in basketball throughout high school and college, was team captain junior and senior year for basketball in high school, and sophomore year in college. Plus, she was a Scholar-Athlete.
Football came by chance, sort of.
"I went to a (Force) practice at the suggestion of Darcy Leslie," Casey said. "The practice was without pads and mostly running, but I got a feel for the game and the people welcomed me with open arms.
"I never looked back.
"I was hooked and knew I wanted to be a part of the team."
After all, the Force is one of the best women's tackle football teams in the country, Chicago was the 2013 National Champions, and the 2016 team opened its season April 2 on the road with a convincing win over the West Michigan Mayhem.
"The team (is) full of focused, motivated, committed and fun individuals from all walks of life with one goal – to achieve the highest levels of success both on and off the field," Casey said of the Force. "The team is highly respected and supported by many members of the community, has a reputation of highly professional nature, and above all is a family in which everyone out there is fighting for the girl next to her every second (of the game).
"I am honored to be a part of such a special group."
The Force plays its home opener on April 30 at Lane Stadium on the campus of Lane Tech High School. The Columbus Comets are that night's opponent and kickoff is set for 5 p.m.
"Every time I step on the field, I play to become better than the player and person I was the day before; (I) leave it all on the field with no regrets," she said. "The ultimate goal is to be recognized as our male counterparts in the sport, but until that day, we all show up to every practice to become better athletes, teammates, and people because we love the game. I play for those people standing beside me on the field, my coaches and the endless unpaid hours they put in, the people in the stands and our families who support us, (for) the women who have paved the way before us and the little girls who look up to us and see that anything is possible and boundaries can always be broken, to believe in themselves and with persistence, anything is possible.
"Football is more than a game, it has taught me many lessons that other sports just could not measure up to, and I have gained another family and support system that will be there for life, a group of unique individuals who support one another no matter what."
SPORTS FEVER FOR THE FAMILY
Casey is in her third season with the Force and was the team's Defensive MVP in 2015.
Football is just yet another sporting drive for Casey and her family.
Let's start with her dad, who Casey labeled as "my inspiration, role model, and a true leader."
Casey said he has explicit goals and a strong vision of the means by which to accomplish those goals, is an excellent listener and communicator, a coach and teacher, effective evaluator, inspiration, cheerleader, organizer, and advocate for his passions and for the people around him.
"My father has (always) worked three separate jobs in order to support my family and provide for his six children," Casey said. "He is a catalyst who inspires me, my siblings, his students and his players. His motivation and passion for what he does fuels others to follow their dreams despite what others believe they should do. He has given up many dreams and resists some desires because he believes family and teaching youth is the most important, and (he) is willing to sacrifice other things in life to fulfill those goals and serve as a role model, mentor, and friend."
Plus, Casey's dad was a basketball All-Star as a 4-year starter at Wittenberg University, First Team All-American, Division III National Player of the Year, and inductee into the school's Hall of Fame. He held the record for most points scored in a season and career for numerous years until he was surpassed by an individual after the addition of the 3-point line.
He continues to pursue his passion as a high school basketball coach for Upper Arlington, his 28th season as a coach; he has captured many titles and his tireless push to achieve and make his team better has been an inspiration, Casey said.
And then there's Casey's mom, who herself a State Champion in gymnastics and cheerleading, and she now is the "biggest supporter of all her children, always there for us in every aspect of life, the best resource for anything, and would drop anything at any moment to be there for us," Casey said.
More Kelsey CaseyRelationship status:
Is dating Jamie Menzyk, a former Force teammate. "There was always a connection between us ... until the connection became too strong to deny. She is one of my best friends, biggest supporters in everything I do in life, my adventure buddy, and my rock. She makes life interesting and I never have to be afraid to be myself around her, never have to worry about life being boring because she is always up for anything."
For Fun:
Casey enjoys movies, thrifting, concerts, running, "and snuggling with my 3 year-old Lab, Rugger." She also volunteers at clinics, enjoys trying new restaurants, reading, going to dance parties, and simply exploring Chicago.
Favorite Pro Sports Team:
Chicago Blackhawks – "I love watching the fast-paced game and how the team has to work together so well to achieve success; every moving part has their role."
Favorite Pro Athlete:
Larry Bird – "(He is a) very stand-up guy, (a) hard-worker, and (an) incredible athlete."
Fun Fact 1:
"My arms don't straighten; (I was) just born that way and because of it, I was politely asked to quit the cheerleading team when I was younger."
Fun Fact 2:
"My three front teeth are fake as I got them knocked out in a basketball game in high school."
The Quote:
"As a kid, I never truly fit in, (and) never could figure out why. It wasn't until college that I came out of my shell and let my weirdness fly, all the quirks about me exposed and (I) discovered who my true friends were because they were the ones who stuck by me no matter what; (they) loved me even more for my weirdness.
Family Ties:
"I am the oldest of six kids and my parents are incredible, and yet a little nuts as they named all of us with 'Ca' sounds, aka K and C names to make it even more confusing. I am a big family person and love the endless support my family offers me in everything I do and my ability to be a big sister and help guide all my siblings to success and be their biggest cheerleader; they are all so unique and incredible people who have shaped me to be the best person I can be."
The Force
The Chicago Force plays an 8-game regular-season, with four home games all played at Lane Stadium at Lane Tech High School. The Force home opener is April 30, with home games also on May 7, May 14 and June 4. There are three rounds of playoffs in the Women's Football Alliance (WFA), followed by the National Championship Game, which will be played July 23 in Pittsburgh.
For more about Kelsey Casey and the Chicago Force, visit the team's website:
chicagoforcefootball.com