Miss California defends partially nude photos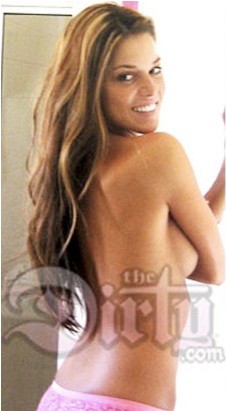 miss california, carrie prejean, poses in racy photo
photo credit // www.thedirty.com
The anti-gay beauty queen defends Christian values despite release of partially nude photos
Gossip Web site TheDirty.com has posted a photo of anti-gay Miss California USA, Carrie Prejean, in a partially nude and revealing photo.

"I am a Christian, and I am a model," the 21-year-old Prejean said in a statement released to the media. "Models pose for pictures, including lingerie and swimwear photos."

The runner-up in April's Miss USA pageant, Prejean has recently come under scrutiny from gay rights advocates after starring in a new ad campaign against marriage equality for committed gay and lesbian couples based on her Christian values.

The new ad from the National Organization for Marriage (NOM) accuses gay rights activists of attacking Prejean on her opposition to gay marriage.

The controversy over Prejean began during the April 19 Miss USA pageant after her highly publicized answer to same-sex marriage.

"I think it's great that Americans are able to choose one or the other. We live in a land where you can choose same-sex marriage or opposite marriage," Prejean said during the beauty pageant. "And you know what? I think in my country, in my family, I think that I believe that a marriage should be between a man and a woman. No offense to anybody out there, but that's how I was raised."

Further damaging the beauty queen's image, TheDirty.com claims to have six racy pictures of Prejean, but only one had been posted.

"I can assure you they were quite inappropriate, and certainly not photos befitting a beauty queen," Alicia Jacobs, a judge at the April 19 Miss USA pageant and a reporter for an NBC affiliate, told NBC News.

Industry insiders say the partially nude images, which were taken when Prejean was 17, may hurt her status as a spokeswoman for conservative causes.

Also of concern, her contract with the Miss California pageant prohibits her from being photographed "in a state of partial or total nudity."

Prejean finished second in the Miss USA pageant to Miss North Carolina Kristen Dalton.