Out in the Park, the official gay day at Six Flags, returns with Amanda Lepore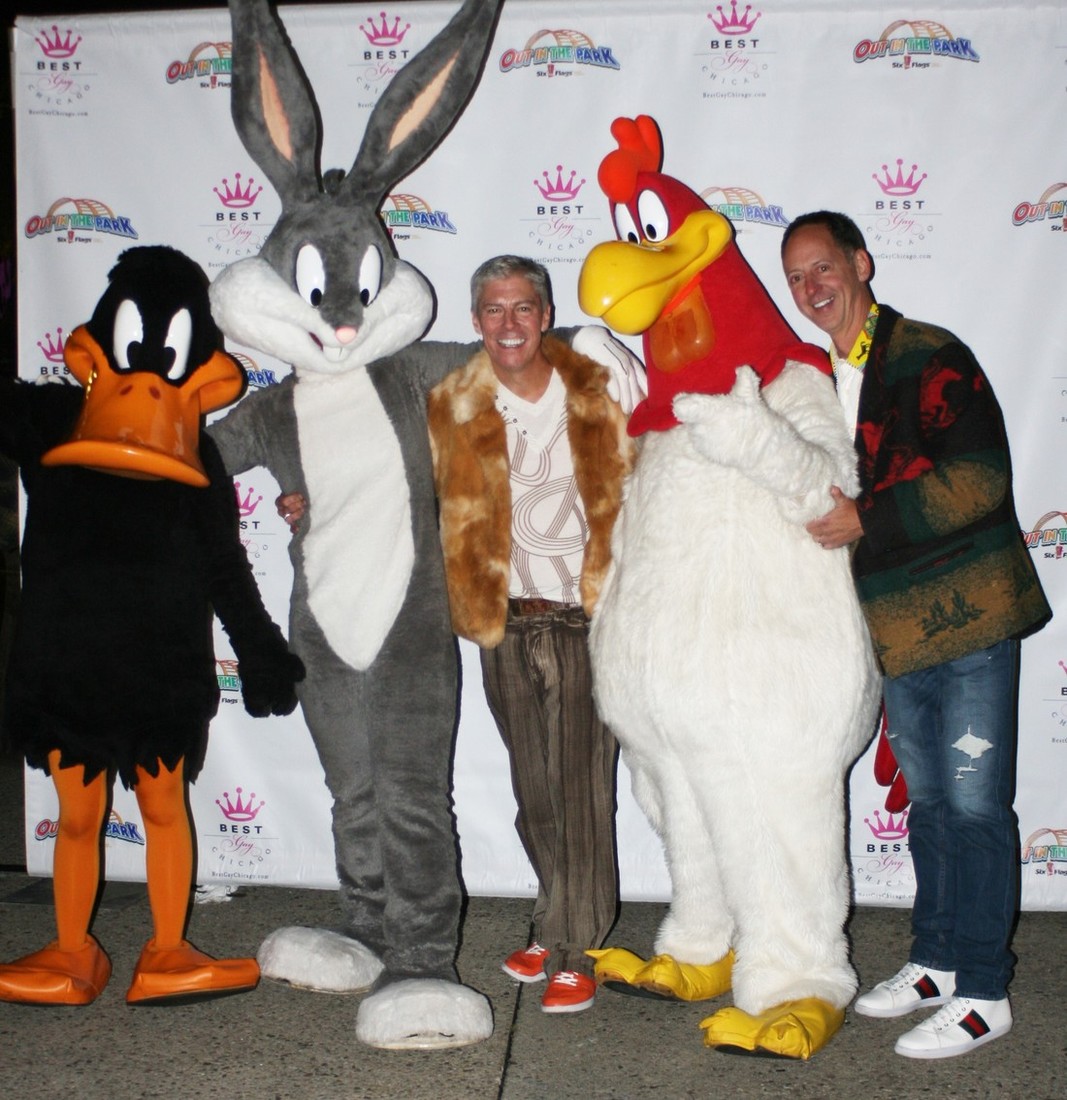 derrick sorles (left) and michael snell
Derrick Sorles and Michael Snell of Best Gay Chicago present Out in the Park, Saturday, Sept. 12
Chicago, IL - If summertime's been too good to bid farewell this Labor Day Weekend, extend it for another week and join the thousands of queers and their allies from across the Midwest flocking to
Six Flags Great America
in Gurnee, IL for Out in the Park on Saturday, Sept 12.
This annual event gives the LGBT community and its allies an exclusive nighttime party at the park, including unlimited access to its most popular rides as well as a fabulous all-night party of DJs, dancing, sexy go-go boys and special performances by Andrew Christian supermodel Pablo Hernandez and the legendary, gorgeous and incomparable Amanda Lepore.
"It's really like a big Pride celebration in the park!" Derrick Sorles, co-owner of BestGayChicago.com, who took over and transformed the event three years ago, told ChicagoPride.com. "Some people say I'm not going because I don't like to ride rides...but it's very social -- you can drink and dance, people watch and mingle, walk around and play games, or enjoy the show. It's all a very fun time even if you don't ride roller coasters."
"One of the best elements of this event is that it is closed to the general public and this year our event piggy-backs a daytime corporate buyout so our attendees will be entering an empty park," explained Michael Snell, Sorles' partner in both life and business. "The LGBT community, their family, friends and supporters can enjoy the park with little to no lines...and even more amusement and entertainment."
Out in the Park is an all-ages event, and ticket holders will have private access to the Six Flags Great America from 7 p.m. until 12 a.m. Attendees can taking advantage of crazy short lines for some of the park's most popular roller coasters or follow the bump bump bump to the Hometown Square where the DJ's of Scarlet will be presiding over a fabulous dance area featuring Chicago's own Trannika Rex, The Princess from RuPaul's Drag Race and, of course, some sexy go-go boys twerking and grinding all night long.
Ticketholders who are 21 and older can stop between rides or dance sessions at any of the five bars located throughout the park to cool off, rest and mingle.
"King of selfies" and all-around-hunky supermodel Pablo Hernandez will be enjoying rides and taking photos with guests all night long. At 11 p.m., come to Hometown Square to see Hernandez, who is currently launching his singing career, perform the two singles he's set to release. Look for "Bitch, I'm A Bottom" on iTunes this week and stay tuned for "Pants Off" and later an EP.
Following Hernandez, the fabulous performer, socialite, model and trans* icon Amanda Lepore takes the stage to give the Midwest a taste of the Queen of New York nightlife. Scarlet is also hosting a special meet-and-greet with Lepore and Hernandez the night before the event (the 11th) from 8-10 p.m., but you must show your Out In The Park ticket to get in.
"We have known Amanda Lepore for about 10 years and always wanted to work with her here in Chicago," Snell said. "She's so nice and a real icon. And we met Pablo this past May in Chicago, he was here for the very first time and loved our city. When he told me he was about to start singing, I said 'let's book you with Amanda!'"
When they took over Out in the Park in 2012, the duo sought to create a fun, all-ages event at the park that would bring the local LGBT community together. In the last three years, they've raised a total of $35,000 for local LGBT charities and brought thousands of supportive folks together for a night of entertainment. They credit this to the support of their many community partners and all of the individual members of the community and their allies who come out each year to support and share the day with one another.
"This year we chose the

Northalsted Business Alliance

[as our beneficiary], so the money could come back to the Boystown community," Sorles explained. "We also hope that local businesses will really help us spread the word this year."
With advertising in the local media, including ChicagoPride.com, and across bars, it looks like the community is once again coming together for this event.

Dive Bar

, 3445 N. Halsted, is hosting a pre-party from 3-5 p.m. and you can head to Charlie's, 3726 N Broadway, for the official after party "GLOW." At the time of press there are also a few seats left on Charlie's special busses offering transportation to and from Boystown, drinks on the bus and free admission to "GLOW" for $30, which can be purchased at Charlie's.
For the event to continue to grow as Snell and Sorles see it, they're counting on the community to come together and support this exciting event simply by showing up and having a good time.
"A lot of people have asked for more hours to enjoy the park and more shows and activities, for a longer event -- an actual 'gay day'" Snell said, adding that Six Flags is prepared to give the event an entire 8-hour day if they see ticket sales closer to 9,000 or 10,000. "And then we can add things like a drag show, a brunch, and some other fun things to break up the day. We are always trying new marketing ideas to reach more people."
In the past this has included efforts like a poster-designing contest to draw on graphic designers and college creatives and reaching out to LGBT-friendly organizations like Walgreens and, this year, American Airlines, United Airlines, Accenture and Miller Coors to spread the word. They've even created a contest.
"To advertise a corporation inside Six Flags, they charge a minimum of $10,000, but logo t-shirts are a great way to get a marketing message out and cost just a few dollars," said Sorles. "So we are encouraging groups to wear their logo apparel and we'll have three prizes -- the sports team and the company that each have the most employees or members there, wearing their logo shirts, will each get a champagne day at Scarlet. The non-profit organization with the most representation will get a check for $500."
Out in the Park is next Saturday, Sept. 12, from 7 p.m. until 12. a.m. Advance tickets are still available for just $40, including parking, until September 6, and on the 7th ticket prices will go up to $45 (tickets will also be available for $50 at the gate). For links to buy tickets and more information about Out In The Park check out the event's website at
http://gaysixflagschicago.com
.
ChicagoPride.com is a proud media sponsor of Out in the Park.
Photos:
Out in the Park 2014