Rahm Emanuel, LGBT aldermen win in Chicago runoff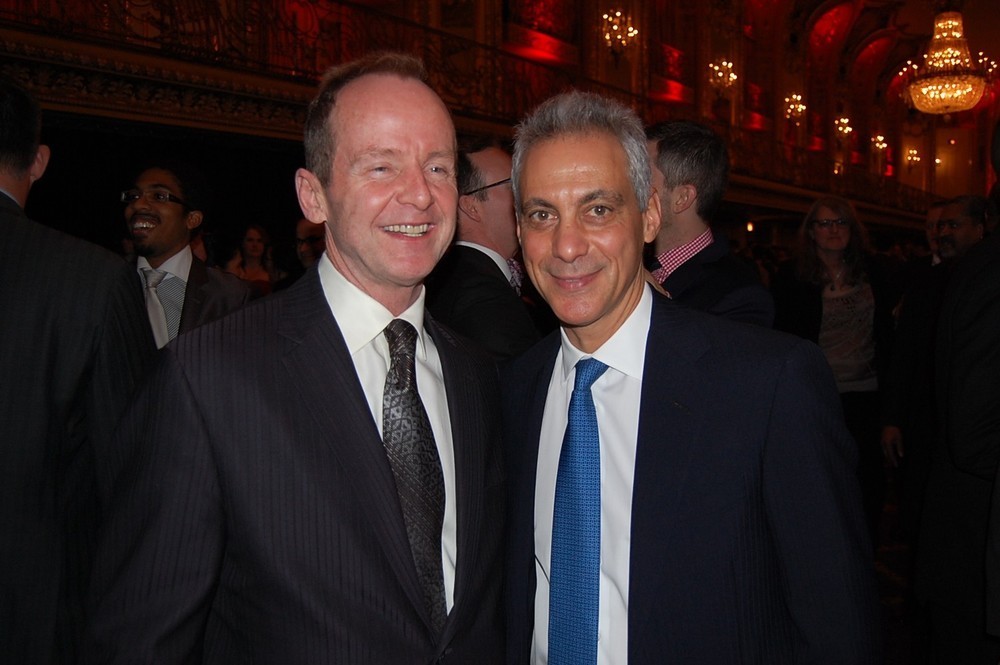 ald. tom tunney with mayor rahm emanuel at eqil's gala
photo credit // anthony meade/chicagopride.com
Chicago, IL - Chicago Mayor Rahm Emanuel won a second term on Tuesday after a historic runoff election against challenger Jesus "Chuy" Garcia.
"I have had the good fortune to serve two presidents, being elected to congress, but being mayor of the city of Chicago is the greatest job I've ever had," Emanuel told supporters. "I'm humbled at the opportunity to serve you, the greatest city, for the next 4 years."
With 98 percent of precincts reporting, Emanuel had 56 percent of the votes to Garcia's 44 percent. This was Chicago's first mayoral runoff since the city began using nonpartisan elections in the race for mayor in 1995.
Both candidates received endorsements from Chicago's LGBT community. Emanuel was backed by

Equality Illinois

Political Action Committee. Garcia received the endorsement of 30 progressive LGBT advocates.
In the 15th Ward, openly gay Democratic Committeeman Raymond Lopez beat his opponent, Rafael Yañez, to become Chicago's fifth openly-LGBT alderman. He joins Alds. Tom Tunney, Deb Mell, Carlos Ramirez-Rosa, and James Cappleman.
Incumbent Cappleman defeated openly-lesbian challenger Amy Crawford in Tuesday's runoff to keep his 46th Ward seat, which includes Uptown, Lakeview, Buena Park, and Sheridan Park.
Cappleman, Lopez, Mell, Ramirez-Rosa, and Tunney were all endorsed by Equality Illinois PAC.
Windy City Times, the city's LGBT newsweekly, noted Chicago will now have 10 percent of its 50 ward posts filled by openly-LGBT aldermen after the April 7 runoff races.