Cupid's hosts first-ever fashion show: meet the models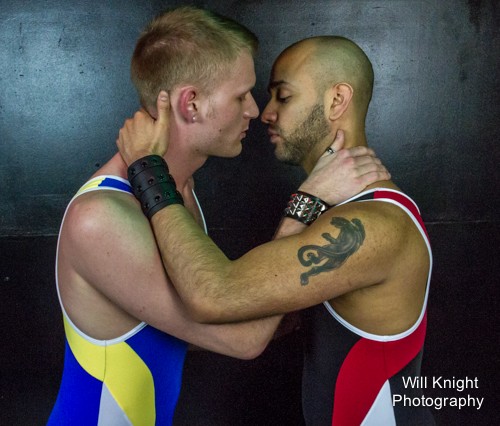 photo credit // will knight photography
Chicago, IL - Cupid's Treasures, Boystown's bright and uncluttered adult novelty and fantasy shop, is hosting their first-ever fashion show on Friday, February 20th. The event aims to highlight a new line of underclothes and accessories sold at the shop (move over Christian Grey), complete with hors d'oeuvres and complimentary champagne.
Cupid's recently developed a photo campaign to get the word out. Meet the models of Cupid's promotional campaign.
Bobby
Charity/cause that's close: "The Trevor Project is an organization that provides crisis intervention and suicide prevention services to LGBTQ teens and young adults. It Is close and dear to me because no one should be having thoughts of suicide even when being bullied there's should be someone to talk to and prevent those thoughts about hurting themselves."
Chicago hotspots: "Hollywood beach for some fun in the sun, Lakefront bike path for some great exercise or just a relaxing walk, millennium park to clear your mind and enjoy the view."
Tell us a secret: "I never told anyone, but im a terrified of singing karaoke when someone tries to ask me to sing next I make up an excuses or just walk away when its my turn just so I don't have to do it."
Jaime
Charity/cause that's close: Make A Wish Foundation - "they do the most amazing things for kids to make them the happiest they can be!"
Jaime's secret: "I'm a little obsessed with Britney Spears."
Favorite hotposts: The Closet,
Lucky Horseshoe
and
Cell Block
Zak
Charity/cause that's close: iGoPink Campaign (Breast Cancer)
Chicago hotspots: "Millenium Park, for sure! And the beach!"
Zak's secret: "I collect the stubs of every movie I watch!"
Brandon
Charity/cause that's close: "The Out Center [Benton Harbor, MI] has done a lot of great outreach and work within my home community. My coming out situation was hard for me, and it's awesome that the people at the Out Center have options for counseling and emotional support for lgbt youth who need it."
Most memorable photo shoot? "Actually, the shoot for this event was my first one, and it was a lot of fun!"
Favorite Chicago hotpspots: "I love the nightlife in general, whether it is in boys town or the downtown area I have always had a great time here in the city."
Immediately following the fashion event will be an afterparty (admission $15) featuring dancers and a hosted bar with select cocktails. Mention ChicagoPride.com at Cupids Leather Sport and receive 20% off purchase.
Photo credit: Will Knight Photography