St. Louis challenges Missouri's same-sex marriage ban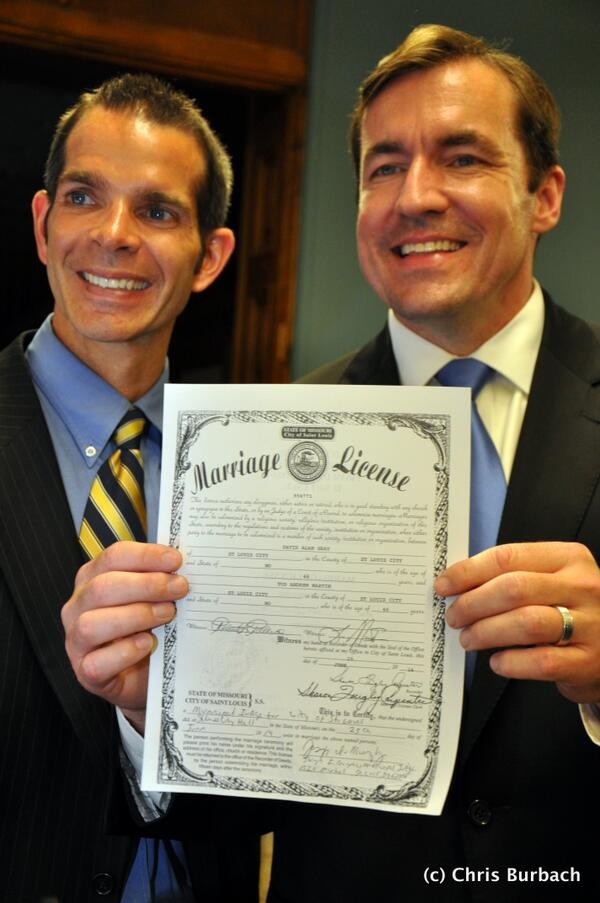 four same-sex couples wed in st. louis
photo credit // twitter/@todamartin
Four same-sex couples wed at St. Louis City Hall on Wednesday
Chicago, IL - The city of St. Louis issued marriage licenses to four same-sex couples on Wednesday, June 25, coinciding with the one year anniversary of the Defense of Marriage Act being struck down.
"St. Louis is a city that doesn't tolerate discrimination," said St. Louis Mayor Francis G. Slay, standing beside the couples who were wed at the St. Louis City Hall. "We are sending a message on what's right, and I can't think of anything more right than this."
The St. Louis Post-Dispatch first reported on the marriages early Thursday. The paper said the city voluntarily stopped issuing the licenses after the initial four, anticipating that the marriages will be challenged in court.
The couples are all St. Louis residents. A lawsuit demanding the recognition of the marriages could be filed as early as this morning.
In February, the

American Civil Liberties Union

filed a lawsuit seeking to force Missouri to recognize the out-of-state marriages of several same-sex couples.
Missouri's Amendment 2, which defines marriage in Missouri as between one man and one woman, was approved by 71 percent of voters in August 2004.

So excited. Last night, I married David - my wonderful partner of 22 years - in a ceremony at St. Louis City Hall. pic.twitter.com/A6JqyWbJDS
— Tod Martin (@TodAMartin) June 26, 2014