Illinois House approves marriage equality bill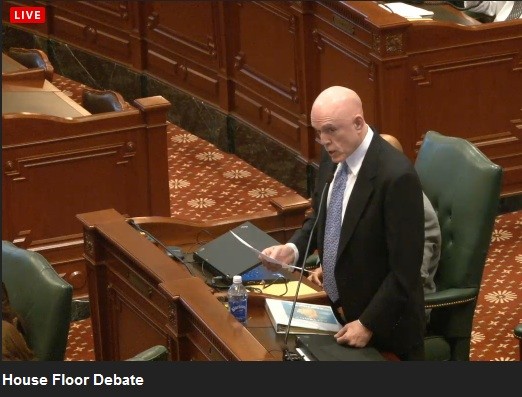 state rep. greg harris (d-chicago)
photo credit // blueroomstream
Senate approves amendment, sends to governor to sign
Springfield, IL -
The Illinois House of Representatives approved Senate Bill 10, the Religious Freedom and Marriage Fairness Act, on Tuesday by a vote of 61-54-2.
Democratic Rep. Greg Harris of Chicago addressed House members on the floor before the bill was debated and then called for a vote.
"At the end of the day, this bill is about love. It's about family. It's about commitment," Harris told colleagues.
After a floor debate lasting more than two hours, the measure cleared the House with one vote to spare. The chamber was filled with cheers.
"I feel overjoyed to be a witness to this historic moment," said Anthony Martinez, Executive Director of

The Civil Rights Agenda

.
"Today's historic marriage vote was a victory for all families and their children," said Bernard Cherkasov, CEO of

Equality Illinois

.
Harris, the chief sponsor of the bill, filed two amendments to SB 10 on Tuesday. The 2nd amendment changes the effective date to June 1, 2014, which meant the measure required only 60 votes to pass in the House, but also required
the Senate's re-approval.
Shortly after the House vote, the Illinois Senate easily passed a concurrence vote on the amended bill by a vote of 32-21. The bill will now go to Democratic Gov. Pat Quinn for his signature, which will make Illinois the 15th state in the nation to recognize marriage equality.
Quinn said that he will sign the bill before the end of the month but stressed that the community deserves to have a signing ceremony that matches the historic nature of the accomplishment.
Same-sex couples will be able to apply for marriage licenses on June 1, 2014.
Update: State Senator Don Harmon (D-Oak Park) Wednesday filed an amendment to accelerate the effective date of SB 10.
In a procedural move, the amendment is attached to HB 2747, which would be up for a vote in January during the new session of the legislature.
If the amendment was approved, the bill was passed and then signed into law, the new effective date for the marriage equality bill would be 30 days after HB 2747 passed, rather than the current effective date of June 1st, 2014.
The marriage bill was first approved by the Senate on Valentine's Day, but stalled in the House on May 31. After some lobbying efforts by House Speaker Michael Madigan (D-Chicago), the bill found sufficient support to clear the House on Tuesday.
"Who am I to judge that they should be illegal? Who is the government to judge that they should be illegal, and for me, that's the reason to support this bill," Madigan said.
House Minority Leader Tom Cross (R-Oswego) was one of three Republicans in the House to vote for in favor of the bill. The others were Ron Sandack (R-Downers Grove) and Ed Sullivan (R-Mundelein).
Cross issued a statement late Tuesday:

"For me, supporting marriage equality is not only the right decision, but also consistent with my belief in individual freedom, equality and limited government. That is why I supported legislation that allows all citizens of Illinois regardless of their sexual orientation to engage in marriage that is recognized by our state."
The vote comes just weeks after thousands gay rights advocates and allies rallied at the state capitol encourage lawmakers to approve the bill.
(Video from House Floor Debate | House Roll Call from SB10 vote - PDF )
WATCH: Rep. Greg Harris and Speaker Michael Madigan press conference following SB10 vote.
"It should be a proud moment for everyone in our state, but it should be an especially proud moment for thousands of lesbian and gay families across our state, who now know they are on a very short path to achieving equality and all the protections that our law allows," Harris said during a press conference following the vote.
(Reaction from other lawmakers and community leaders is below.)
U.S. Representative Mike Quigley (IL-05):
"Today is a tremendous victory for our LGBT community in Illinois and for everyone who believes in our country's founding principles of liberty and justice for all. Illinois' victory must strengthen our resolve to work towards a day when all Americans can enjoy the full civil rights guaranteed to each of us under the law. Our country will be stronger when we allow all loving and committed couples the chance to care for and protect one another through marriage. Congratulations to Rep. Greg Harris and Sen. Heather Steans for their stalwart leadership on this legislation."
U.S. Congressman Brad Schneider (IL-10):
"I'm proud to say that my state became the 15th to allow all loving couples—all couples—to share the joys and responsibilities of marriage. This is a hard-fought, landmark day for the cause of equality, with a clear message being sent nationally that no matter who you are, you deserve the right to make a public, loving commitment called 'marriage.'
"Half the American people now live with the freedom to marry whomever they choose, and I will continue fighting in Washington for the rights of all couples. It is my hope that very soon my colleagues will pick up the baton where Illinois has carried it."
Related:
President Obama makes statement on marriage equality in Illinois
State Rep. Sara Feigenholtz (D-Chicago):
"This is the full equality we've been waiting for. I entered government to bring justice to communities that needed advocates who were willing to put up a fight. For years, I have co-sponsored marriage equality legislation, and vowed not to rest until all Illinoisans are guaranteed the right to marry whomever they love – regardless of gender or sexual orientation.
"I cannot express the joy this brings me as we have fought this struggle bravely and unapologetically for years and we can say that today's accomplishment has paid off for all the tireless efforts. We have finally extended every right to our neighbors, relatives, and friends who will soon be able to legally marry their loved ones.
"No longer will families be considered less than equal in the Land of Lincoln. Thank you to all of the volunteers, field organizers, researchers, and financial supporters who have worked countless hours to deliver this extraordinary, long-awaited moment to same-sex couples."
Ed Yohnka of the ACLU:
"There is no single individual or organization responsible for this victory -- it was a collective effort inspired by families and couples who stepped forward and shared their stories. As we look forward to a very happy summer of 2014 -- filled with joyous weddings -- we also know that there are other states where we need to work for marriage equality. We will celebrate tonight and begin that work tomorrow."
Rick Garica, Policy Director for TCRA:
"This is a great day for Illinois and for the rest of the country. Fairness, decency, and equality were affirmed by our legislature. Same-gender couples will have the same state benefits as their heterosexual counterparts."
Illinois Lt. Gov. Sheila Simon:
"Today Illinois has made history. We will treat all families equally. This has been a personal fight for me, and I am looking forward to celebrating with friends who will finally be able to share in the same rights my husband and I have.
"I would like to thank the bill's sponsors, Sen. Heather Steans and Rep. Greg Harris for their tireless work on this issue. Their unwavering leadership in the General Assembly has led us to this moment."