Illinois coalition recommits to winning gay marriage after 'disappointing' session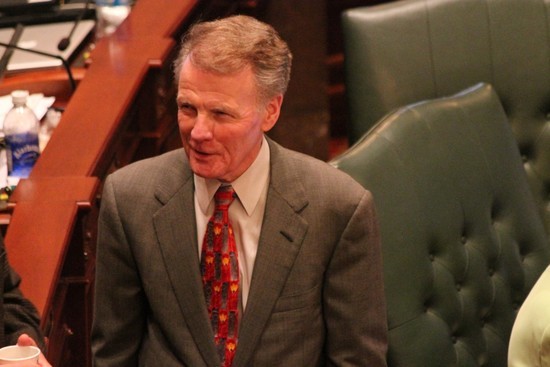 illinois house speaker mike madigan, may 31, 2013
photo credit // chicagopride.com
Chicago, IL - Supporters of legalizing gay marriage in Illinois on Sunday said that they would increase their lobbying efforts on a stalled marriage bill.
After passage of the bill in the Senate on Valentine's Day, the measure's champion in the House, Rep. Greg Harris, surprised proponents on the last day of the spring legislative session when he announced that he would not call the bill for a vote. Harris choked back tears as he explained that he had assurances from colleagues that they would support the measure in the fall and pledged to call a vote on the bill in November.
The 11th hour defeat led to finger pointing and angry demonstrations. Governor Pat Quinn, a Democrat who had pledged his signature, said that he was "very disappointed that a vote was not taken."
Some laid the blame on Harris. Others pointed to the House Democratic Caucus, led by House Speaker Mike Madigan. More than 50 activists protested outside Madigan's district office on Saturday.
"Mike Madigan owns the House,"
Gay Liberation Network
co-founder Andy Thayer told
Windy City Times
. "He just decided that he wasn't going to put any political capital in this."
Illinois Unites for Marriage, the coalition of groups lobbying for the bill's passage, said that it was increasing its efforts to ensure passage in the fall.
"The frustration and disappointment felt across the state when the marriage bill was not called for a vote has been channeled into refocused work and dedication at Illinois Unites to win the freedom to marry," said Jim Benett, a chair of the Illinois Unites coalition.
The coalition said that it was hiring a full-time campaign manager who will oversee and coordinate the statewide advocacy campaign and would gather additional input from supporters during nine community meetings held over the summer.