LGBTs and allies protest marriage bill failure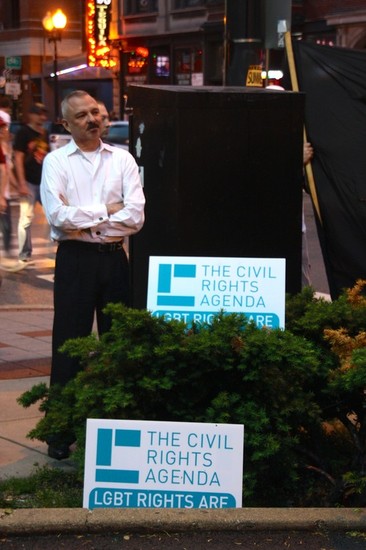 rick garcia of the civil rights agenda
Rick Garcia: 'It's going to be in our hands'
Chicago, IL - A small, yet passionate, crowd of nearly 100 people turned out in the rain to protest the state legislature's decision to adjourn without bringing Senate Bill 10 up for a vote.
"Unfortunately, this year we had a multi-billionaire setting the agenda and buying lobbyists and leaving you and me out," said Rick Garcia of
The Civil Rights Agenda
(TCRA).
An impassioned Garcia continued, "Fred Eychaner, who most of you don't even know, the top donor to the Democratic party hired all of these contract lobbyist, straight white men who don't know shit."
"There is no forgiveness, unless there is repentance - and I repent," Garcia said as he apologized to the somber crowd. He then promised to no longer allow the contract lobbyist to control the process and said he would establish what he called a "real" coalition.
"It's going to be in our hands," he said to cheers.
A long-time political activist, now working for TCRA, Garcia has been a sharp critic of how the advocacy strategy was handled by Illinois Unites for Marriage, a coalition of
Equality Illinois
, Lambda Legal and ACLU of Illinois.
TCRA exec. dir. Anthony Martinez, who had just returned from Springfield with Garcia, said, "Now is the time for us to come back together and keep pushing because this bill is not dead."
Before adjourning late Friday night, House Speaker Michael Madigan
signed a deadline extension
to SB-10, which means it can still be voted on until the end of August. However, the vote could only occur if Governor Pat Quinn were to call a special summer session. Otherwise the bill could return in the November veto session.
As the protest continued, Rep. Greg Harris (D-Chicago), the bill's sponsor, and House Speaker Michael Madigan (D-Chicago) took much of the heat for the failure.
"We found out that they [legislators] did not honor their promise," said Lambda Legal's Jim Bennett, chair of the Illinois Unites for Marriage Coalition. "Were going to start up again and it's the advocates that are going to run the advocacy strategy. We'll show the representatives how we intend to work and how we're going to communicate."
A number of other grassroots community members, advocates and allies - including openly gay Marine Corps veteran Marquell Smith, consultant Richard Streetman, Michael Oboza of Bisexual Queer Alliance and activist Ryne Poelker - shared their frustration and anger.
"If you want it, you have to fight for it," said Poelker.
The protest, organized by the
Gay Liberation Network
and The Civil Rights Agenda, took place at Roscoe and Halsted on Chicago's North Side.
Related:
Illinois House session ends without vote on marriage equality bill