Obama hosts gay pride month reception at White House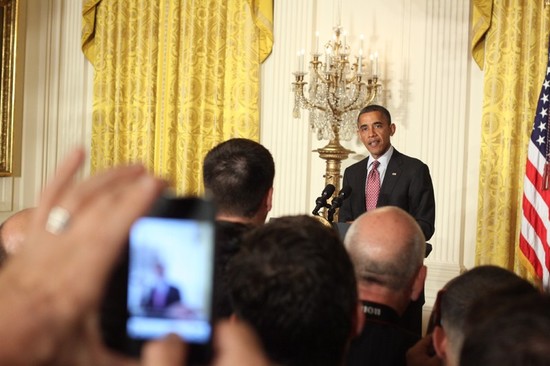 president obama holds pride reception at white house
photo credit // alex sennello
President celebrates LGBT achievements
Washington, D.C. - In an effort to maintain the momentum from the queer community gained when he stated that he had completed his 'evolution' on same sex marriage, in conjunction with numerous other recent events like the EEOC ruling that extends workplace non-discrimination protections to transgender and gender non-conforming persons, President Barack Obama hosted a LGBT pride reception on Friday for roughly 500 activists working on everything ranging from HIV prevention to immigration policy.
"Now, I've said before that I would never counsel patience; that it wasn't right to tell you to be patient any more than it was right for others to tell women to be patient a century ago, or African-Americans to be patient a half century ago," Obama proclaimed to the crowd. "After decades of inaction and indifference, you have every reason and right to push, loudly and forcefully, for equality."
The celebration of the end of Don't Ask Don't Tell -- the former ban prohibiting openly gay, lesbian, and bisexual soldiers from serving in the armed forces -- was clearly evident. A military band provided entertainment for the night and uniformed servicemen and women, in addition to students from various military colleges, where proudly in attendance.
Those invited to the White House Reception, which was held in the East Wing of the building, were also offered the chance to attend any, or all, of three briefings held in the Eisenhower Executive Building on HIV/AIDS, the presidential appointment process, and queer youth issues. The briefings, which were chaired by experts in the Obama administration and various government agencies, gave those in the field a chance to hear the most recent advances made in under the current administration and an opportunity to ask candid questions not otherwise addressed.
The briefing on HIV/AIDS discussed the most recent prevention and treatment policies based on new epidemiological information, while the briefing on appointment highlighted how the administration finds potential appointees for various committees and their continued focus on diversity in all forms.
During the briefing on LGBT youth health and safety, presented by a panel of various experts on mental health, drug policy, and education, talked about issues like the disproportionate appoint of drug use among queer youth, suicide prevention, active research, queer foster youth, and bullying.
Obama was only at the reception for a matter of minutes before boarding Air Force One with his family to attend a fundraiser in Chicago.
Article by GoPride.com contributing youth journalist Alex Sennello, who attended the pride reception at the White House. ChicagoPride.com and the GoPride.com Network welcomes contributions by community journalists. Contact the editor for more information.