Center on Halsted appoints key staff
Fri. June 1, 2012 12:20 PM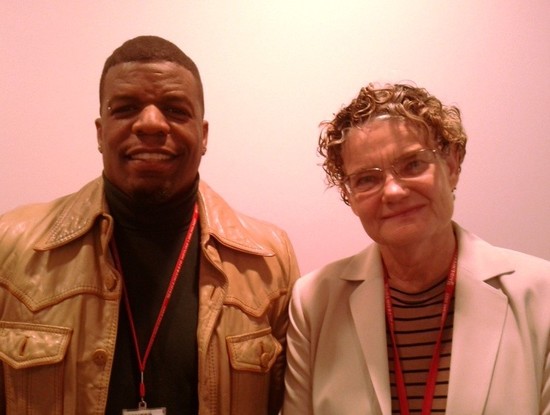 west and mossier take new leadership roles
photo credit // center on halsted
Dr. Claudia Mossier and Tim'm West take new leadership roles on program team
Chicago, IL - Modesto Tico Valle, CEO of
Center on Halsted
, has named two community leaders to key staff positions. Dr. Claudia Mossier has been named Director, Mental Health and Youth Programs and Tim'm West has been named Associate Director, Youth Program. Both individuals come to these positions with experience and knowledge building and strengthening the Lesbian, Gay, Bisexual and Transgender (LGBT) community and, in these positions, will be an asset to Center on Halsted's growing team.
"Claudia and Tim'm are two of our community's most talented leaders," said Modesto Tico Valle. "They have already had a real and lasting impact at the Center, building on the foundation created by past leaders. In these new roles, I am confident their combined commitment, experience and talent will strengthen our program for many years to come."
In her role, Mosier will oversee both the Center's Mental Health program, which provides individual psychotherapy and group therapy to more than 500 community members a year and the Youth program, which provides leadership development, vocational training and social services to more than 1600 youth both onsite at the Center and at partner locations throughout Chicago. In his role, West will provide assistance to Mosier in the overall direction and vision of the youth program, as well as manage staff and some day-to-day operations.
Mosier holds a doctorate in clinical psychology from the Illinois School of Professional Psychology and a master's in feminist psychology from Goddard. She originally joined Center on Halsted in February as Interim Director for our Youth and Mental Health programs. Following a successful three months, she was named to her position in a permanent capacity this week. She also serves as a consulting psychologist with Illinois Department of Child and Family Services and has previously worked at the Pride Institute, Women's Treatment Center and in private practice.
West first joined the Center staff earlier this year as well, first as coordinator for OVAH!, an HIV outreach program in collaboration with Test Positive Outreach Network (TPAN) and later as a Manager for Empowerment, the Center's new HIV outreach and prevention program for young African American and Latino men. An accomplished musician and community activist, West regularly tours the nation performing and discussing issues of sexuality within the hip hop community. He holds two master's degrees, one in Modern Thought & Literature from Stanford University and another in Liberal Studies/Philosophy from the New School. He holds a bachelor's from Duke University.
From a press release