"Fela!" favored by full-house filling alphabet of famous figures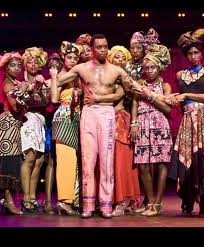 a scene from the touring production of "fela!"
from Alicia Keys to Ziggy Marley, celeb singers keep coming out for Kuti
In the past few weeks, musical legends Nas, Prince, Stevie Wonder, Kanye West, Mos Def, Talib Kweli, Quincy Jones, LL Cool J, Ziggy Marley, and Smokey Robinson have led standing ovations at "FELA!" [sic], the ongoing tour of which is currently running at Los Angeles' Ahmanson Theatre through January 22, 2012.
The Tony award-winning staged adaptation celebrating the music pioneering life of Fela Kuti opened in 2009 at the Eugene O'Neill
Theatre Wit
h Shawn "Jay-Z" Carter and Will and Jada Pinkett-Smith coming on board as Producers. Over the next 15 months, "FELA!" played host to half a million people which included Madonna, Hugh Jackman, Denzel Washington, Ben Stiller, Mick Jagger, Bruce Springsteen, Sting, Harry Belafonte, Spike Lee, Alicia Keys, Beyoncé Knowles, Kofi Annan and First Lady Michelle Obama. The show received 11 Tony nominations and three Tony Awards for Best Choreography, Best Costumes and Best Sound. In 2010, prior to leaving Broadway, "FELA!" saw a sold-out season of performances at London's prestigious Royal National Theatre and was nominated for scores of Olivier Awards.
After closing in Los Angeles, the tour heads next to Washington, D.Cc for six shows at the Warner Theatre from January 26-29, before a layover in Detroit.
In kind with "Fela!'s" theatrical stage success, Knitting Factory Records has reissued the entire Fela Kuti catalogue digitally and on CD, with one vinyl boxset already on shelves and a second vinyl boxset slated to release a number of rare and live recordings later this year.
www.fela.net
Source: Press release