Lesbian sailors join in Navy tradition with a kiss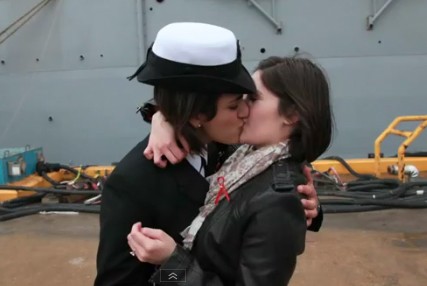 marissa gaeta and citlalic snell share history kiss
photo credit // pilotonline.com/youtube
Photo becomes iconic symbol of progress made by LGBT movement
Virginia Beach, Va. - Two lesbian sailors have broken through a Navy tradition with a simple kiss.

The first-kiss is a Navy tradition for ships returning to port. Sailors on Petty Officer 2nd Class Marissa Gaeta's have a tradition of raffling off the "First Kiss" after a long stretch at sea.

So as her ship left the waters around Central America and approached Virginia Beach just before Christmas, Gaeta bought 50 tickets.

She won the raffle, and waiting for her on dock was her girlfriend, Petty Officer 3rd Class Citlalic Snell.

Snell is also a sailor, but she was dressed in civilian clothes as she waited nervously for her girlfriend.

"It's the first time we can show who we are," Snell told the Virginian Pilot afterwards.

The two women met in boot camp and were roommates. They are assigned to different ships and were forced until the recent repeal of "Don't Ask, Don't Tell" to keep their relationship a secret.

The photo, which has been compared to Alfred Eisenstaedt's famous 1945 image of a sailor kissing a nurse on V-J (Victory Over Japan) Day in Times Square, will become an iconic symbol for many of the gay and lesbian service members who were impacted by DADT.

Watch the adorable couple talk about their kiss -- and the experience of keeping their love a secret -- in the video below.