Under fire, Cardinal Francis George expands on comparison of gay community to KKK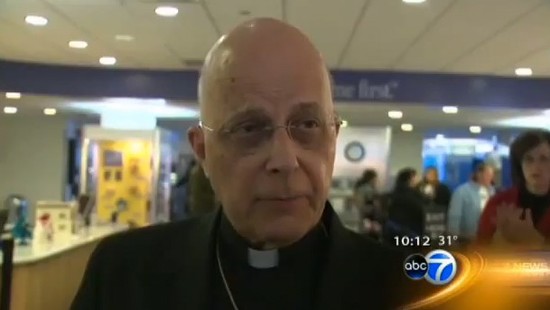 cardinal francis george expands on his statement
Voice Your Choice: Should Cardinal Francis George step down?
Chicago, IL - In response to sharp criticism over his statement comparing gay rights activists to the Ku Klux Klan, Cardinal Francis George tried to explain his controversial remark during an interview with ABC-7.
"Obviously, it's absurd to say the gay and lesbian community are the Ku Klux Klan," Cardinal George said Sunday. "But if you organize a parade that looks like parades that we've had in our past because it stops us from worshiping God, well then that's the comparison. But it's not with people and people – it's parade-parade."
Cardinal George, the head of the Catholic Conference of Illinois and the Archbishop of Chicago, remains under intense fire for his statement made Wednesday during a pre-recorded interview with the Fox television station.
"You don't want the gay liberation movement to morph into something like the Ku Klux Klan, demonstrating against Catholicism,"
Cardinal George said on Fox Chicago Sunday
, which aired Sunday morning on Fox Chicago.
The Cardinal then defended his statement when the host challenged the statement as a "little strong."
"It is, but you take a look at the rhetoric. The rhetoric of the Ku Klux Klan, the rhetoric of some of the gay liberation people. Who is the enemy? Who is the enemy? The Catholic Church," replied George.
The Cardinal's statement was in reference to a local priest's concern about the new route and start time for the Chicago Gay Pride Parade, which the leadership of Our Lady of Mount Carmel Church, one of the oldest Catholic churches in Chicago, argued would conflict with Mass and inconvenience parishioners.
Coincidentally, the 10 a.m.
start time was changed Thursday by parade organizers
to accommodate the church. The 2012 parade will begin at Noon on Sunday, June 24, 2012.
In an
editorial posted
online Friday,
Windy City Times
editor and publisher Tracy Baim called for the Cardinal to "graciously apologize, and step down from his post." She called the Cardinal's comments "vile."
Anthony Martinez, the executive director of
The Civil Rights Agenda
, called the Cardinal's remarks "offensive and bombastic."
Meanwhile, the national LGBT gay rights group Truth Wins Out has created an
online petition
calling for the Cardinal's resignation.
Cardinal George and the Archdiocese of Chicago have recently clashed with the LGBT community over the passage and implementation of civil unions in the state.
Calls by ChicagoPride.com to the Archdiocese of Chicago have not been returned.