Oral Roberts' gay grandson shares inspirational message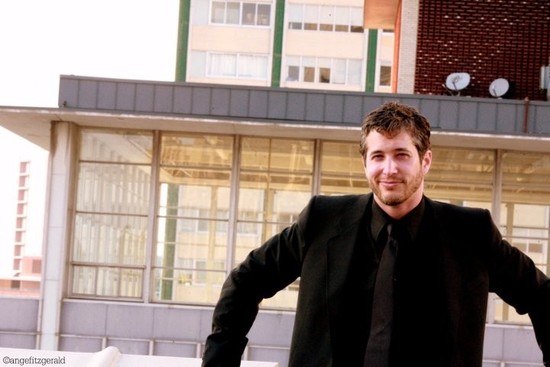 photo credit // ange fitzgerald
Randy Roberts Potts to discuss sexuality and religion during conference in Chicago July 30 and Los Angeles Aug. 3
Randy Roberts Potts grew up in a typical evangelical Christian family, or as typical as life can be when your grandfather is the late televangelist Oral Roberts.
"It was a little bit surreal," Potts said of growing up in one of the most well known evangelical families, hidden behind the guarded iron gates of the family compound located on the campus of Oral Roberts University in Tulsa, Oklahoma.
Today, few in the Roberts family speak of Randy Roberts Potts, the oldest son of Roberta Potts and grandson to the deceased Tulsa evangelist. Potts married at 20, had three children and at 30 he came out gay. The 37-year-old has been estranged from his family ever since.
"My mother has told me that it's disgusting that I'm openly gay," Potts told GoPride.com in a telephone interview this week. "They have very strong feelings about me speaking out."
Potts feels equally as passionate about sharing his story and speaking out for him is personal. In 2010 he recorded an 'It Gets Better' video message using a letter to his deceased uncle, Ronnie, who committed suicide in 1982 after years of struggling with his own sexuality.
"I wrote that letter five years ago," said Potts. "I just kept writing him, instead of writing a journal I was writing my uncle. I never thought I'd show it to anyone."
Potts, whose middle name is derived from Oral Roberts' surname, said he identified closely with Ronnie, one of four children born to the evangelist. Both Potts and his uncle were teachers, married, had children and divorced.
Potts though has learned to embrace his sexuality.
"It was a slow journey," he confessed.
At age 18, Potts said he began to identify as bisexual and in his late 20's identified as gay. In 2006, Potts and his wife were divorced. They both live in Dallas and share custody of their three children, ages 8, 10 and 12.
"Everything about my demeanor has changed," said Potts. "It seems like ever since I've come out, I'm a much more confident, happy person."
Oral Roberts died in 2009 at the age of 91. Potts believes his grandfather was aware of his sexuality, though they rarely spoke.
Despite the stark separation from the Roberts, Potts found support from Bishop Carlton Pearson, a protege of Oral Roberts and founder of the Tulsa-based Higher Dimensions Church, which was once one of the largest evangelical churches in the nation.
"He has been a great shoulder to lean on," Potts said of Pearson.
Like Potts, the high-profile pastor experienced a falling out with the evangelical world, including the Roberts who forced him off the Oral Roberts University board and barred him from using campus facilities, after denouncing hell and becoming too inclusive in his Christian message. Pearson now teaches what he calls the "Gospel of Inclusion."
"He started to see that gay people don't choose to be gay, that they need to be included," said Potts.
Though he has found reconciliation between his sexuality and religion, Potts prefers not to use labels when describing his own spirituality.
"I'm pretty much in step with a lot of the values I grew up with," he said. "I don't want to declare that I'm different from you. I sense we're probably searching and finding the same kinds of things and we have that common bond."
"I heard Dan Savage say that he's a 'cultural Christian.' I'm definitely that," he said with a laugh.
Potts continues to tell his inspirational story, which resonates with many gay and lesbian Christians, and he remains dedicated to sharing a message of hope, inclusion and acceptance with LGBT youth, particularly those in smaller, more conservative areas of the country.
"I want the message to get to those kids," he said. "That's where my heart is."
Contrasted by his uncle's struggle for acceptance, Potts agreed his life story is testimony that it gets better.
Potts is currently working with playwright Ryan Tofil and director Matthew Corozine on an Off-Broadway play based on his memoir, available this fall.
Upcoming Events with Randy Roberts Potts
Sat., July 30
Chicago at the Inclusion 2011 Conference
Sheraton Chicago Hotel & Towers
, 301 East North Water Street
Leading a panel on faith and homosexuality from 10 a.m. until 1 p.m.
More information: Clint Bargmann, 815-993-0844
(
Event Details
)
Wed., Aug. 3
Los Angeles at the LGBT Center's Renberg Theatre
1125 N. McCadden Place
Discussion moderated by Alan Acosta at 8 p.m.
More information: 323-993-7332
(
Event Details
)
For more information on Randy Roberts Potts visit
www.randyrobertspotts.com