Out-lesbian Kelly Cassidy takes office today in Illinois legislature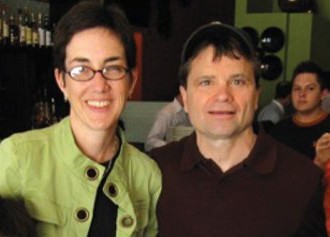 kelly cassidy with u.s. rep. mike quigley
photo credit // windy city times
Kelly Cassidy appointed to state legislature, replacing Rep. Harry Osterman
Springfield, IL - Lesbian activist Kelly Cassidy (D-Edgewater), who replaces state Rep. Harry Osterman in the Illinois House, will officially take office today in Springfield.
Cassidy was appointed state representative for the 14th District, which includes the Edgewater, Andersonville and Rogers Park neighborhoods of Chicago. She is a longtime assistant in the Cook County state's attorney's office and has worked as the legislative director for the Chicago chapter of the National Organization for Women.
Chosen from among 23 other candidates, including openly-lesbian Paula Basta and transgender activist Catherine Sikora, Cassidy replaces Osterman who was elected 48th Ward alderman in February.
"The LGBTQ community has a new ally in the General Assembly, and I have no doubt that she will be able to make the difficult decisions that are facing our leaders and the state," said Lowell Jaffe, Political Director of
The Civil Rights Agenda
(TCRA).
Cassidy becomes the third openly-gay member of the state House. She lives with her three sons in Andersonville.
TCRA and long-time gay activist Rick Garcia are planning a reception for Cassidy on Monday night in Springfield.