Superstar Adam Lambert enjoys 'Afterlife' with CircuitMOM and DJ Sam Gee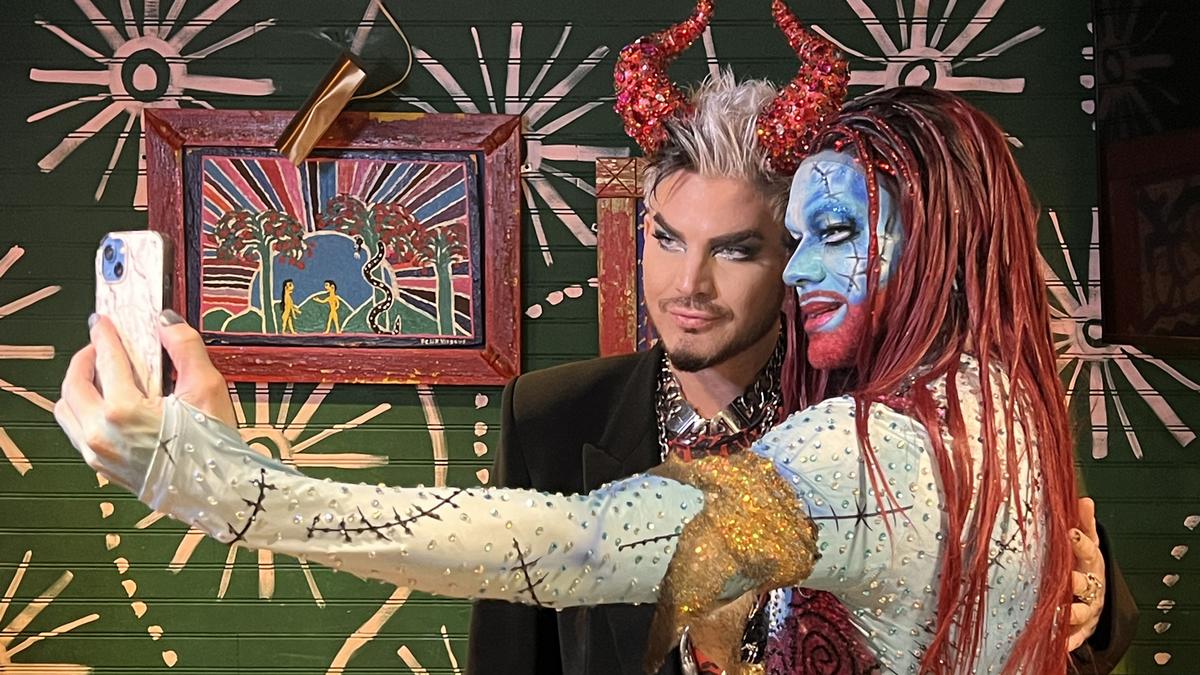 adam lambert greets fans, takes photos at mom's afterlife
photo credit // circuitmom
'Yes, he is an old friend of mine and wanted to stop by,' laughed Sam Gee
Matthew Harvat
was a more than a wee bit surprised when DJ Sam Gee gave Harvat his guest list for his CircuitMOM Productions debut on Saturday night, October 28, for the Afterlife party at the
House of Blues
in downtown Chicago.
There he was, Adam Lambert + 1.
Harvat seemingly skipped all the other names on Gee's list – and immediately asked if it was, in fact, the Adam Lambert, the singer, songwriter and actor who has sold over 3 million albums and 5 million singles worldwide since 2009, the same year he rose to fame after finishing as runner-up on the eighth season of
American Idol
.
Gee laughed and replied, "Yes, he is an old friend of mine and wanted to stop by."
Even personnel in the box office at House Of Blues were startled.
Lambert is in Chicago for shows on Monday and Tuesday, October 30-31 at the
United Center
on The Rhapsody Tour with Queen.
Queen and Lambert's 150-minute career-spanning set list celebrates the band's extraordinary catalogue with such hits as "We Will Rock You," "Don't Stop Me Now," "Radio Ga Ga" and "Somebody To Love," among others.
The Rhapsody Tour is a tribute to the late Freddie Mercury and much more.
Harvat, the true queen of CircuitMOM Productions, in its 25th year, said Lambert "could not (have been) more gracious with his time, greeting anyone who wanted to say hello or take a quick photo."
Afterlife was sold-out, "so there was no easy route to get around the venue without having to squeeze through crowds," Harvat said. "It was funny to see people do double-takes and then do the 'OMG' realization. 
"I showed him around backstage and wanted to introduce him to Joshuan Aponte who does all my costuming and makeup as well as custom pieces for Lizzo, Megan Thee Stallion, Bebe Rexa, Shea Coulee and Nicki Minaj, to name a few, in hopes they can collaborate on something. They hit it off and exchanged information, so fingers crossed."
This was Harvat's second Halloween interaction with Lambert, ironically.
Harvat DJ'd a huge Halloween event at the Park West for 101.9 FM in 2015; Lambert and his band were the headliners during the first "Queen, featuring Adam Lambert" tour. "He was electric that night as well," Harvat said. "I was playing Usher's 'Monster' and Adam came up to my (DJ) booth, off to the side, and sang the song to me about five inches from my face. I about died. Total fangirl moment.  
"I reminded him of that last night, and we cracked up."
Harvat added, "
His rendition of Cher's 'Believe'
at her Kennedy Center Honors ceremony is one of the greatest live performances I have ever seen. I have probably watched it 11,000 times, and I still cry like a baby."   
Harvat said Lambert is "a superstar who is pure class."