Sounds from the Doggpound hit Hydrate Nightclub on Friday for H2Glow Party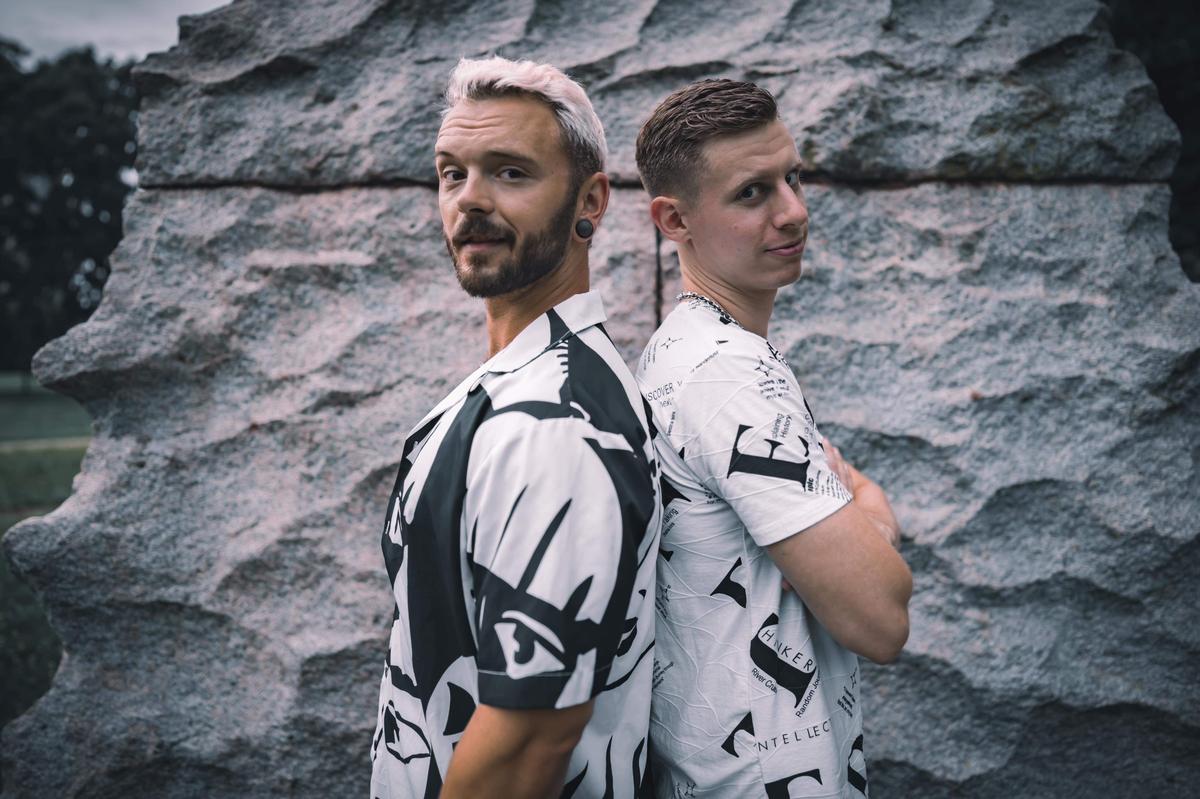 djs chomper and baker are doggpound
Local favorites Barker and Chomper debut the Doggpound
The lights will shine brightly at
Hydrate Nightclub
tonight for H2Glow, North Halsted's newest and brightest BlacklightParty, featuring Khloe Couleé, Mimi Marks, Sheeza Woman, Apollo Venom Summers, and Kitty Banks for a two-hour hyped-up glow-inspired show starting at 10 p.m.
In the DJ booth is the debut of DOGGPOUND, Barker and Chomper, with late night host Finn, winner of this season's Freshman 15. 
"Chicago always throws down. It is the mecca of House after all," said Deric "Chomper" Schwartz, 31, a Milwaukee resident who has been spinning for 12 years. "Barker and I are excited to debut DOGGPOUND at Hydrate. My goal is to create an environment where anyone is welcome. That means welcome to be, welcome to dance, welcome to sing, welcome to completely let go.
"I love to see Hydrate utilizing their lights and fantastic sound system to bring a new kind of party to the Halsted LGBT scene."
Barker, 30, a Chicago resident who has been producing music for 11 years and DJing live for 2 years, added: "Hydrate is an incredibly fun place to spin music. Great sound, energetic crowds, and every night there always comes with fun surprises from both an awesome staff and people who truly throw down on the dance floor. I am honored to be playing there for the launch of a new concept – everyone can be sure that Chomper and I will bring energy to match.
"Blacklight parties are always a blast. Seeing what people will wear and the dance floor light up and glow will be fun for us – and of course we will be participating in the theme ourselves."
Hydrate is offering $5 off cover to those who arrive in neon attire.
SIMPLY CHOMPER
Schwartz was driven to the DJ booth by his love for electronic music and 4x4 beats. His first gig was at this small Milwaukee bar called Boom & The Room. He was 19 at the time, working every Friday with a Traktor S4 and Macbook,playing festival bangers and making his own mashups to get the crowd involved.
Now he calls home Hydrate and
LaCage NiteClub
in Milwaukee.
"Hydrate Fridays are legendary. The energy in the room is always something I look forward to," Schwartz said. "I love watching the late-night crowd get extra rowdy. It's always hands up and big smiles from the crowd.
Chomper's style in high energy: "I love to bring the boom," he said. "My sets are very bassline and vocal forward. I love tracks that have a ton of ear candy and melodic vocal hooks that drive you into a hypnotic club dream. You will find it hard not to move your body and sing along. 
"I love being around people who are motivated in the scene. Let's be real, we are a bunch of weirdos dancing to robot noises. Anyone who is motivated in creating a culture around that level of weirdness is going keep me moving forward."
Favorite Past Chicago Gig:
 "Chicago Pride was pretty epic for me. It had been a bucket list gig for quite some time due to it being in my backyard. I felt incredibly accepted by the crowd and even debuted a few original tracks. The feeling was unforgettable and a huge steppingstone in my career."
Favorite DJ memory:
 "There are too many amazing memories to have to choose one. I have a handful of memories of all the times I was able to B2B with my friends and new DJ friends. Those nights always sit forward in my memories."
Favorite DJs:
 Matroda, Green Velvet, James Hype, Karsten Sollors, Chris Lorenzo, Chris Lake, Holt 88, WeDamnz, Sponges and Never Dull
Three DJs To Watch:
 Karsten Sollors, Thomas Xavier andBarker
All-time Favorite DJ Gig:
 "My first Milwaukee Pride headliner gig. After going to Milwaukee Pride for many years and even opening a few times, I had the opportunity to headline the dance pavilion for 5,000 people. It was a dream come true."
Drinking In The DJ Booth:
 Cassamigos Lemonade and water
Favorite Actor:
 Pedro Pescal 
Favorite TV Show:
 Family Guy
Favorite Movie:
 Looper
Favorite Sport:
 Skateboarding
Hobbies:
 "Anything outdoors. "
Little-known Fact:
 "I love cooking."
If I Wasn't a DJ:
 "I'd be managing a gym."
Boxers or Briefs:
 Commando
BRUTALLY BARKER
Barker's first gigs as a DJ were unpaid, begging friends to let him DJ their pregame parties. His first live set was in front of about 20 friends. "I mixed 2 hours, probably really poorly – but everybody was great sports about it and stuck with me," he said.
"Honestly, it's hard to say (what got me started as a DJ). I have always enjoyed club culture and curating music whether that be Spotify playlists or car rides. Having a music production background led me to taking the plunge into DJing after going to so many club nights and hearing things that I could add to what a DJ was doing that weren't happening. From there, it was a dive-in head-first."
Barker is a regular at D.S. Tequila in Lakeview, spinning multiple times a month on Saturday nights, and at clubs across Chicago on a regular basis playing various types of parties. 
"The love Chicago can show you as a house DJ is unmatched, and anybody can randomly show up to a set where you'll suddenly be playing in front of some of the most influential musicians in the industry," Barker said. "I've had opportunities given to me to spin music alongside Chicago legends like Ron Carroll which I'm so thankful for, and have spent some of my most cherished moments behind the decks at the clubs around the city. 
"Playing at Chicago Pride for the first time will always be a cherished moment. It was the first-ever Pride I attended after coming out in 2012, and I never once thought that I would be contributing to other people's Pride experiences."
Barker's favorite DJing moment was star-studded, truly a surreal moment:
Lil Nas X was dancing in front of Barker.
"Sometimes there are moments that make you wonder if this is real life when you're up on stage, and that was definitely one of them," he said.
Barker's sound is simple: house music.
"I'm a Chicago boy through and through. Especially in clubs like Hydrate, I love to blend dirty basslines, unknown tracks, and unexpected drops with classic house sounds andiconic callbacks that get the whole dance floor involved," he said. "I'm a tech house DJ, so a lot of my focus is on blending tracks that can layer on top of each other to create something new, and using tricks on the DJ decks to my advantage to create moments that make people wonder how things are happening or what's coming next, winding things up to big releases."
Barker is a regular attendee at live shows, both professional and amateur, and watching sets on YouTube. "There's always something a DJ is doing that the rest of us don't do right now," he said. "Any DJ who hears something would be hard-pressed not to immediately think 'Oh, I want to go try to do that!' whenever they hear something incredibly cool or unique. There's something to learn from every DJ and if you don't take that for granted, it's easy to find inspiration from a genre of music that is just endlessly growing."
Favorite DJs:
 "Honestly, there are so many amazing DJs to choose from, it's almost impossible to create a list. I'm a huge fan of Matroda, Mochakk, J Worra, Chris Lorenzo, and CID in terms of top billing DJs. Every time I get to any sets of theirs, I'm blown away, and a lot of what they do inspires me to create myself."
Three DJs To Watch:
 "There are some awesome producers doing things right now that are very much on the rise and are only going to get bigger. Locally, Deux Saints and Hotpretty are two examples of huge talent bringing noise that you won't really find anywhere else. Forbid out of the UK is another who's got such a signature sound that I absolutely love and it's only a matter of time before we see him on bigger and bigger stages."
All-time Favorite DJ Gig:
 "The first time I got to use a 4 deck setup was at Very That!, which was easily one of the more career-altering moments for me and set me off on a new trajectory."
Drinking In The DJ Booth: "I used to drink gin and tequila during my live sets, but I try to stick to seltzers nowadays."
Favorite Actor:
 Matt Damon
Favorite TV Show:
 The Office
Favorite Movie:
 Catch Me If You Can
Favorite Sport:
 Baseball
Hobbies:
 Playing sports, going to the gym, traveling, and spending time with friends
Little-known Fact:
 "I've broken my nose three times."
If I Wasn't a DJ:
 "I would want to be creating my own parties and experiences, which is something I intend to build alongside DJing over time."
Boxers or Briefs:
 "If you know me well, you know I prefer something a little more … open backed than both of those(options)."
ALL DOGGPOUND
Chomper and Barker developed the Doggpound to bring a new kind of energy to dance floors. "After DMing some on Instagram about how funny it would be to run a B2B since we both have dog-related DJ aliases, Chomper invited me to hop on the decks with him at Hydrate for an impromptu B2B one night," Barker said. "We quickly found ourselves dancing to each other's track choices and if you see us up in the booth, we are probably chatting about something completely random while mixing or doing something stupid to make the other laugh. It works for us,"
The two run a back to back concept in the DJ booth. They are constantly mixing together and more.
"Chomper and I trust each other to keep the energy moving in the right direction and to match each other's vibe. Our library overlap is the most I've seen from any two DJs, and that sense of harmony really helps us keep a great flow," Barker said. "Having multiple DJs in the booth is always an adventure. Sometimes things work out and sometimes they don't. Luckily for us, it worked so seamlessly from day one that we love being up there together."
Chomper added: "Barker and I have a similar view into the world of house music, yet our styles are a little different. Barker brings a high energy atmospheric tone through vocals and big leads, while Chomper tends to bring the groove with tons of familiar vocals and ear candy elements. The melding of the two styles makes for a night filled with nonstop dopamine."