Sidetrack OUTspoken featured storytellers for Sept. 5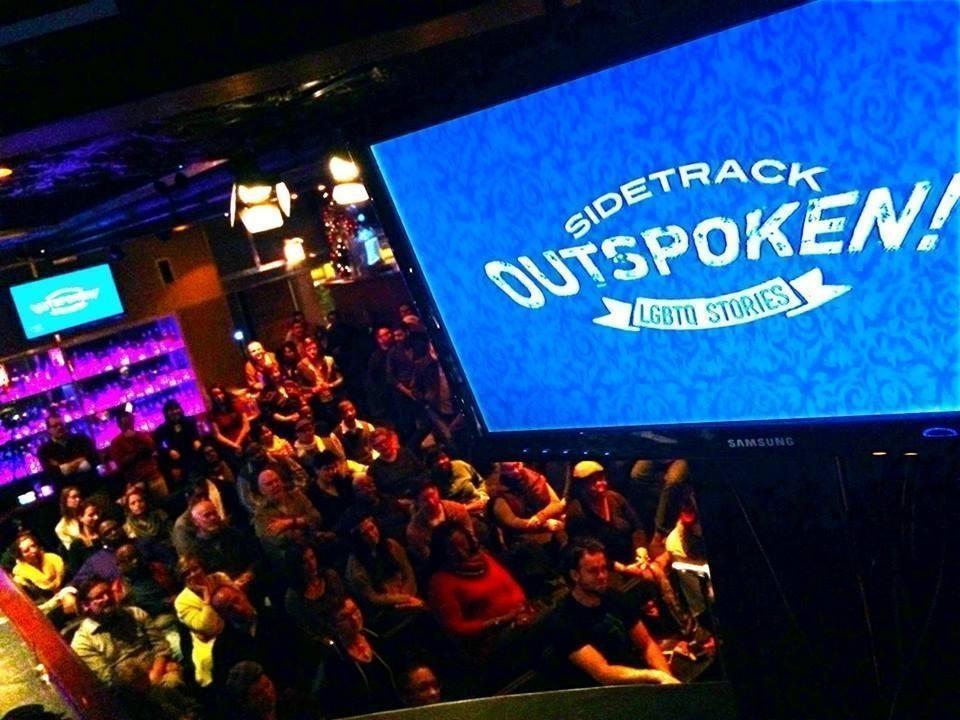 outspoken: lgbtq+ storytelling at sidetrack
photo credit // sidetrack
Chicago's monthly evening of LGBTQ storytelling – known as OUTspoken - returns Tuesday, September 5 with an exciting line-up of featured storytellers for the month.
"The key is, we all have full, rich lives," curator David Fink told GoPride.com. "Talking about significant moments connects us. Although we may outwardly have little in common, as humans we all have a lot in common. Personal, true stories help remind us of these commonalities."
Six storytellers will take their turn with the microphone as
Sidetrack
transforms its Main and Cherry Bars into a story-telling hall with chairs for seating.
OUTspoken takes place the first Tuesday of every month at Sidetrack, 3349 N. Halsted, and is hosted by Kim Hunt and Sidetrack owner Art Johnston.
There is no charge to attend, but audience members must be 21 with ID.
Doors open at 6 p.m., and stories begin at 7 p.m.
Meet the September storytellers:
Rohan Anand
is a 36-year old technology project manager in Chicago.  He grew up in Dallas and has called the Midwest home for almost half of his life.  He lives in uptown with hid 4-year-old pit lab rescue, Sasha (he/him).  Rohan has an unconventional background and story as someone who is multi-lingual, multi-national, and also a yoga instructor and podcast producer.  He is actively involved in Trikone Chicago, a South Asian LGBTQIA non profit, and has organized and led its entry, march and participation in the Chicago Pride Parade in 2019, 2022 and 2023. 
R.C. Riley
is a recent empty nester, writer, performer, activist, and warrior who began writing as a means of healing after a sexual assault. R.C.'s personal healing led to the creation of their first solo show, Wrong Way Journey. Their work examines the intersection of race, gender (sex), sexuality and faith and seeks to find justice for and liberate those marginalized by society. R.C. leads workshops, guest lectures, performs short stories and solo shows at colleges and theaters across the nation. In addition, R.C. hosts a podcast titled BE EMPOWERED! with R.C., which addresses topics of concern for BIPOC (Black, Indigenous, People of Color) and LGBTQ+ communities. 
Mikey Oboza
is an award-winning intersectional radical queer feminist for over 28 years as well as a retired crowned camp drag queen and published volunteer photographer. His biggest success is he's the original visionary turned cofounder of Bisexual Queer Alliance Chicago.
Roberta Miles
is a jazz singer, poet, writer, and visual artist. Her award-winning autobiographical monologues touch on growing up in Chicago in the 70's and her life's indiscretions and romantic regrets. She has laid her soul bare at
Steppenwolf
Theater, Second City, I.O, Beast Women, Prop Thtr, and Three Cat Productions. She is the producer of the long-running shows Cafe Cabaret and Loose Chicks.
Sloane Murphy
is a writer from Missouri. She writes about the lives and experiences of butch trans women and other assorted perverts. If anyone asks, she just left.
Maria Kostas
has told stories on various stages around Chicagoland. sometimes entertaining, sometimes historical, perhaps insightful, and often quite personal, She blends the past with the present as she shares impressions and memories gathered from working with large groups of people most of her life, including work as a teacher, a business owner, a bartender, and a couple of seasons as a carnie.