Spinning Sensations: DJs reflect on the magical memories from 2023 Market Days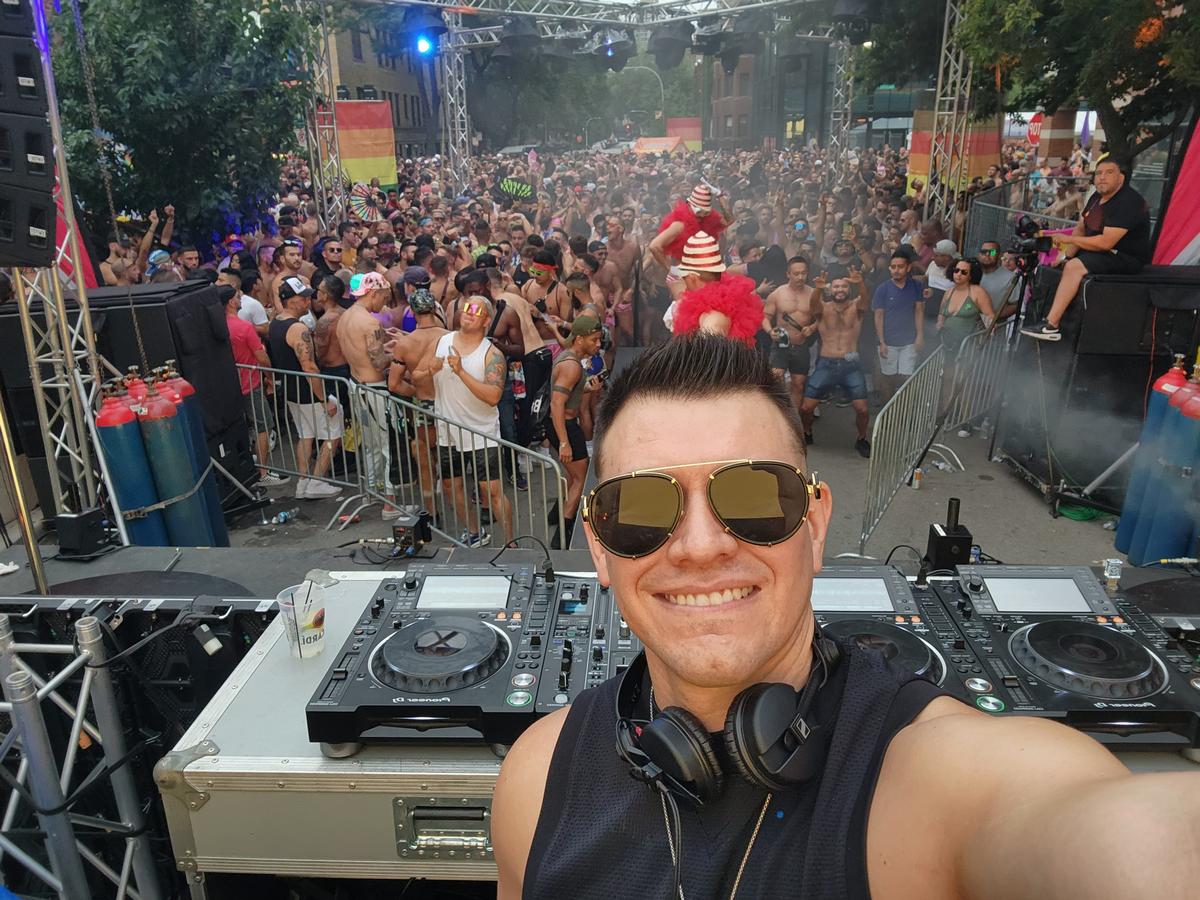 dj jesus montanez makes his market days debut in 2023
'The energy was amazing; I had a blast,' says DJ Jesus Montanez
DJ Jesus Montanez, making his debut on the ViiV Healthcare Hydrate Stage at the 2023 Northalsted Market Days in mid-August, said the gig was everything he thought it would be – and more.
"I had so much fun," said Montanez, who was spinning to thousands Sunday afternoon, August 13. "The energy was amazing; I had a blast. Thank you to all for being very nice to me; I hope I can return to spin again at Market Days in the future."
DJ Cindel, making a return performance at the popular summer street festival that rocks the Lakeview neighborhood commonly called Boystown, said Market Days gets bigger and better each year – especially in 2023.
"Everything from the production value to performances and everyone involved in the technical aspect of it," was improved, he said. "The thousands of people who attended each event made (Market Days) extra special. I believe this was (the) best year to date."
Cindel was busy late Sunday, spinning at the CircuitMOM Productions' party at the
Aragon Ballroom
. He said it was simply a "magical journey."
"The production and visuals, from the concept to the themes to the lighting, everything was on point and so visually appealing," he said.
Cindel's set was well-planned, he noted. "I worked on an intro that would capture not only the essence of the journey I was about to embark on musically, but also give a hint of the energy that was to be expected," he said.
Cindel attended an afterhours party thrown by Kevin Hernandez with DJ Kardona and Adrian Dalera.
"I (left Market Days) with a big smile on my face, knowing we delivered a true experience that people will talk about for months and hopefully make plans (to return to the 2024 Market Days.) I look forward to being part of Market Days again."
DJ Jace M, spinning on a sun-drenched Saturday afternoon on the Hydrate Stage, was very direct on the 2023 Market Days: "It was a blast," he said.
"Every single person involved in the festival, the after-parties, events, etc., should be very proud of what they accomplished. No other city brings people together like Chicago," Jace M said. "I got to spend the weekend with two of my best friends in one of my favorite cities."
Jace M, from Miami, said that the production level at CircuitMOM events is "next level," he said. "No one does it like MOM!"
Jace M said his set was chill at first, but then kicked in. "I got to debut a number of new tracks I have been working on which worked really well," he said.
"I loved hearing everyone's sets, (such as) Joe Pacheco, Dan Slater, Danny Verde, Sam Gee, Isis, Tony Moran, Abel, Adrian Dalera and others. I really loved every moment of every set."
Jace M added: "Market Days is a very special time for us all to get together and spend time together. It's easy for our community to find miniscule things to complain about at every event, but at the end of the day, we are all here together having a great time and supporting a great cause."
DJ Sam Gee played to Mother Nature during his set. Amid a light rainfall, he naturally delivered "Rain on Me" followed by "It's Raining Men."
"The energy of the crowd at those moments was electric," Gee said.
"The weather on Sunday was (overall) phenomenal. It was very sunny on Saturday, making it less comfortable to dance in the direct sun. However, when I was playing, it was breezy with a slight overcast. This created the ideal setting for me to serve the #EnerGEE."
Gee admitted he was a bit concerned, making his Market Days debut, that it might not be too crowded when he took to the stage. "To my surprise, the dance floor filled up in no time. Seeing a packed dance floor always brings a smile to my face," he said.
"All of the DJs who played at Market Days did incredible. Shoutouts to Joe Pacheco and Jace M, amazing jobs. Also, all the CircuitMom events were top notch, with production like no other."
Gee returns to Chicago on Saturday, October 28, at the
House of Blues
, for "Afterlife" from CircuitMOM Productions, along with DJ Suri. And Gee also will be celebrating his birthday in the Windy City.
View photos from Market Days 2023