Zachary Quinto's 'Historical Homos' shows that queer people have been around, well, forever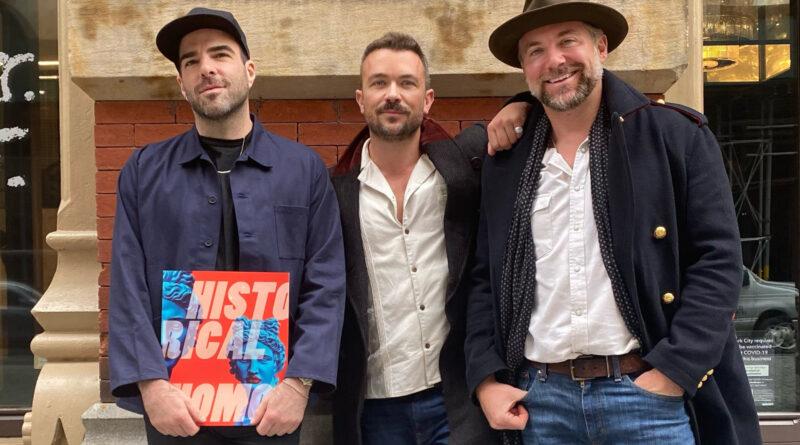 zachary quinto and dekkoo serve us 'historical homos'
'Historical Homos looks at history with a queer eye, and celebrates figures whose queerness has been downplayed, overlooked, or forgotten,' says co-host Bash Brophy
Dekkoo, the premiere subscription-based streaming service dedicated to gay men, features Zachary Quinto's docu-series Historical Homos, launched this summer – a fun guide to queer history that aims to show that queer people have been around, well, forever.
The first four episodes truly span the LGBT universe: from exploring male homosexuality in Greek Mythology to delving into the true story of a transgender spy and soldier, Le Chevalier d'Éon. Then it focused on the little-known bisexual proclivities of William Shakespeare and Christopher Marlowe, followed by the life and loves of Virginia Woolf, particularly her lesbian affair with Vita Sackville-West.
"After much deliberation, we landed on these four as they felt like a good, diverse launching pad for the show. Not too obvious and good mix of the LGBTQ+ universe," said co-host Donal Brophy. "I'd say what makes us stand out is that we are (a) 'no fucks given' guide to queer history, we want to bring our subjects to life and put them in a modern context while giving our audience an opportunity to understand what life was like to be queer in each specific time period. Bash is extremely knowledgeable while sometimes I'm learning for the first time about each person, which makes it fun. We want our show to be unpretentious and accessible."
The first episodes:
'Toxic Boyfriends of Greek mythology' examines the queerness of the ancient Greeks and how same-sex relationships were deeply woven into Athenian society, so much so that the greatest God of them all, Zeus, was a bisexual creeper, Brophy said. 
Another episode looks at the life of Le Chavlier D'Eon, the first person to publicly transition legally in history. A swash buckling tale as she becomes a spy for the French court in Russia and Louis XV ambassador to London, Brophy said.
Then there is the episode that uncovers one of the greatest examples of 'Straight Washing' in history. The majority of Shakespeare's sonnets were addressed to a young man, the pronouns changed over time by the powerful hetro academic elite. "We also look into the life of Shakespeare's contemporary Christopher Marlowe who by all accounts was quite the queer rockstar of his day. Think a gay Kurt Cobain running around Elizabethan, England," Brophy said.
Another episode reopens a portal to the days of the Bloomsbury set, who cut a stylish and avant-garde streak across Edwardian London. "The trendsetters of the cool kids where Virginia Wolfe and her extraordinary sometimes lover and sometimes best friend Vita Sackville West," Brophy said. "Vita was the wild child heiress to one of England's biggest fortunes and her and Virgina's letters are pure erotic lesbian smoke shows."
Brophy, 42, who lives in Palm Springs, added: "We chose these four as we felt they were a broad spectrum of the LGBTQ+ community so as all the colors felt they had skin in the game to come join us on this amazing journey."
Episodes run for one hour.
"It can be quite provocative and confronting to talk about historical homos within the modern construct of being gay,'" Brophy said. "These people lived in very different times and didn't play by any of the rules and norms concocted in the last hundred years. I'm sure people will be shocked that in ancient Athens mentorship and sexual relations were encouraged within the military; they felt it made stronger bonds between the soldiers. The idea of Le Chevalier D'Eon being a trans decorated war hero and unapologetically queer in pre-revolutionary France is provocative and it brings home the realization that we as LGBTQ+ people have been here kicking ass for quite some time and we will continue to do so."
The series shows, without question, that there are numerous truly revealing notes/facts. Case in point:
- "Christopher Marlowe was much cooler and a lot more famous than Willy Shakespeare in his day, and they both had the hots for a sexy twink working at the Globe Theater. This 'Fair Youth' was the inspiration for most of Shakespeare sonnets," Brophy said.
- "The court of Louis XV was very queer-friendly and hedonistic. In fact, the king was intent on sleeping with D'Eon who had to fight off his big fat codpiece."
Brophy admitted he is intrigued by historic homos. "I love hearing about queerness in Rome and Egypt but I think we'd also like to explore figures right up to recent history."
Brophy and his husband, Emrhys Cooper, had an idea for a queer history podcast during the pandemic, so they went to their friend Zachary Quinto to see if he would be interested in producing it. "As fate would have it, his agents had been sent the IP for Historical Homos. We loved what Bash and Lucy had done with the aesthetic and their punk approach to history so we merrily all joined forces," Brophy said.
Laughs are aplenty in the series.
"It's important to not take ourselves too seriously and have a good time while exploring these fascinating characters," he said.
"Historical Homos looks at history with a queer eye, and celebrates figures whose queerness has been downplayed, overlooked, or forgotten," said co-host Bash Brophy. "The narrative of modern gay and trans life demands that we date the beginning of our history from the moment we became 'legitimized' through labels and liberation. But that's too simplistic and convenient a view. Queer people have been around for eons. Challenging sexuality, sex, and gender is a foundation of human civilization, not some modern invention. Gayness and gender fluidity often look different in the past, but that's what makes them more interesting. And as a community we have every right to claim some of the greatest names in history as members of our rainbow tribe. Socrates, Shakespeare, Virginia Woolf, Leonard da Vinci - these are household names and they all have a connection to queer desire, identity, and history. Historical Homos champions that fact. But we're also different because we do all of this with no fucks given. We use humor and entertainment to bring people in and make this history actually interesting. It's not a boring academic review nor is it a documentary. It's a lively re-presentation of history through the eyes of our most fabulous LGBTQ+ ancestors."
Bash added: "We have to be provocative to get people's attention. People mostly don't care about history, and unless they're LGBTQ+ identifying, they don't care about our community very much either. Combine the two and you've got a problem. We take inspiration from series like Horrible Histories and Drunk History – as well as programs like Planet Earth – all of which know that if you want to get people excited by nonfiction, you've got to make it a spectacle. I also feel that queer people have a right to bring our trademark irreverence, camp, and shamelessness to a retelling of history. I don't care about academic nuance; I care about sharing this information with as many people as possible. And finally, for the non-LGBTQ+ among us, I think humor is the best way to connect. Everyone can laugh at Historical Homos, and it is emphatically not designed solely for gay, queer, or trans people to consume. Queer history is human history - everyone should get into it."
Follow Historical Homos on Instagram
.
For more information, visit
Dekkoo.com
. Historical Homos also is available as an audio podcast on Spotify and all major podcast platforms.