Flag football tournament returns to Chicago's lakefront this weekend for annual Pride Bowl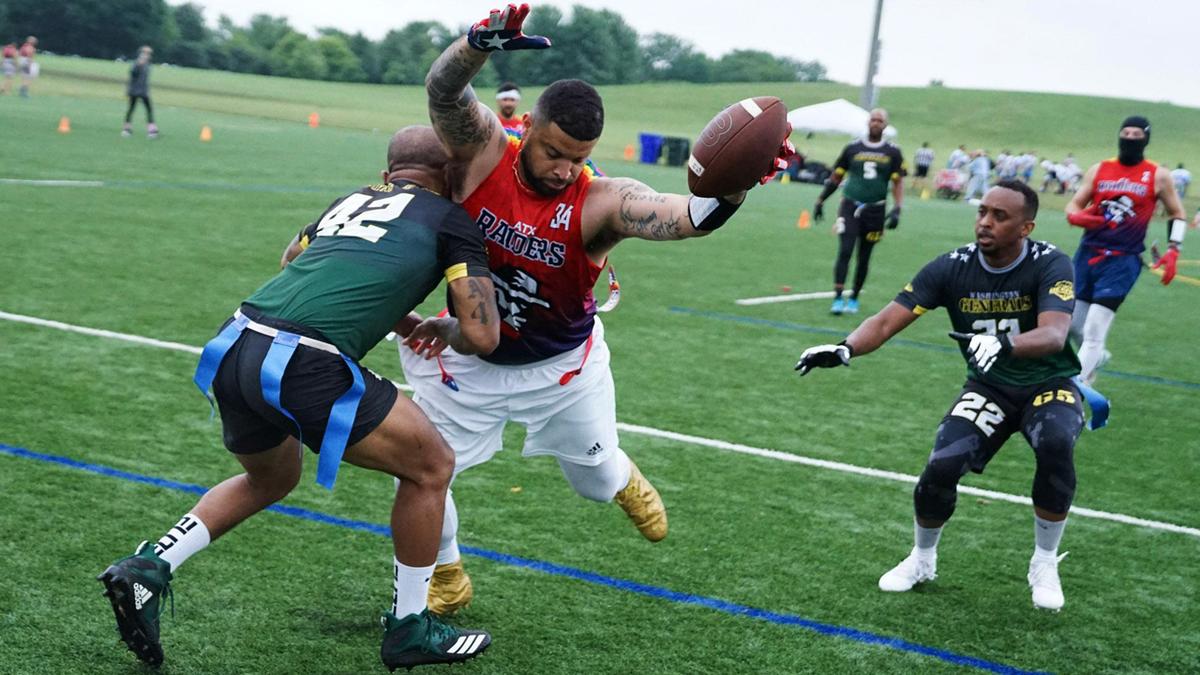 photo credit // chicago metropolitan sports association
Pride Bowl is one of the premiere annual events for the National Gay Flag Football League
The annual Pride Bowl flag football tournament returns to Chicago's lakefront fields on Friday and Saturday, June 23-24, with 48 teams participating from across North America and about 750 players in six or seven divisions.
Seven Chicago teams will be participating.
"Our committee has been hard at work planning for Pride Bowl XV. We are looking forward to welcoming so many returning and new teams," said tournament director Jeff Griffin. "We are especially excited for the growth of the women's+ division and expect it to be our largest field of women's+ teams ever. Additionally, our Canadian friends from the Toronto United Flag Football League will be joining us at Pride Bowl for the first time."
In addition to games played at Montrose Harbor fields, located at the Lakefront Trial and West Wilson Drive, there will be evening social events and an awards dinner. 
Related:
Chicago's LGBTQ calendar is on GoPride.com
Pride Bowl is run by the
Chicago Metropolitan Sports Association
(CMSA) and is one of the premiere annual events for the National Gay Flag Football League (NGFFL), which promotes the positive athletic and social benefits of flag football.
"We have an expanded field of teams in both the open and women's+ divisions. We've seen tremendous growth in the women's+ division, which is a testament to the NGFFL's work to increase the number of women's+ teams throughout the country and the various city leagues who have invested in their women's+ leaders and organizations."
Pride Bowl wraps with a Saturday night awards dinner and party in Lakeview, to celebrate and acknowledge the division winners and all-tournament team members.
Griffin, 35, is a San Francisco area native who has lived in Chicago for 10 years. He has played CMSA flag football for four years and has played in the Pride Bowl three times. He is in his first year as Pride Bowl director yet was a committee member for Pride Bowl XIV in 2022.
"Watching both the Chicago Freeze and Chicago Surge win their respective championship games last year, and the joyous celebrations of the players and the Team Chicago friends/families/fans after the games," is a favorite Pride Bowl memory, Griffin said.
Chicago has two teams in the women's+ division and five in open play.
"The Freeze and the Surge both come in as defending champions in their respective (open) divisions and (are) looking to repeat. We expect all the Chicago teams will be in the mix for a trophy going into the bracket play on day 2," Griffin said.
Here's a quick look at the Chicago/CMSA teams participating in the 2023 Pride Bowl flag football tournament:
Women's+ DivisionsTeam: Sparks
Captains: Christina Lopez, Devin Kerr
Quarterback: Amanda Hainlen
Team: Surge
Captains: Alex Rodriguez, Christina Federighi and Codi Livingston
Quarterback: Rachel Karos
Open DivisionTeam: Blaze
Captains: Logan Oppegard, Kevin McGuyer
Quarterback: Austin Sheaffer
Team: Freeze
Captain: Xavier Colvin
Quarterback: Mitch Doran
Team: Renegades
Captain: Ron Alexander
Quarterback: Ben Wasilewski
Team: Thunder
Captain: Azeez Shogbuyi
Quarterback: Scott Fulton
Team: Vortex
Captain: Scott McClung
Quarterback: Josiah Alicea
For more information on Pride Bowl Chicago visit 
pridebowlchicago.com
and follow the group on
Instagram
. 
Related: 
Out singer/songwriter Bradley Kim to participate in Pride Bowl, playing for a Los Angeles team