Chicago company driven to shape the future of Latinx fashion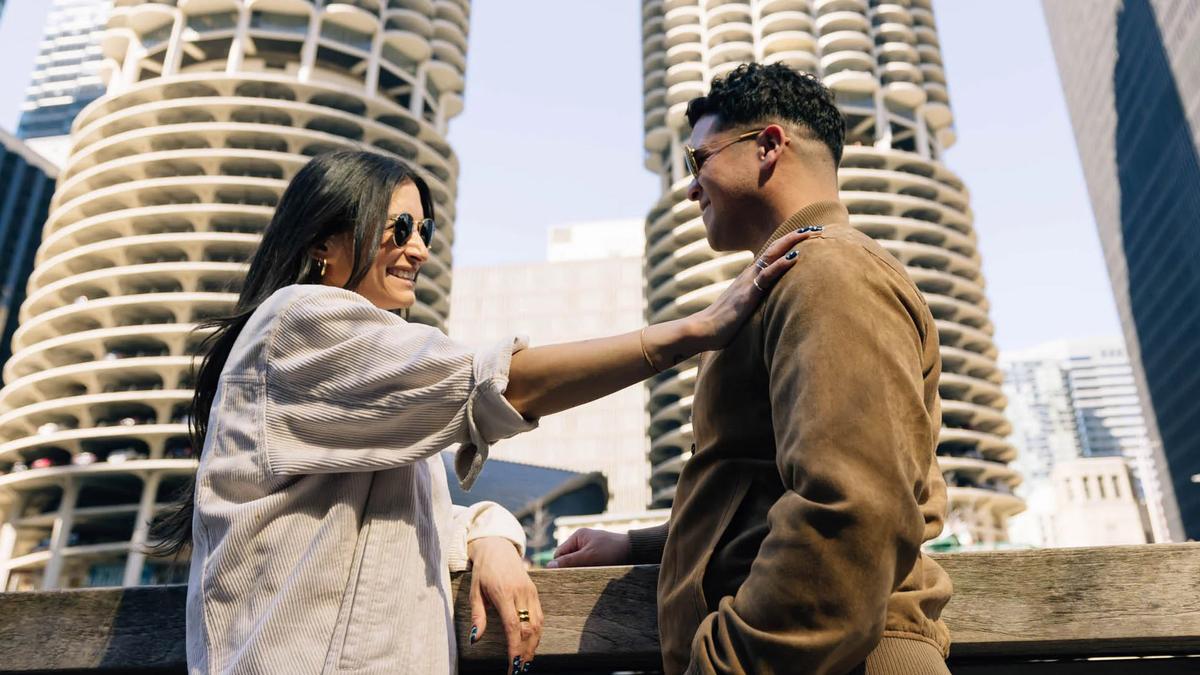 maria del mar meijas and alejandro ramos of maralé
'We aim to create a world where everyone can proudly express their Latin heritage through fashion,' says Alejandro Ramos
Alejandro Ramos and Maria del Mar Meijas are longtime friends, both originally from Vega Baja, a town in Puerto Rico that used to be famous for its pineapple and sugarcane industries, but now is known for its beaches and being Bad Bunny's hometown.
They met in the back of art class as high school freshmen and immediately connected over their shared love for art and pop culture. After high school, they were roommates at the University of Puerto Rico in San Juan. They parted ways when Ramos moved to Chicago and Meijas moved to Brooklyn, N.Y.
They are back together, professionally. Meijas moved to Chicago in 2019 and this year the two launched the Maralé Clothing Company, driven to shape the future of Latinx fashion. They are committed to boldness, inclusivity and cultural pride.
"With Maralé Clothing Company, we aim to create a world where everyone can proudly express their Latin heritage through fashion," said Ramos, 34. "We draw inspiration from our personal experiences growing up in Puerto Rico, then finding community in the Latin diaspora of New York City and Chicago. Maralé embraces the nostalgia of our youth and the current golden age of Latin pop culture. Our aesthetic serves as reminders of where we come from, who we are, and who we want to be.
"Maralé's mission is to empower individuals to proudly express their unique identity through fashion. We strive to create an inclusive and culturally relevant fashion brand that celebrates the bold richness and diversity of Latin American culture."
But first, what's Maralé?
"Maralé is an apparel company and lifestyle brand. Maralé caters to people who embody the bold richness and diversity of Latin American culture. Our shared vision is to empower individuals to confidently express the unique beauty of Latin/x culture through fashion," said Meijas, 33, who lives in Chicago Wicker Park neighborhood.
"Maralé is a composite of Maria del Mar and Alejandro. It's also the name of our company mascot, a manatee. The brand mascot is the manatee, a symbol of the cultural heritage and love for the ocean that is at the heart of Maralé. The manatee represents the diversity and uniqueness of the brand, like how manatees were once thought to be mermaids. We encourage everyone to be their own manatee mermaid."
Meijas brings extensive experience as a graphic designer, including a stint at Conde Nast. "While I leverage my expertise as a digital media specialist with an MBA in marketing, I've spent the last 10 years marketing other people's products online, and it's exciting to be selling a product I have so much love for this time around. Together, we share a love for Latinx culture and a joint entrepreneurial spirit that gave birth to Maralé," she said.
Maralé has a variety of offerings now for sale, including t-shirts, tank tops, hoodies and stickers. The company will be adding more in the coming months, including hats and tracksuits.
No doubt, popular items will be from their Mami/Papi Collection.
As of now, all sales are online:
www.marale.shop
"Maralé is releasing a Pride Collection in early-June.
"I never really gave it any thought before this moment," being a gay-owned business, said Ramos. "Being gay is just who I am. It's part of my overall identity just like being Latino. I'm so happy to be part of two vibrant communities. We hope those identities blend well enough to make a product that is interesting and full of 'sabor,' or just that little extra flavor that we need in our lives."
Maralé also has a Speaking in Non-English Collection, which references the closed captioning faux pas done by big networks during live events. "Whenever Latinos sing or accept awards in a language other than English, the closed captioning just says Speaking in Non-English or Singing in Non-English," Meijas said. "I think it's offensive to invite some of the biggest stars in the world for the bump in viewership, without providing the same treatment or accommodations as everyone else. The collection embraces that we are still considered to be on the fringe of popular culture due to our ethnic background but is also an act of pride and defiance. We should be accepted and celebrated for our differences. We will not give up on our language; we will celebrate it."
Ramos added: "We're hoping to create culturally relevant designs and products that will excite our people. It is very important for us that our designs honor our history and celebrate our present."
And hopefully Bad Bunny is listening: "We would love to get our brand on a big culture player like our hometown hero, Bad Bunny," Ramos said.