Drag queen-inspired apparel for dogs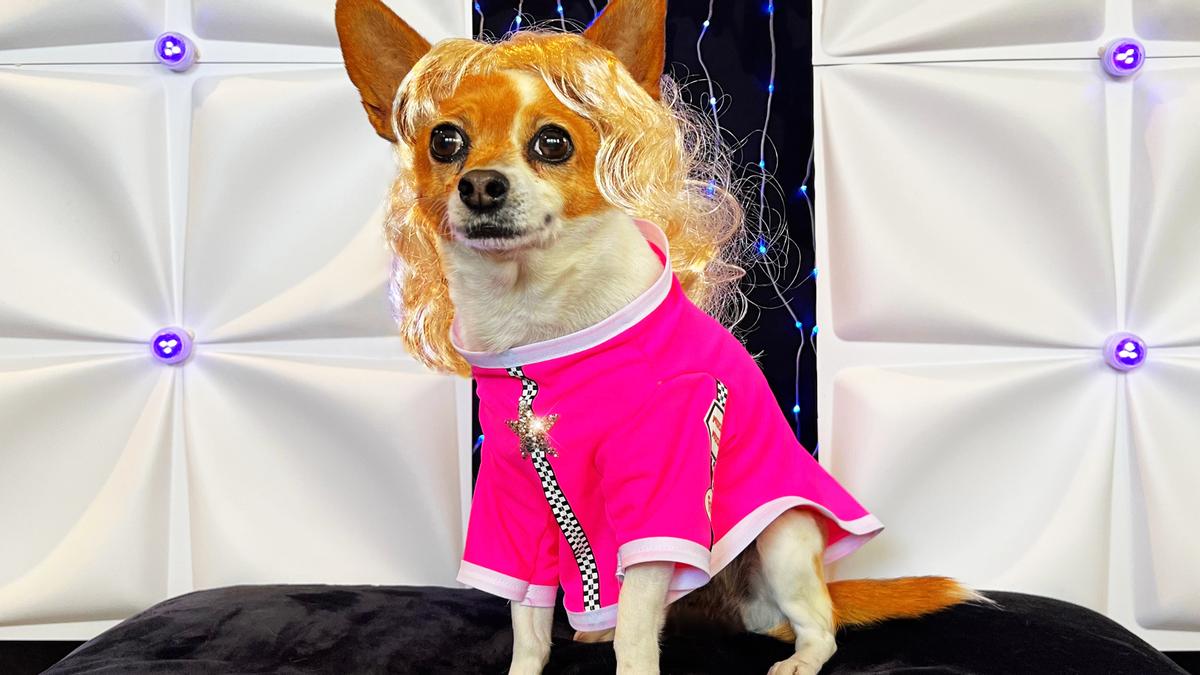 Fashion from RuPaul's Drag Race inspires Instagram sensation RuPawl
Instagram sensation "RuPawl the Doggie Drag Queen" is leaning heavily on RuPaul's Drag Race, obviously.

The four-legged fan favorite, er, her owner (José Lizárraga, founder and CEO of Doggie Drag) is launching a collection of canine clothing and accessories inspired by the queens from RuPaul's Drag Race. Dubbed Doggie Drag, the fashion line features an array of stunning and flamboyant pieces that capture the essence of drag culture.

"Our line of dog clothing and accessories are about celebrating individuality and self-expression," Lizárraga said. "Four-legged divas can shine as bright as the queens on the show.  They deserve the opportunity to express their resplendence, nerve and talent, too."

Lizárraga, 44, who lives in Boulder, Color., is the creator and owner of RuPawl and Doggie Drag, which emerged from the popularity of their recreations of Drag Race looks worn by RuPawl. "Our pooch's fans kept asking for a chance to dress up their dogs in fabulous looks, too. Doggie Drag is a response to that demand.

"Also, during these times when the art of drag is under attack, it felt important for us to launch this line," which made its debut on April 12.

"We were excited to launch our very own line of drag that is fabulous but also familiar to drag fans all over the world. The response has been very positive. Our initial goal is to start with a small, limited line of looks to launch our fashion house. Depending on interest, we will ramp up productivity and the variety of looks on a seasonal basis." 

The Doggie Drag collection features a range of eye-catching outfits, from brightly colored feather boas to sparkling, sequined dog tags and bold statement charms. Pooches can be transformed into blonde bombshells in Doggie Drag's Queen Mutha wig, which comes with a tulle bow with metal clip and adjustable chin straps. Or they can sashay away in the Mutha of the Runway gown, an opulent tulle explosion that includes glistening silver embellishments.   

Dogs also can rule the racetrack in a hot pink and checkered Start Your Engines jumpsuit, inspired by the outfit RuPaul wore in the poster art of the first season of RuPaul's Drag Race. It features color patches and crystal silver ornamentation.

Every piece is designed with a keen eye for detail and a commitment to quality, ensuring that dogs look and feel their best while strutting their sassy tails on the streets.

"Our goal is to start with a small limited line of looks to launch our fashion house. Depending on interest, we will ramp up productivity and the variety of looks on a seasonal basis," Lizárraga said. "Doggie Drag is fun and humorous, but also is important. We are living in a time when the drag community is being targeted and attacked by right-wing conservatives. We see Doggie Drag as a part of the effort to promote drag as a form of resistance and joy, to highlight the artistry of leading drag talent and showcase the beauty and resilience of the LGBTQ+ community.

"We hope to contribute to the activism and social movement that already exists in our communities. We want to communicate that."

The RuPawl phenomenon started in the spring of 2017 when Lizárraga began posting images of the little pup that he and his partner, Arturo Cortez, rescued from the San Francisco SPCA. Fans loved the playful and curious chihuahua, not only for their super-cute look, but for their fierce and fabulous looks.

Lil RuPawl, as the pup came to be known, lit up Instagram wearing replicas of the gowns seen on RuPaul's Drag Race, created by Lizárraga.

RuPawl has modeled Lizárraga's canine-crafted interpretations of some of the most iconic RuPaul's Drag Race creations, including Ginger Minj's Pop Art look from All Stars 6, a stunningly accurate rendering of Maddy Morphosis's Rain Clowd gown, and Willow Pill's blue strawberry gown reimagined with blue Kong chew toys. RuPawl also has sported Lizárraga's version of Mistress Isabelle Brook's puff gown and Sasha Colby's gown that paid homage to Beyoncé.

"RuPawl, aka Xóchitl, is a supermodel of the world., a chihuahua mix that we adopted as a puppy. At a young age, the pooch developed a talent for taking cute photos and for doing other tricks, (as well as) long walks and chasing wild bunnies," Lizárraga said.

RuPawl appeared at 2018's Drag Con in Los Angeles where they met fans and interacted with stars from RuPaul's Drag Race, including Vanessa Vanjie Mateo.

"That (was) a huge moment for us and we are thrilled to have a booth at DragCon LA 2023 on May 12-13," Lizárraga said. "We love amplifying the art of drag not only as an art form, but as an important socio-political statement. Being a social media influencer is not just about producing looks, but about bringing attention to important issues impacting our communities."

RuPawl's social media content has gained an international following that, in addition to well-known drag artists, includes LGBTQ+ scholars, activists and celebrities. "The @RuPawl_official page has won two Webby Awards and is currently nominated for a third, recognizing it as an important platform for socio-political issues affecting the LGBTQ+ community," Lizárraga said.

"We're excited about the growth potential of the RuPawl and Doggie Drag brands. Drag is everyday art but it is also the perfect way to include our loveable canines in celebratory occasions like Pride, Halloween, weddings and more. Whether you're attending a parade or dressing up for a costume party, Doggie Drag shines the spotlight on your glam dog's unique personality and sense of style."

Doggie Drag couture items are available in small and medium sizes, however some accessories are for dogs of all sizes.  Pride items including a Rainbow gown will be available in June.