Outrage over Touche hosting racist puppet show; bartender quits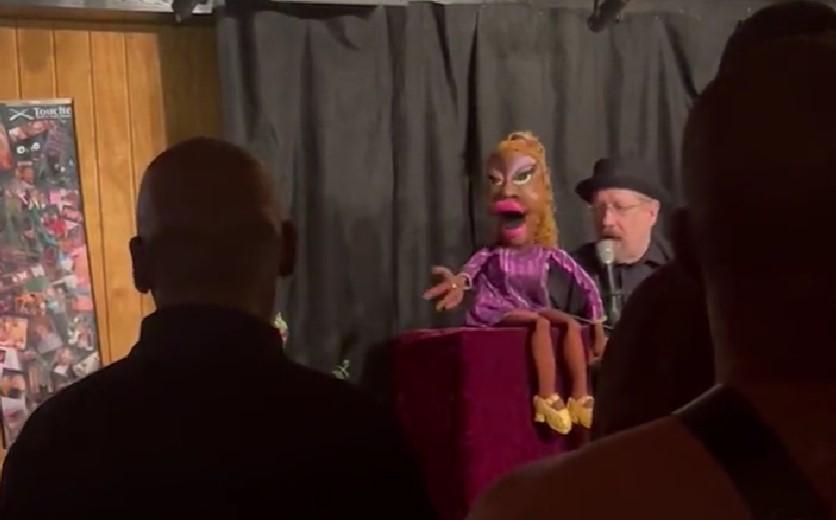 screenshot of video by twitter @craftbeardmi
photo credit // twitter @craftbeardmi
Walkouts and protests by Mr. Chicago Leather titleholders, leather archives leader, among others
Popular Rogers Park leather bar Touche, 6412 N. Clark St., is fending off accusations of promoting and hosting a racist puppet show to celebrate their 45th anniversary.
Disgusted patrons took to social media to voice concerns that owners of Touche knew about the racist content of the performance and was the reason why owners asked the show not be recorded on personal devices.
Uneasy patrons were quick to reject the "no recording" compact when they noticed an older white cisgender male performer, Jerry Halliday, pull out a puppet with exaggerated features portraying a Black woman in suggestive clothing.
Halliday called the character "Sista Girl."
It allegedly got worse when the puppet started talking.
One Twitter user called it "racist Geppetto."



*Marked Safe from Racist Geppetto.

I don't like puppets and I hate racism. Somehow both entered into .@touchechicago, a bar I liked going to. ??— Alex Mads?? (@HRHAlexMads) November 2, 2022

Another Twitter user who was present at the event posted video, calling out the racist performance and Touche's David Boyer.



Last night @ToucheChicago asked folks not to record during the act they'd hired to celebrate their 45th anniversary, however, shortly after Jerry Halliday was introduced with his featured puppet, Sista Girl, I got my camera out.— crumb dumpster (@CraftBeardMI) November 2, 2022

Twitter user @CraftBeardMI said, "Having this white puppeteer mimic a stereotypical Black woman's voice was disturbing and plainly racist."
He continued, "The owner was seated right near the stage."
The show was not the only offensive bit of the event. @CraftBeardMI also noted how disturbing it was that many in the audience expressed liking it.
"It was uncomfortable how much of the crowd was enjoying the outdated performance," he said.



In fact, at one point the audience cheered on the puppeteer when he was confronted by an audience member who told him the act was inappropriate. At the end of the show the owner went around collecting tips for the performer, who said they were going to support Sista's 5 children.— crumb dumpster (@CraftBeardMI) November 2, 2022

@CraftBeardMI said he posted the videos to provide proof that the event was indeed a racist one and sometimes seeing is believing.
"The act must be directly addressed by David," he said. "It is not up to me to say what will remedy this situation. In the mean time, we must listen and amplify Black voices."
Touche's Boyer responded.
"We deeply regret not vetting the entertainer prior to the event. We apologize for not reacting and stopping the show," Boyer told 
GoPride.com
.
"People were harmed by his words. Racism and transphobia are wrong. We need to do better," he continued.
But other prominent figures of the local leather community said the damage is extreme.
Cris Bleaux posted on Facebook that he quit on the spot. And others on the social site corroborated, witnessing the walkout.
"I just walked out of my job. I've never done this before but I left my keys mid-shift and walked the fuck out."
"You allowed a racist, transphobic white man to perform comedy tonight for your party. You [David] laughed along," the now-former leather bar bartender said. "You and your establishment condones racism, transphobia, anti-Blackness as well as misogyny."
He continued, "Your management laughed along when the racist man was called out by the crowd, and the performer, instead of considering the damage he was causing, encouraged the crowd to laugh at the heckler for being offended."
He punctuated, "You don't deserve a 46th [anniversary]."
Miguel Torres, the Mr. Chicago Leather 2014 titleholder, was horrified.
"I'm extremely sad, angry, and disappointed with Touche for allowing this blatant racism and misogyny to happen in a bar that's supposed to be our safe space," Torres said.
Mr. Chicago Leather 2017 titleholder, Gerald Cernak, who is also affiliated with the Leather Archives and Museum, 6418 N. Greenview Ave., expressed outright furor over the event.
"I would not be true to who I have always been if I didn't speak up and express my disgust, so with that I resign from the [Mr. Chicago Leather] planning committee, effective immediately."
Mr. Chicago Leather has long been sponsored by Touche and its owners.
Touche's Boyer told
GoPride.com
, "Touche will continue to upgrade our awareness of and responses to racism, sexism, and transphobia. We are currently exploring ways to address the harm that was caused," Touche's Boyer added.
UPDATE
Mr. International Rubber (MIR) has questioned Touche's continued sponsorship of the annual fetish event happening in Chicago.