Chicago's Brian Kupersmit is 2022 inductee into NGFFL Hall of Fame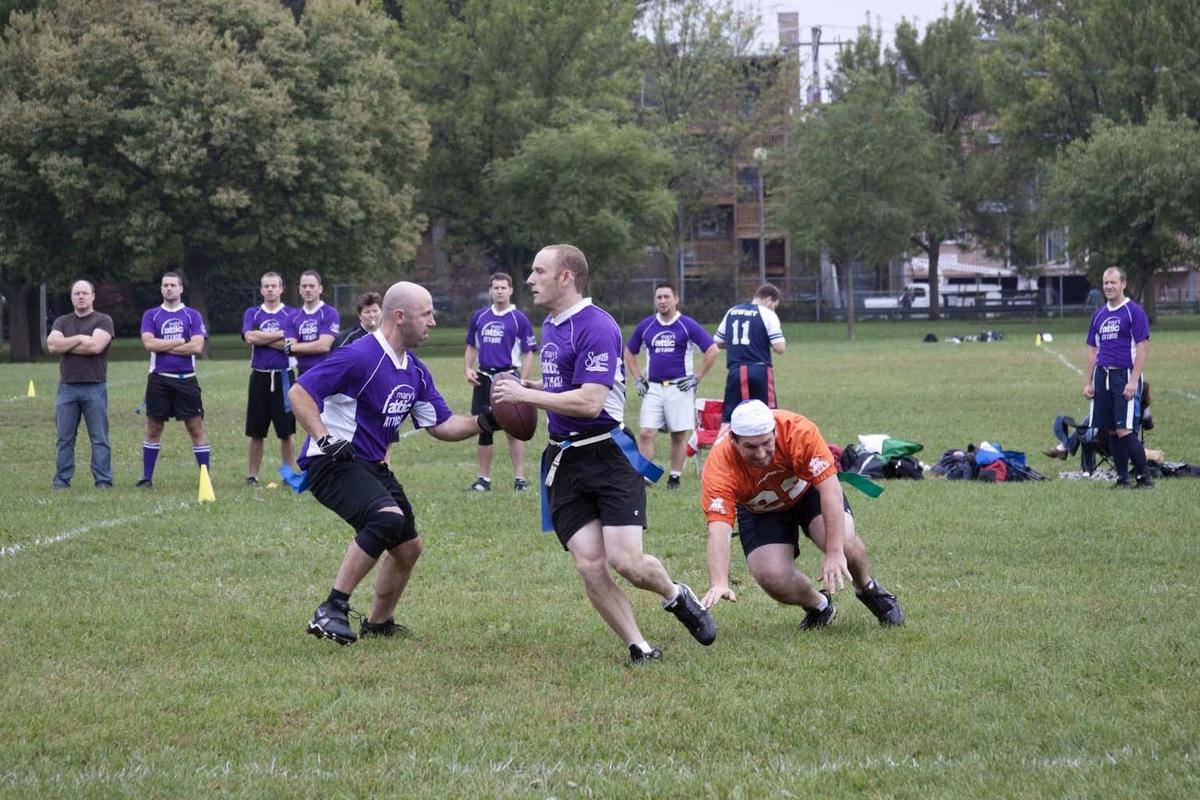 One Chicago team set to play in prestigious, annual, multi-day flag football tournament: Gay Bowl XXII, held in Hawaii
Brian Kupersmit played in his first Gay Bowl in Salt Lake City in 2008 and admittedly, "had no idea what I was getting myself into."
The Chicago team he played on that year … well, "we didn't set the world on fire that tournament," he said, laughing.
Still, he played with memorable teammates, many of whom he still calls friends today. Shawn Albritton fought hard for Chicago to get a second team to compete in Salt Lake City and the team featured Albritton, Ashley Wright, Jeremy Ong, Ken Koziki, Winston Howard, Ben Hoff, Derek Smith, Chris Trice. and Clement Chen.
The memories are still strong for Kupersmit – from that first Gay Bowl, and the five other times he has participated in the annual, multi-day flag football extravaganza, hosted by a different city every year.
"That first Gay Bowl, just being there and seeing what it was all about, coming back from 3 touchdowns down in the second half against DC, and a last-second score as time expired to beat Philadelphia," are lasting memories, Kupersmit said. "My most recent Gay Bowl was coaching Chicago's A-Division team. I enjoyed working with such talented players and being a small part of their success."
Gay Bowl XXII is Oct. 6-9 in Honolulu – and Kupersmit is one of six inductees this year into the NGFFL (National Gay Flag Football League) Hall of Fame. He is the lone Chicago honoree.
"While many members think of the NGFFL as the organization that runs the Gay Bowl, it's really so much more," Kupersmit said. "The NGFFL promotes flag football nationally and the NGFFL Hall of Fame recognizes contributes across the country, on and off the field, to promoting our great sport and community.
"It's a tremendous honor to be mentioned with the elite men and women who founded the NGFFL, who played key roles in gay flag football at a time when it wasn't easy to be out, when people had to turn their backs in photos for fear of being outed. I appreciate that the Hall of Fame committee believes that my accomplishments here in Chicago compare to those of the all-time greats.
"I am thrilled to see the NGFFL recognizing the work that the City of Chicago has done to promote flag football. This award is more about our incredible CMSA flag football community and our world-class Pride Bowl tournament (held every June) than it is about me."
Kupersmit, 47, is the founder of Collective Wisdom LLC. He has served as team captain, player, coach and mentor in past Gay Bowls.
He also plays softball for the
Chicago Metropolitan Sports Association
(CMSA). He played CMSA flag football for 15 seasons.
Kupersmit also has played CMSA tennis.
"Every single game I played in CMSA flag football and in (a) Gay Bowl was with Derek Smith, an incredible teammate and one of the most unique individuals I've ever met," Kupersmit said. "We had a great time playing football, watching football, talking football, and hanging out together. We lost Derek earlier this year and he'll always be a part of my CMSA and NGFFL story.
"I've made some incredible and long-lasting friendships in flag football. Through (the) Gay Bowl, I've made friends around the country. Thanks to (the) Gay Bowl, I've traveled and had wonderful experiences and I've done work projects through NGFFL contacts."
The Chicago Blaze will be the city's lone representative at next month's Gay Bowl, a team featuring Winston Howard and others.
"One day, I walked into (the now-closed) Crew (Bar) for football signups, scared to death just walking into a gay bar," Kupersmit said. "I met Chipp Collins that day and he encouraged me not only to play, but to take a leadership role. As for the Gay Bowl., NGFFL Hall of Famer Shawn Albritton made me do it."
Howard, Collins and Albritton are three of the many locals who Kupersmit praised for his long run locally and beyond in flag football. Others he praised were Derek Smith, Martin Cherrier, Ben Hoff and Clement Chen, among others.
"It's been great to see so many new cities and teams being added," to the list of Gay Bowl participants, he said. "NGFFL has done a tremendous job of outreach to new cities and the results have been outstanding. I have seen tremendous progress (from NGFFL) being more inclusive. The NGFLL has expanded to include a robust women's division and taken great strides to ensure all are welcome to join us on the field."
Kupersmit added: "The Gay Bowl (held) in Hawaii is the embodiment of how this sport has grown."