Meaningful and memorable Pride Month wraps
51st annual chicago pride parade
photo credit // kevin wayne/gopride.com
Celebrations had serious focus on LGBTQ future
As the whirlwind of events, emotions and energy subdue with the ending of Pride Month 2022, the memories will last a lifetime.
"I don't know if it was me personally, or a general sense from everyone, but I was so much more appreciative of the Pride celebration this year," said Paul Cannella, owner of
Scarlet Bar
, located in the heart of Chicago's Northalsted neighborhood. "Whether it was the gap in celebrations (due to the COVID-19 pandemic), or the realization that we better all come together to defend what we have, I just felt a stronger sense of unity amongst people."
Cannella said he was "grinning ear to ear" watching the parade on Sunday, June 26 with friends, talking with strangers who became instant friends, and just soaking it all in.
He also was filled with emotion peering sky-high. Scarlet flew a banner behind a plane over the parade, Pride North, and Pride in the Park that said:  Happy Pride HEART Scarlet Bar 3320 N Halsted. "I loved getting all the messages and hearing people mention it to me," he said.
Cenk Duman, known to most as simply Janky, has been a DJ locally for about seven years was exceptionally busy throughout June, including shows around Des Moines Pride and Chicago Pride.
"My heart is full," he said.
"What stood out to me the most was the turnout of crowds. So many people were happy to come out and celebrate after two years of the pandemic; it made it extra special this year to see how many people turned out for Pride Fest and Pride In The Park."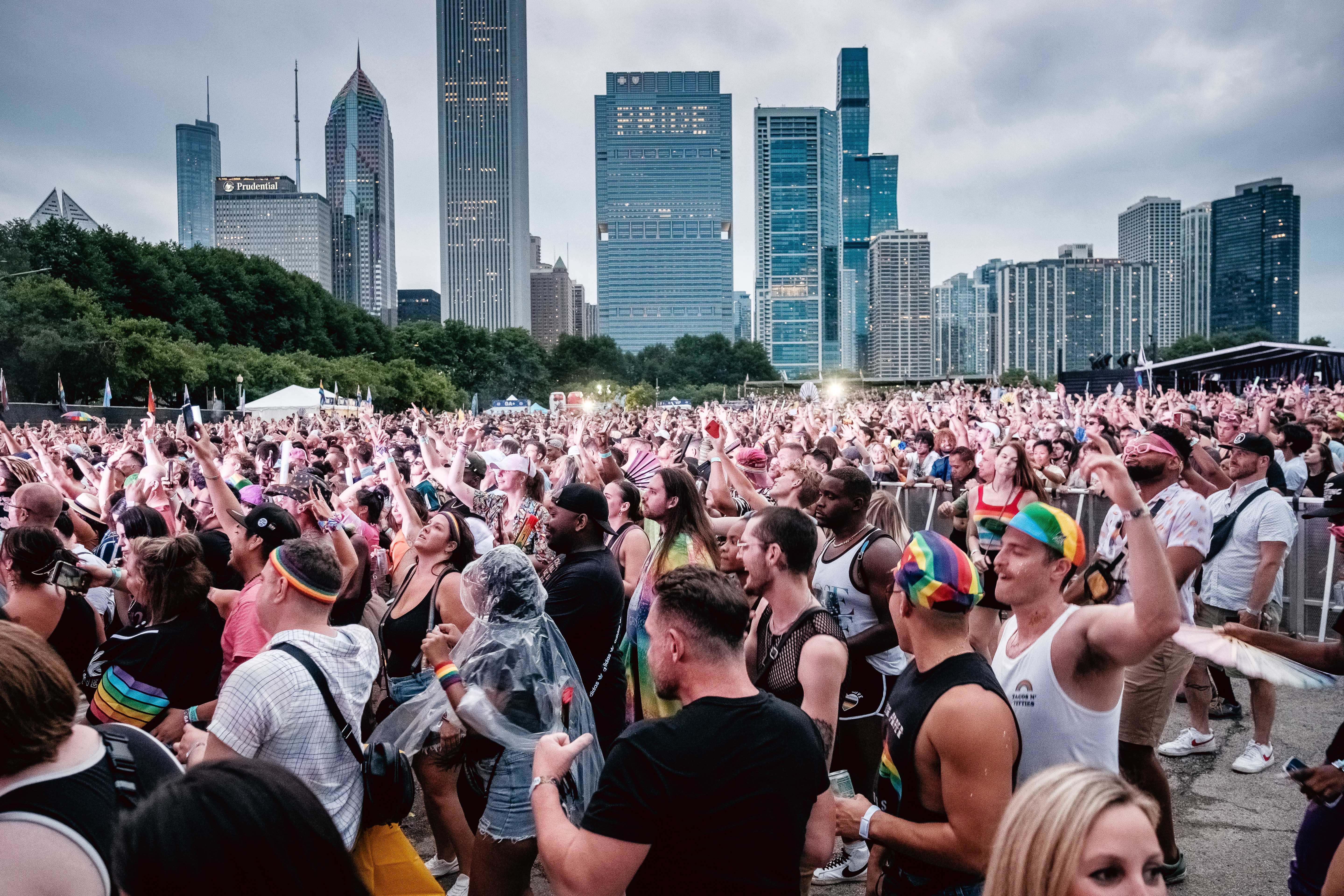 Photo: Pride In The Park, Saturday, June 25 | Chris Perardi/GoPride.com 
Janky had one busy, memorable and certainly nerve-wracking Sunday, June 26: he played Pride In The Park, Spybar, and Cerise (PITP after-party) all in the same day. "I love a music marathon," he said.
Pride In The Park Photos:
2022 - Day 1
|
2022 - Day 2
Carolyn Pinta of The Pinta Pride Project, which runs Buffalo Grove Pride in the northwest suburb, noted that the Chicago Pride Parade was jam packed from start to finish with "progressive, loving individuals eager to celebrate love … it was just beautiful."
Pinta added: "I also noticed many more families than ever before. My favorite moment of Pride Month was walking with a student of mine in the Buffalo Grove Parade who does not have great support at home and watching their joy as they were themselves surrounded by so many like them."
This year's Pride Bowl 2-day flag football tournament leading into the parade set an attendance record and crowned six champions, drawing 40 teams representing 750 athletes, with 50 officials and staff to set a new water mark for attendance.
Pride Bowl, hosted annually since 2008 on Chicago's lakefront by the
Chicago Metropolitan Sports Association
(CMSA), featured 2 champions from Chicago. The Chicago Freeze and the Chicago Surge captured bragging rights in their respective divisions.
Other Pride Bowl champions were the Boston Football Team (representing Boston FLAG Flag Football), DC Commanders (DC Gay Flag Football League, DCGFL), Austin Capitals (Austin Texas Gay Flag Football League, ATXGFL) and the Mile High Club Blue (Denver Gay Lesbian Flag Football League, DGLFFL).
Pride Bowl was supported by Tito's Vodka and Tito's also made charitable donations to the Center for Black Equity, Point Foundation, and The Trevor Project on behalf of each championship team. 
"Pride Bowl is clearly the premiere event for athletes in the National Gay Flag Football League footprint who want to balance inclusive competition with the opportunity for social impact and togetherness," said outgoing Pride Bowl Director Matt Herek, "I could not be more thrilled at the overall growth this event has experienced over the past several years, and know that the fresh perspective of our new leadership team consisting of Xavier Colvin, Jeff Griffin, and Nancy Hitt will only take it to new heights."
Colvin was on the championship Chicago Freeze team. "Winning a championship in our home city is something I will never forget," he said. "Jeff, Nancy, and I will be working to ensure the legacy of Pride Bowl for years to come."
Hitt said the level of play in the women's+ division has increased exponentially since it was founded in 2016. "Our Chicago teams realized just how hard we had to work to finally win a championship," she said. "(The) goal for our team is to keep winning. Our goal for the tournament is to welcome even more women's+ teams next year."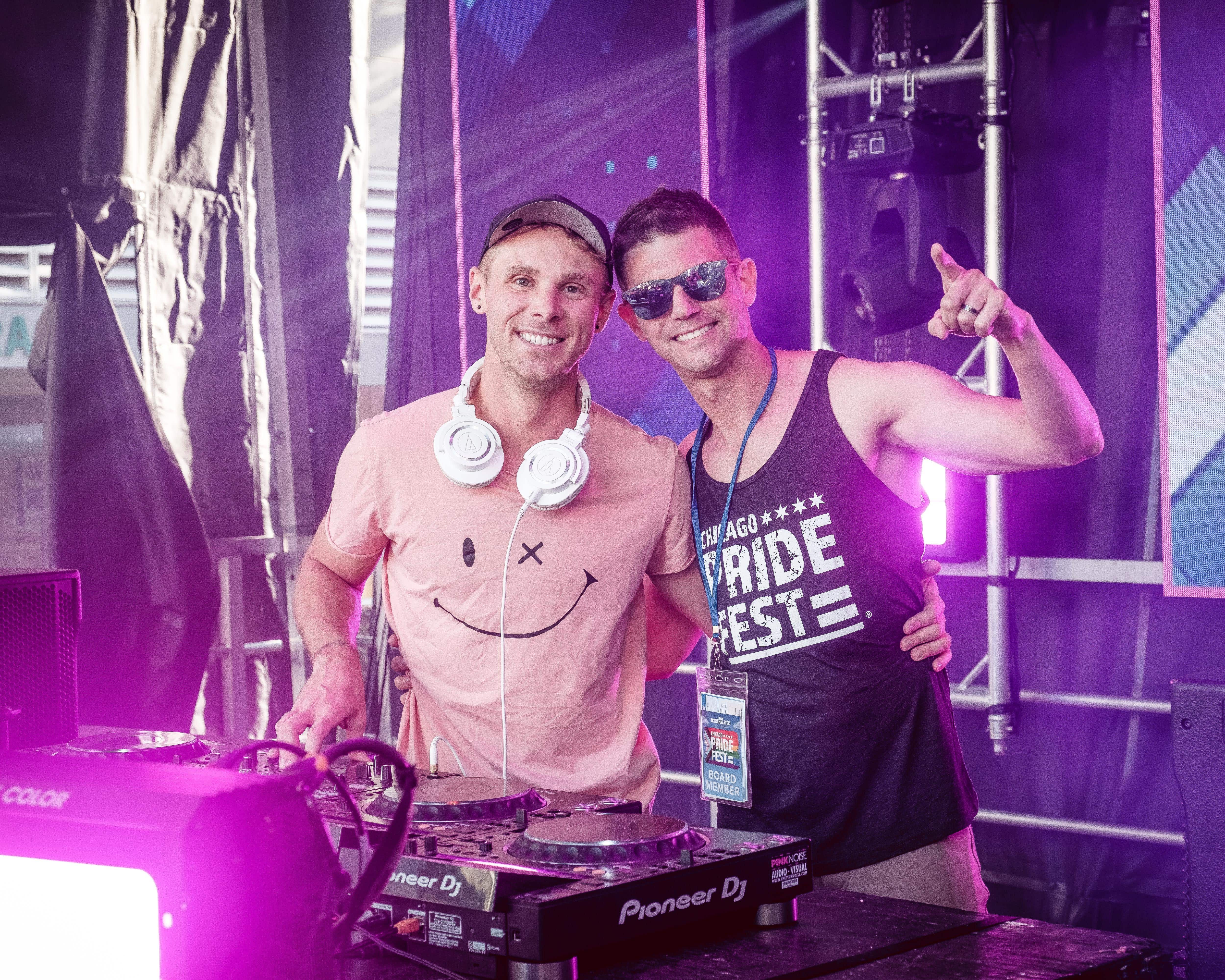 Photo: Dusty Carpenter (right) at Chicago Pride Fest | Chris Perardi/GoPride.com
Dusty Carpenter, organizer for the annual Pride In The Park, said this year's Pride Month was "much more meaningful because we are celebrating and fighting for everything; it's all at stake: same-sex marriage, LGBTA+ youth, and our trans brothers and sisters are under attack; we must not go backwards."
He added, "The love was palpable, and our community needed it."
Carpenter said the family-like attitude among businesses on North Halsted Street was apparent.
His June highlight was seeing a pair of young siblings, likely no older than 10 years old. "The brother (was) wearing a tutu and the sister (was) wearing the same while holding hands and laughing. Pure joy."
Chicago Pride Fest Photos: 
2022 Highlights
 |
2022 - Day 1
|
2022 - Day 2
 |
Black Girl Magic
Joe Lewis, an activist and entertainer, said Pride Month 2022 was his busiest ever, with book launches to getting to work with two Chicago-based candy companies that put in the work for LGBTQIA2+ diversity within their corporate culture. Lewis also had multiple speaking panels, a Pride Bingo event, a drag brunch, and work with TPAN's Ride for Life, Chicago Votes, Young Democrats of Chicago, Drag Out the Vote, and Chicago Pridefest.
"On top of all that, I helped organize the Drag March for Change with the Pride Without Prejudice group and helped form the Reclaim Pride March during which we used our collective voice and marched in protest with our community literally taking the space of the street and utilizing the Chicago AIDS Garden for a beautiful speaking program that centered on Black trans voices and called for real change with a powerful demonstration of a direct action," he said. "The whole march almost didn't happen until organizers from across the nation on the USA TODAY panel pointed out that we had brought Chicago into an international conversation and if it didn't happen, we would lose ground that we had all fought for."
Lewis in June spoke with the organizers of PrideFest, the Pride Parade, Pride in the Park, and many different corporate groups, "talking about how they were working to make sure that we as a community didn't lose sight of the true soul of Pride, which is a celebration, but also a time for reflection and a time for action," he said. "I always say action where action is needed and that could not be more true right now as we watch in real time (as) people in power make moves against us as a minority group. We must be united not only in these celebrations but in the way we spend our money because beyond protesting, a way to flip the script, we can speak with our dollars."
Also in June, Lewis got a last-minute, almost-spontaneous hosting gig at PrideFest. Plus, he spent a beach "with a diverse group of friends from all walks of life just enjoying themselves in the sun with no shame and definitely not silenced," he said. "Getting to work with fellow organizer Zahara Bassett on the Reclaim Pride March was amazing and reminded me how in life timing is everything."
Oh yeah, Lewis also got to see friends get "gay engaged," he said with pride.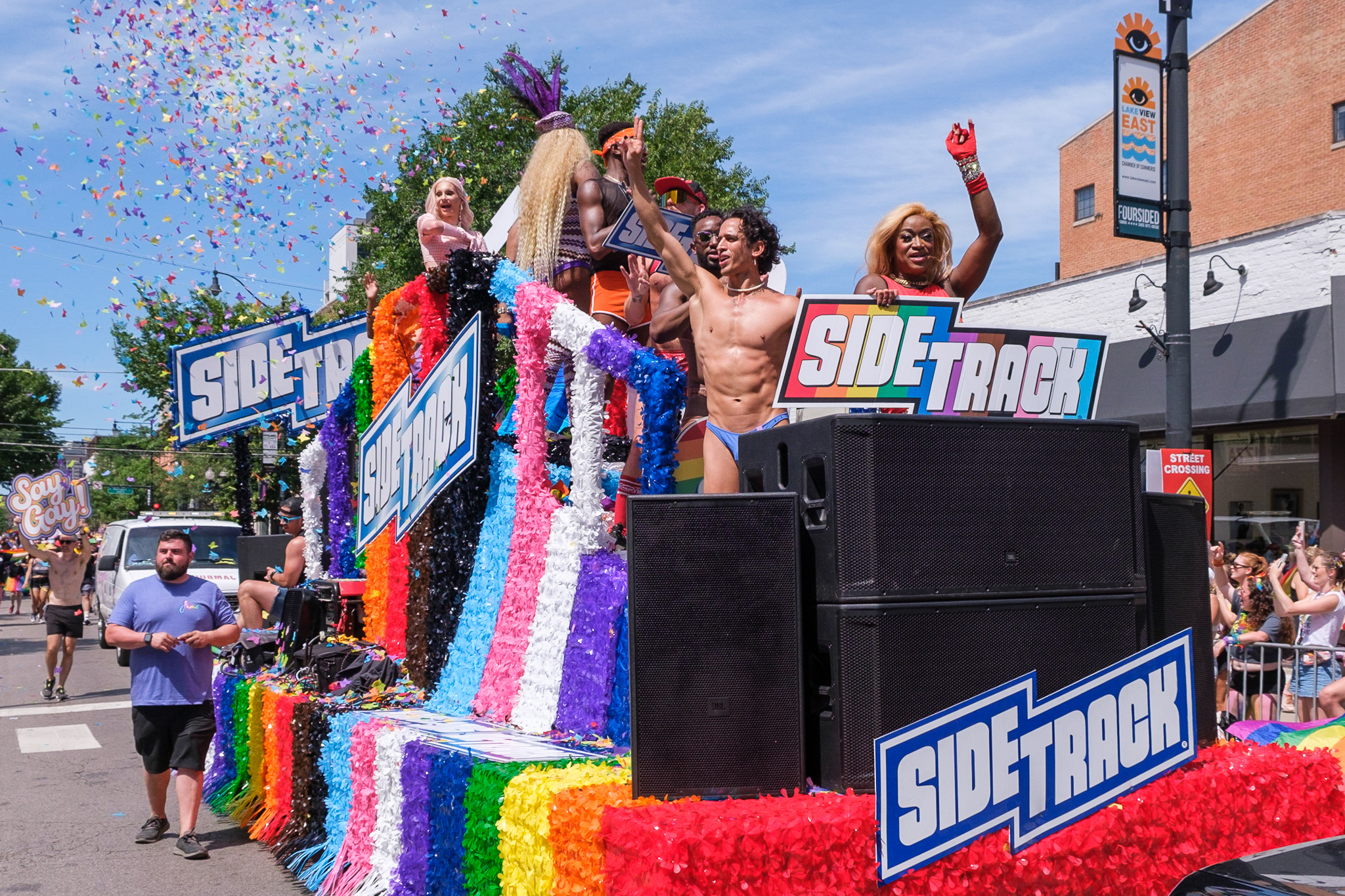 Photo:

Sidetrack

float in 2022 Chicago Pride Parade | Kevin Wayne/GoPride.com
Brad Balof, general manager at Sidetrack, was direct when summing up Pride Month 2022. He said it was "an outstanding month."
Sidetrack celebrated 40 years in mid-June.
"What stood out to me was the overwhelming love and celebration for Pride this year," Balof said. "We all are aware of how divisive and negative the world is these days. I am encouraged by the promise that love will win over hate, the haters and those who attempt to control the lives and bodies of others. We need Pride now more than ever because people leading this country's laws are coming for us, no doubt. We need the foundation of love and Pride as our guiding force in the battles to come."
Balof, as always, marched in the Pride Parade, while his husband, Jason, ran the confetti machine on the Sidetrack float.
Chicago Pride Parade Photos: 
Gallery 1
|
Gallery 2
|
Gallery 3
|
Gallery 4
|
Gallery 5
"The 40th Anniversary Party (at Sidetrack) and the remarks (Sidetrack co-owner) Art Johnston made at the party are my favorite moments from Pride Month 2022," he said. 
"This Pride Month and it's in-person celebrations, after two years of limited public events, was an energetic and welcome moment of celebration for all of us in the LGBTQ community and our allies. That moment was something we as a community needed after the growing trend in anti-LGBQ legislation and anti-trans violence moving around the country," said
Center on Halsted
CEO Modesto "Tico" Valle. "After this month ends, we have to remain vigilant in protecting our freedoms and our basic human rights in this country through advocacy and community involvement."
Chicago Pride Parade Photos:
Gallery 6
 |
Gallery 7
 |
Gallery 8
 |
Gallery 9