Chicago's gay-friendly mayor calls it quits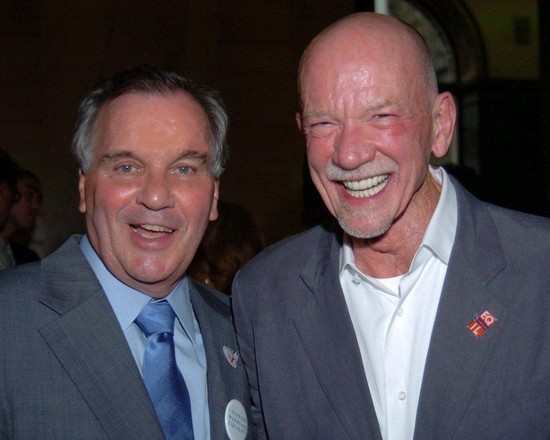 daley with art johnston in 2008 at the pride reception
photo credit // jay shaff
Mayor Richard M. Daley will not seek 7th term as mayor of Chicago
Chicago, IL - Mayor Richard M. Daley's surprise announcement not to seek re-election in 2011 ends his 21-year career as one of the nation's most gay-friendly mayors.
"Simply put, it's time," Daley said during a City Hall news conference on Tuesday afternoon. "Time for me, it's time for Chicago to move on."
In his time at City Hall, Daley, 68, has shown historic and unparalleled support for Chicago's lesbian, gay, bisexual and transgender (LGBT) community with the expansion of Chicago human rights legislation to include protection from gender identity, instituting domestic partnership benefits for city employees, creating the Office of LGBT Health in the city Department of Health, establishing the Advisory Council on LGBT Issues, support for the North Halsted streetscape project and backing the
Center on Halsted
.
"Mayor Daley's support of our LGBT communities has been nothing short of outstanding,"
Sidetrack
co-owner and
Equality Illinois
co-founder Art Johnston, told ChicagoPride.com. "Chicago is arguably now the best city in America for gay people, and the name Richard M. Daley is near the top of the reasons why."
In the early part of his tenure, which began in 1989, Daley had a "very rocky relationship" with the LGBT community, recalls Equality Illinois public policy director Rick Garcia.
At that time, Daley enraged AIDS and gay activists when he opposed an increase to the city's AIDS budget. After public demonstrations and protests, Daley relented and the city's AIDS budget was increased. From that point, his relationship was repaired and he became a strong advocate for the LGBT community.
"He [Daley] has not only been supportive of the LGBT community and issues of concern to us he has been a leader on these issues," said Garcia, a long-time gay activist.
In 2002, Daley appointed Tom Tunney as the first openly gay member of the Chicago City Council. Tunney replaced Alderman Bernie Hansen in the 44th Ward, which includes the Lakeview neighborhood and Boystown.
In 2006, Daley served as honorary co-chair of Gay Games VII held in Chicago. 
"Mayor Daley was a huge part of the success of the 2006 Gay Games," Chicago 2006 Gay Games co vice chair Kevin Boyer told ChicagoPride.com. "[His] commitment to the project was clearly more than just a practical one. When he participated in press conferences, events, and at both the Opening and Closing Ceremony you could tell he was enjoying himself."
At the Opening Ceremony at
Soldier Field
, Daley said: "Members of the lesbian, gay, bisexual and transgender community have contributed to Chicago in every imaginable way - in business, education, the arts and neighborhood development. They deserve to have the City of Chicago standing on their side, and it will continue to do so, as long as I am mayor of this great city."
"We have been very fortunate to have Mayor Daley on our side and the LGBT community has thrived while he has been mayor," said Boyer.
Daley was inducted as a "Friend of the Community" into the Chicago Gay and Lesbian Hall of Fame in 2006. His administration continues to sponsor the Hall of Fame, which is the first and only municipal project of its kind anywhere.
The Center on Halsted, Chicago's 60,000 square-foot (LGBT) community center located on North Halsted St. in Lakeview, became reality in June 2007 under Daley. Having served as honorary chair of its capital campaign, Daley is credited with generating substantial city and corporate financial assistance.
"We should all be grateful that during his time as our Mayor he has stood in solidarity with the gay community on all of our issues," said state Rep. Sara Feigenholtz (D-Chicago).
"All of us in the LGBT community owe Mayor Daley immense gratitude for his stalwart commitment to equality for all--including full respect for transgendered individuals, equal opportunity in housing, employment and public accommodation, and for his early and unequivocal advocacy for full marriage equality," said openly-gay state Rep. Greg Harris (D-Chicago). 
Daley, a Democrat, supports same-sex marriage.
"Every Chicagoan's life has been impacted by Richard M. Daley," U.S. Representative Mike Quigley (D-IL) told ChicagoPride.com. "He will leave City Hall as one of the most dedicated public servants this city has ever known." 
"Hopefully our next Mayor will have the same level of commitment that Mayor Daley has shown these many years," concluded Boyer, co chair GLAAD Chicago Leadership Council.
Daley is the second longest serving Chicago mayor, after his father Richard J. Daley.
Jay Shaff contributed to this report.