Market Days makes an enthusiastic return after a lost year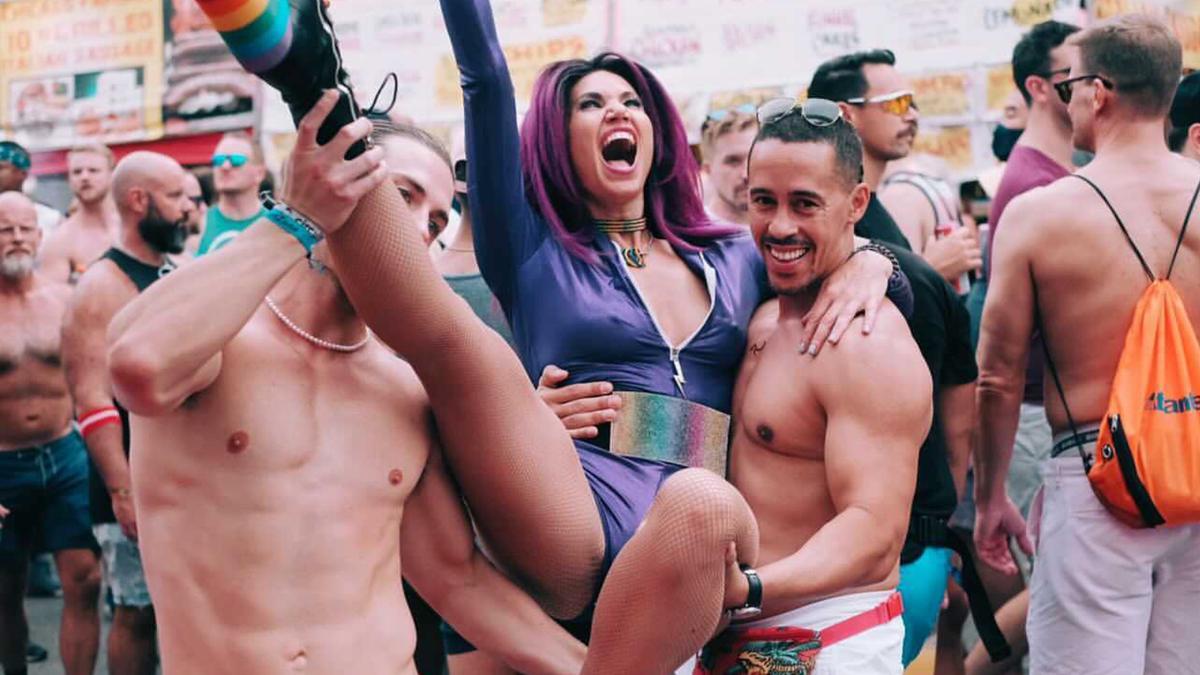 2021 northalsted market days
photo credit // chris perardi
2021 Northalsted Market Days a 'comeback' from the pandemic
Sounds of music, excited howls and euphoria enveloped Chicago's LGBTQ enclave popularly known as "Boystown" as Market Days returned over the weekend.
And it was a special one for the rebranded neighborhood which now shares the name of its chamber of commerce. The 39th annual Northalsted Market Days kicked off Friday, August 6 after skipping last year due to the ongoing pandemic.
"What an awesome weekend on so many levels,"
Scarlet Bar
owner Paul Canella told GoPride.com. "I'd have to say this was the best Market Days ever."
Scarlet is just one of many businesses along the N. Halsted corridor that struggled in 2020, a year that witnessed a number of Chicago bars and restaurants shutter.
"We're all still dealing with the shortfalls and issues from the Covid shutdowns, so this was a great boost for everyone," said Cannella.
Safety was a concern organizer as there was a surge in COVID-91 metrics leading up to Market Days.
The surge in COVID-19 metrics leading up to Market Days was a concern for the
Northalsted Business Alliance
, so the group provided free testing and vaccinations prior to and during the three-day festival.
Bars and businesses in the neighborhood also reinstated vaccination requirements for entry.
Market Days pulled in thousands of visitors from across the US, including Camilo Lema-Adarve, 24, of Hoboken, New Jersey.
Lema-Adarve told GoPride.com that he and his friends "felt safe since bars were requiring the vaccination cards."
He thanked organizers "for providing us with a safe space for self-expression and love."
Attendance seemed on par with 2019, which brought in over 100,000 people. Official crowd estimates are expected to be released later this week.
The entertainment lineup this year included Greyson Chance, Todrick Hall, Trixie Mattel, and Chicago's own Steve Grand.
"[I] didn't expect it to hit me so hard, but I was truly moved by all you guys that came out to see my set at Market Days," Grand posted on social media shortly after his performance. "I've been so nervous about getting back to performing, especially with how I felt and my voice not being in the best shape."
The 31-year-old singer/songwriter was making his return to the stage after recently recovering from COVID-19, despite being vaccinated.
"I really thought I was invincible … I was shocked to hear the diagnosis," he told GoPride.com.
Grand called his Market Days performance a "comeback" from the pandemic, a sentiment shared by many.
Next up, Chicago Pride Fest is slated for October 1 and 2, followed by the annual Pride Parade on October 3.
Photos:
2021 Northalsted Market Days
Related:
Taste of Andersonville gets green light for August 11 from 5 to 8 p.m.