Drag March for Change takes over streets of Lakeview on Sunday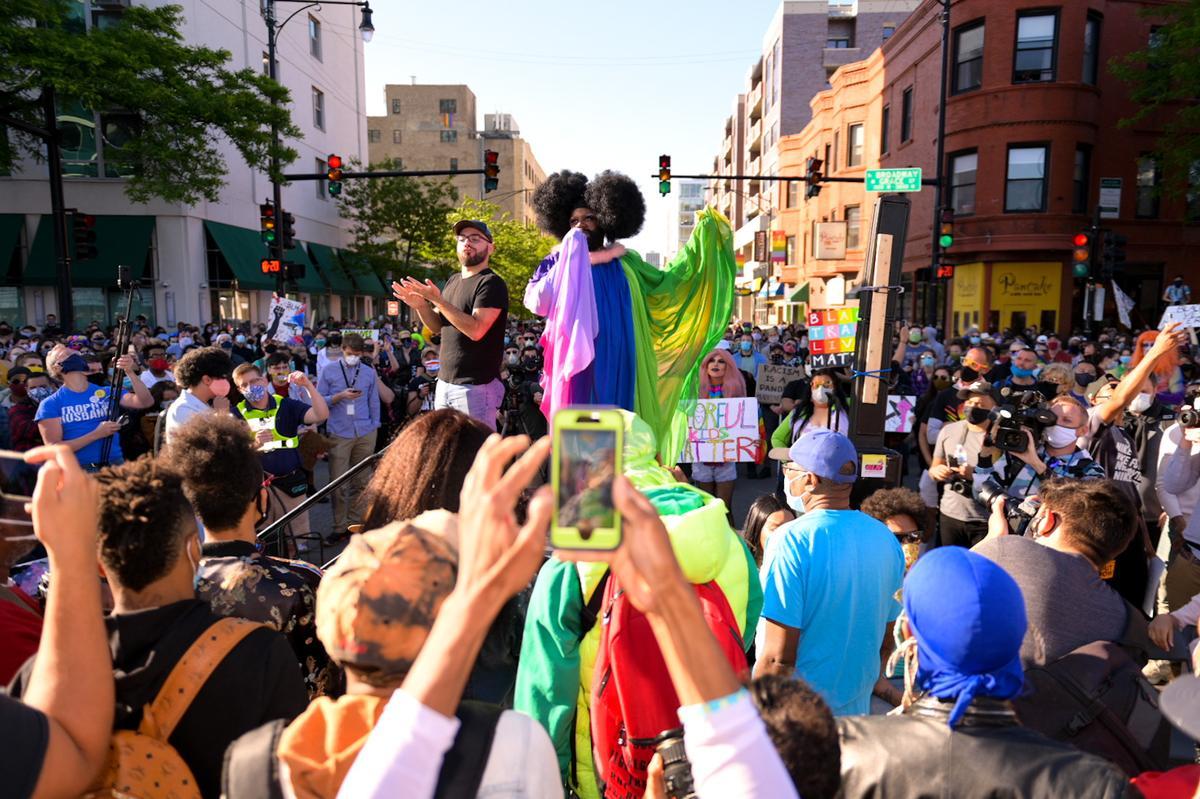 2020 drag march for change
photo credit // steven koch
Justice, organizer Joe Lewis says, is 'the abolishment of the system that took these lives and that restorative systems grow in their stead.'
Jo MaMa will be sporting a simple power-suit and sensible heels. Hey, it's safety first, fashion second for the organizer of the second Drag March for Change, set to take over the streets of Lakeview on Sunday, June 13, starting at 12:30 p.m.
The event highlights the Chicago LGBTQ community of color, featuring a variety of entertainers, performers and more – all walking north on Halsted Street, from Belmont Avenue to Grace Avenue.
"The 2021 Drag March for Change is needed to not only keep the feet of our oppressors to the fire, but also to look back on what we have accomplished and what next steps we can take to get even further. It's also a chance to broaden our scope after having tended to our yard," said Joe Lewis, the real-life Jo Mama.
The goals for Sunday's event are very direct as organizers have a list of demands as the event is a protest:
- Justice* for Tony McDade;
- Justice* for Breonna Taylor;
- Justice* for George Floyd;
- That the Chicago City Council defund the Chicago Police Department by 75 percent and reinvest those funds into social services and community programs;
- That police be banned from marching in Pride festivities indefinitely; and
- Immediate release of all protesters from previous BLM actions.
Justice, Lewis said, is "the abolishment of the system that took these lives and that restorative systems grow in their stead."
The event will be streamed live on Facebook, Lewis confirmed.
"Accessibility is a huge part of this march and has been a part of the civil rights movement since the start," he added.
"There will be a bit of an escalation (from the 2020 Drag March) in that justice still has not been served for all of those who we lost to police brutality and a bit of celebration through live performance that will encourage finding radical joy in all aspects of life."
Dida Ritz and The Vixen, both of RuPaul Drag Race fame, are scheduled to participate. Also scheduled to participate in the Drag March:
- Lucy Stoole: Chicago Black Drag Council Head Co-chair, member of the Molasses Collective and the Chicago Reader's Drag Queen of Year;
- Lynzo: activist and community organizer;
- Cae Monae: member of the Molasses Collective and performance artist;
- Prince Nikki: Chicago Black Drag Council co-founder and
Brave Space Alliance
Mutual Aid Coordinator;
- Irregular Gurl: Television personality, producer and host;
- Aunty Chan: activist and Internet personality;
- Abhijeet: Activist and performance artist;
In addition, there will be performances by KC Ortiz, O'laysia and Rachel Slurrz, among others.
The 2020 Drag March drew an estimated crowd of 15,000, including a throng of mainstream media.
"During such a time of uncertainty and civil unrest (last year at this time), it was amazing to help facilitate an event that allowed for so many to step into their activism and begin their work in the movement," Lewis said. "I'm still overwhelmed by (the 2020 event turnout); my heart warms, knowing that societal change is not only possible, it's here.
"There was so much labor that went into making (the 2020 March) happen and it would not have been possible without the combined efforts of the Chicago LGBTQIA+ community.
"The Drag March for Change 2020 contributed to a national reckoning wherein communities called for accountability, inclusion, and equity."