Celebrating 50 years of Pride, Chicago Pride Parade steps off today at noon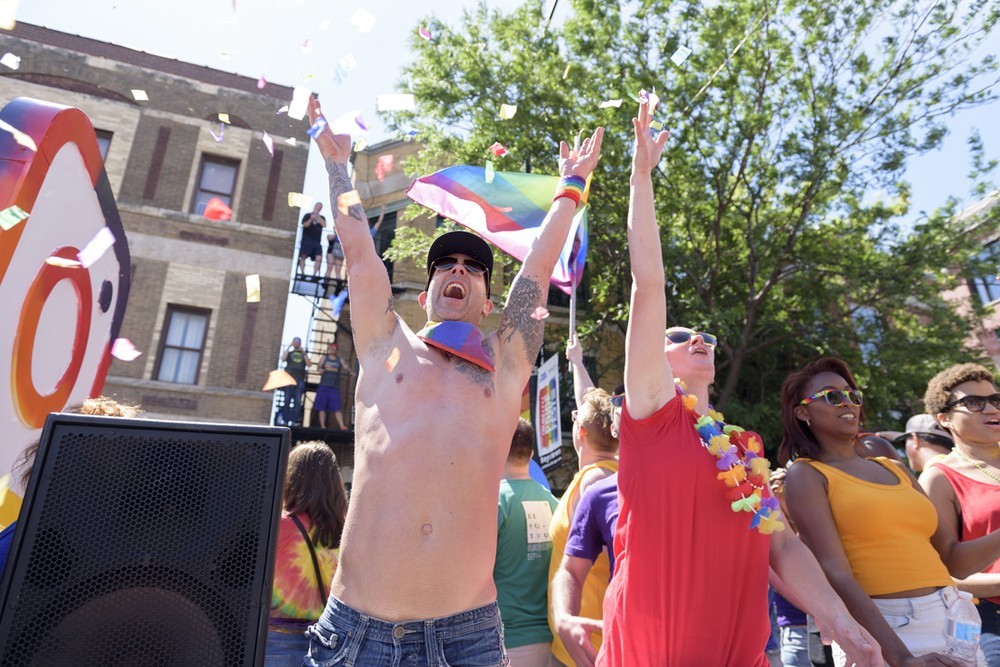 chicago pride parade, 2018
photo credit // steven koch
The 2019 Chicago Parade Pride theme is 'Stonewall 50: Millions of Moments of Pride'
Thousands are expected to descend on Chicago's Uptown and Lakeview neighborhoods Sunday for the 50th annual Chicago Pride Parade, a culmination of the city's Pride Month festivities.
The parade, featuring
160 colorful entries
, steps-off at noon from Montrose and Broadway in Uptown and will then travel the 21-block parade route before it ends near Diversey and Sheridan in Lincoln Park.
Related:
Pride parade line-up for Sunday
More than 1 million people are expected to move in and out of the Lakeview and Uptown neighborhoods throughout the day.
Street closures will go into effect at 8 a.m. and are expected to fully reopen by 8 p.m. Public transportation is highly recommended. Metra and CTA both announced additional service on Sunday for the parade.
Related:
CTA issues commemorative Pride Parade ticket for this weekend
Security will be evident along the route. That will include police officers and security officials. According to the city's Office of Emergency Management and Communications, there was "no known threat" to public safety.
Open container rules will be strictly enforced. Penalties include, but are not limited to, $1000+ tickets being issued, and you could have to throw out your booze.
The 2019 parade, under the theme "Stonewall 50: Millions of Moments of Pride", will honor the 50th anniversary of the 1969 Stonewall riots, an event that served as a catalyst for the gay liberation movement.
"This year's parade is special because it's the 50th anniversary," parade coordinator Richard Pfeiffer
told GoPride.com
. "We have some new surprise entries, along with multiple Grand Marshals, which is new this year."
Related:
Parade Coordinator reflects on parade's 50-year history
Mayor Lori Lightfoot, the city's first openly gay mayor, is one of seven grand marshals. She'll ride a float near the front of the parade, a first for a Chicago mayor.
The other grand marshals: Molly Pinta, the 13-year-old who organized the
inaugural Buffalo Grove Pride Parade
; Joel Hall, founder of the Joel Hall Dance Company; Jim Flint, owner of the
Baton Show Lounge
; Marge Summit, owner of the His 'n Hers bar; and Chuck Adams and Gwyn Ciesla of Invisible Aurora, the group behind the Aurora Pride Parade.
Sunday's forecast calls for partly sunny weather with a high temperature around 83 degrees, according to the National Weather Service. Showers and thunderstorms are likely, mainly after 4 p.m. The parade will continue rain or shine.
Whether you're a pride parade veteran or this is your first time attending, here are
10 things you'll want to know
before heading out to the 50th annual Chicago Pride Parade this morning.
Related:
Best locations to view the Chicago Pride Parade
Related:
A look back at the Chicago Pride Parade 1970 - 2018