Chicago Pride Parade will be a bit different this year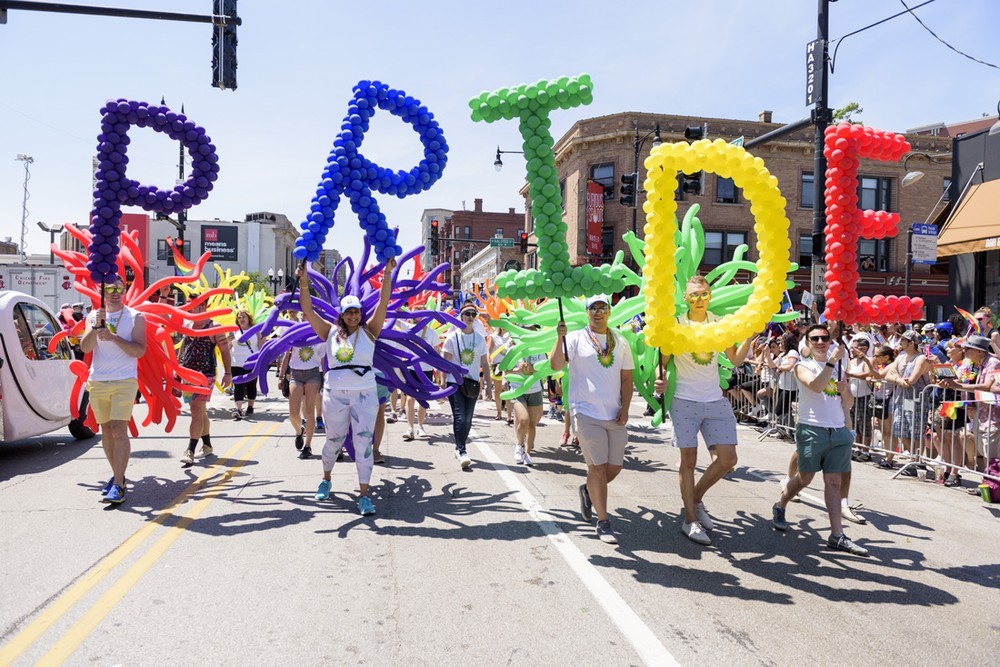 chicago pride parade, 2018
photo credit // steven koch
Pride Parade expands Grand Marshals to honor Chicago's LGBTQ history and its bright future
Chicago, IL - Several grand marshals have been announced, with more to come, for this year's parade that marks 50 years since the Stonewall Uprising that changed the course of LGBTQ history forever, it was announced May 8 by Pride Chicago, the organizers of Chicago's annual gay pride parade.
The annual parade has traditionally featured one Honorary Grand Marshal, such as actor George Takei (2006), actress Alexandra Billings (2009), country singer Chely Wright (2010), former NFL player Wade Davis (2013), and professional boxer Orlando Cruz (2018), to name a few.
For the first time, there will be an Honorary Grand Marshal, still to be announced, plus a Youth Grand Marshal, several Legacy Grand Marshals and an Organizational Grand Marshal.
Molly Pinta, the 12-year-old middle school student who lobbied to have a pride parade in her home town of Buffalo Grove and came out as a lesbian, has been named Youth Grand Marshal.
Related:
12 year-old girl inspires Buffalo Grove Pride Parade
"Molly is the result and a shining example of the hard work and sacrifices made by those generations of activists who, for 50 years, have toiled before, and leading up to Stonewall," said
PRIDEChicago
coordinator Richard Pfeiffer.
Three community members who have remained active in LGBTQ organizations and businesses have been named as Legacy Grand Marshals. They included Joel Hall, community activist and founder of the Joel Hall Dance Company; and Jim Flint, community activist and owner of the
Baton Show Lounge
. Parade organizers will announce a third later this week.
Update (5/9/2019):
Marge Summit, longtime community activist and owner of the former His 'n Hers bar that brought LGBTQ+ women and men and our Allies together for entertainment, good food and comaraderie, has been announced as the third Legacy Grand Marshal.
The Aurora Pride organizers, who held the first suburban pride parade in Illinois history last year, and worked hard to secure their second parade after they had to initially cancel it earlier this year due to an increase in their city fees, will be honored as the Organizational Grand Marshal.
Related:
Aurora Pride Parade returns after community raises over $17k in less than a day
This year's parade, under the theme "Stonewall 50: Millions of Moments of Pride", will honor the 50th anniversary of the 1969 Stonewall riots, an event that served as a catalyst for the gay liberation movement.
Chicago's first pride parade was held in 1970 and included about 150 people marching, with no floats and no corporate sponsors. Pfeiffer was a closeted gay man in 1970 and said the parade helped him to come out.
"Remember, this was 1970, long before the Human Rights Ordinance was passed, long before openly gay athletes, entertainers, and politicians," he
told GoPride.com in 2005
. "This was a totally different world, than today. The parade is still important for people---whether a person is just emerging from the closet, or has been openly gay for a long time."
Pfeiffer began taking an active role in the coordinating process of the parade in its third year and became parade coordinator in 1974, a role he continues to this day.
The 50th annual Chicago Pride Parade, starting at noon on Sunday, June 30, will take its usual route starting at the corner of Broadway and Montrose and ending at Diversey and Cannon Drive. The parade will feature floats, decorated vehicles, marching bands, and walking contingents with several new entries and surprises to be announced.
Chicago Pride Parade Photos:
2018
|
2017
|
2016
|
2015
|
2014
|
2013
|
2012
|
2011
Related:
A look back at the Chicago Pride Parade: 1970 - 2017