Pro-LGBT Republican to step down from Congress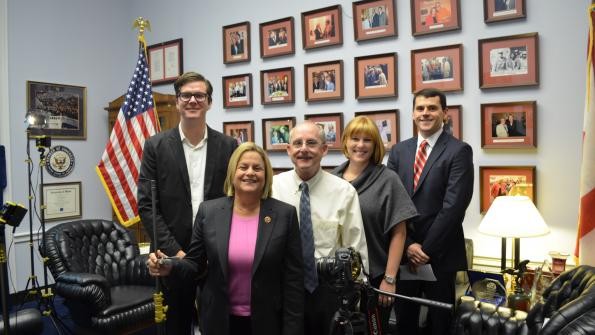 ros-lehtinen with aids relief organization
Miami, Florida - One of the few pro-LGBT voices within the GOP is leaving Congress.
Florida Rep. Ileana Ros-Lehtinen, has announced that she will be retiring after more than three decades in elected office.
Ros-Lehtinen, the first latina elected to Congress, became an outspoken advocate of LGBT equality after her son came out as trans.
According to
CBS Miami
, the Miami congresswoman supported her trans child as he made the transition from Amanda to Rodrigo. "We know Rigo as our child, whether it's Amanda or now as Rodrigo, he's our son, we're proud of him," she said.
Ros-Lehtinen's support of the LGBT community had often put her at odds with socially conservative members of her own party.
According to
PinkNews
, she is also the only Republican member of the Congressional LGBT Equality Caucus and Trans Equality Task Force. She cast the lone GOP vote to repeal the Defense of Marriage Act, and last November, she didn't vote for Donald Trump.
"I'm not one of those name-callers that think the Democrats don't have a single good idea," she told the
Miami Herald
. "Too many people think that way, and I think that's to the detriment to civility and of good government."
Ros-Lehtinen's district is not the friendliest map for Republicans. The Miami Herald reported her constituents backed Hillary Clinton over now-President Trump by 20 percentage points. At the same time, they returned Ros-Lehtinen to Washington by a 10-point margin.
"There is no doubt in my mind whatsoever that I would not only win in this election, but I would win by a greater percentage," she said, insisting that her decision had nothing to do with re-election prospects.
Still, Ros-Lehtinen's retirement opens up an opportunity for Democrats eager to take back the House of Representatives in next year's midterms after being shut out of power in the 2016 election.
House Speaker Paul Ryan, in a tweet, said it was "such a privilege to serve with her."