Windy City Times releases 2004 tapes of Obama discussing LGBT issues during Senate campaign
Fri. January 13, 2017 10:29 AM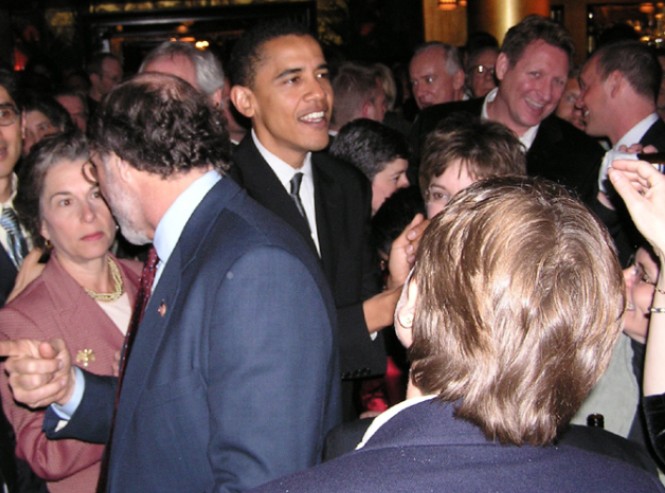 obama at the chicago lgbt fundraiser may 7, 2004.
photo credit // tracy baim
Chicago, IL - Two audio tapes from Barack Obama's campaign for U.S. Senate from Illinois have been released by
Windy City Times
newspaper.
Both tapes were recorded by
WCT
Publisher Tracy Baim, the first on Jan. 7, 2004 in a one-on-one interview during the crowded Democratic primary, the second on May 7, 2004, after he won the primary and attended a stand-room-only LGBT fundraiser for his campaign.
The transcript of the interview was published Feb. 4, 2004 in full, and also ran in Baim's 2010 book, Obama and the Gays: A Political Marriage. The speech from May 7 was never published, but event photos ran in
Windy City Times
. A week after the interview was published, Obama responded with a letter to the editor clarifying his views.
The release of the tapes is timed for the president's final days in office. The tapes are among thousands of archival materials in the
Windy City Times
collection, and the paper is just now starting to digitize cassette audio tapes used by reporters during the weekly newspaper's first 31 years in business.
In 2009, soon after Obama was first elected president,
Windy City Times
released a copy found in its archives from a 1996 written candidate's questionnaire in which Obama said he was in favor of same-sex marriage. He later changed course and opposed it in favor of a compromise, but before his 2012 race for a second term, he revolved back to his 1996 position, as stated to
Outlines
newspaper (which merged with
Windy City Times
in 2000).
The May 7, 2004 benefit was a politically packed event, with local and national politicians, including a lot of prominent LGBT donors. As
WCT
stated at the time: "GLBTs raised nearly $100,000 for the campaign of Democrat Barack Obama for U.S. Senate from Illinois last Friday night downtown. U.S. Sen. Hillary Rodham Clinton was supposed to speak, but her flight was delayed after a long day of Senate hearings. Two other U.S. Senators and two U.S. Reps did attend in support of Obama: Sen. Jon S. Corzine (D-NJ), Sen. Dick Durbin (D-Ill), and Illinois Democrats Rep. Jan Schakowsky and Rahm Emanuel. Ald. Tom Tunney and Michael Bauer hosted the event."
Visit
Windy City Times
for audio links plus related links to transcript of the original interview, and more.