Frost Fest returns this weekend with heated tent and plenty of beer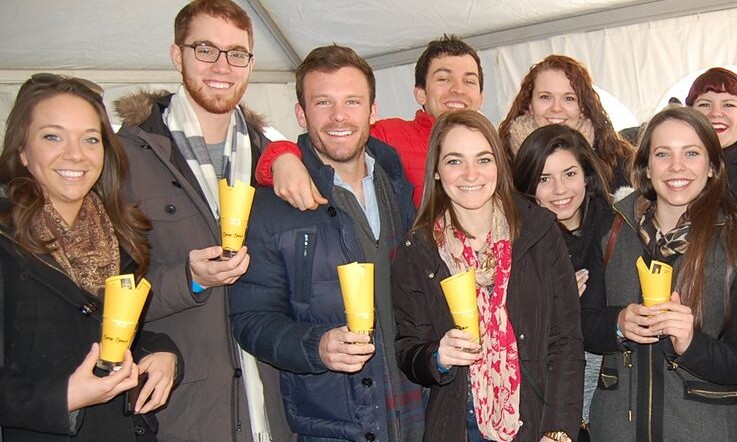 photo credit // northalsted business alliance
Frost Fest: Chill out with a cold one at Brisk Brews Saturday, Feb. 27 and warm up with Soup Walk Sunday, Feb. 28
Chicago, IL - Boystown's Frost Fest returns this weekend with a two-day celebration that's sure to cure your cabin fever.
"Frost Fest is fast becoming a signature winter event for us,"

Northalsted Business Alliance

Executive Director Christopher Barrett Politan told ChicagoPride.com." We can't wait to welcome residents and visitors alike for a fun-filled weekend and February send-off."
Slated for this Saturday afternoon and evening, the Northalsted Business Alliance plans to bring back the cool February fun beginning with its Brisk Brews craft beer festival.
Saturday's event will include tasting samples offered from 40-plus local and regional craft breweries during two tasting sessions from 1-4 p.m. and 6-9 p.m., all under a gigantic heated tent at Waveland Ave. and Halsted St. in Boystown.
Local brewers include Ale Syndicate, Begyle Brewing, 5 Rabbit Cerveceria, Around the Bend Beer Co. and Urban Legends Brewing Co.
That's in addition to a collection of local food trucks dishing up treats at the wintertime event, including Beavers Donuts, Chubby Wieners and Ms Tittle's Cupcakes. DJ Marc 'Moose' Moder will provide live music.
The $35 presale tickets include 15 tastings of 3 ounces each and a souvenir tasting glass. Tickets will be $40 at the door, and designated driver tickets for $10 provide entry to the festival without beer samples.
Frost Fest concludes on Sunday Feb. 28 from 1-5 p.m. with the yearly Soup Walk. The 3rd annual event warms up winter with nine Northalsted and Lakeview East restaurants showcasing their soups at retail business.
"The addition of Lakeview East as partners for the Soup Walk engages a larger portion of the neighborhood and expands our reach," added Politan.
Stroll or take a free trolley to hit all nine spots:
NoteworthyNotes (3629 North Halsted) with soup from Kit Kat Lounge and Supper Club
Egoist (3526 North Halsted) with soup from
Dive Bar
.
Boystown Collectibles (3453 North Halsted) with soup from
Taverna 750
Universal Wellness Source (3324 North Halsted) with soup from
The Chicago Diner
The Leigh Gallery (3306 North Halsted) with soup from
D.S. Tequila Co.
Cram Fashion
(3331 North Broadway) with soup from Café L'Appetito
Unabridged Books
tore-3521 North Broadway) with soup from The Bagel
GAP (3216 North Broadway) with soup from Escencia Urban Kitchen
wineHOUSE (3164 North Broadway) with soup from Soupbox