Replay, Elixir officially open in Andersonville (PHOTOS)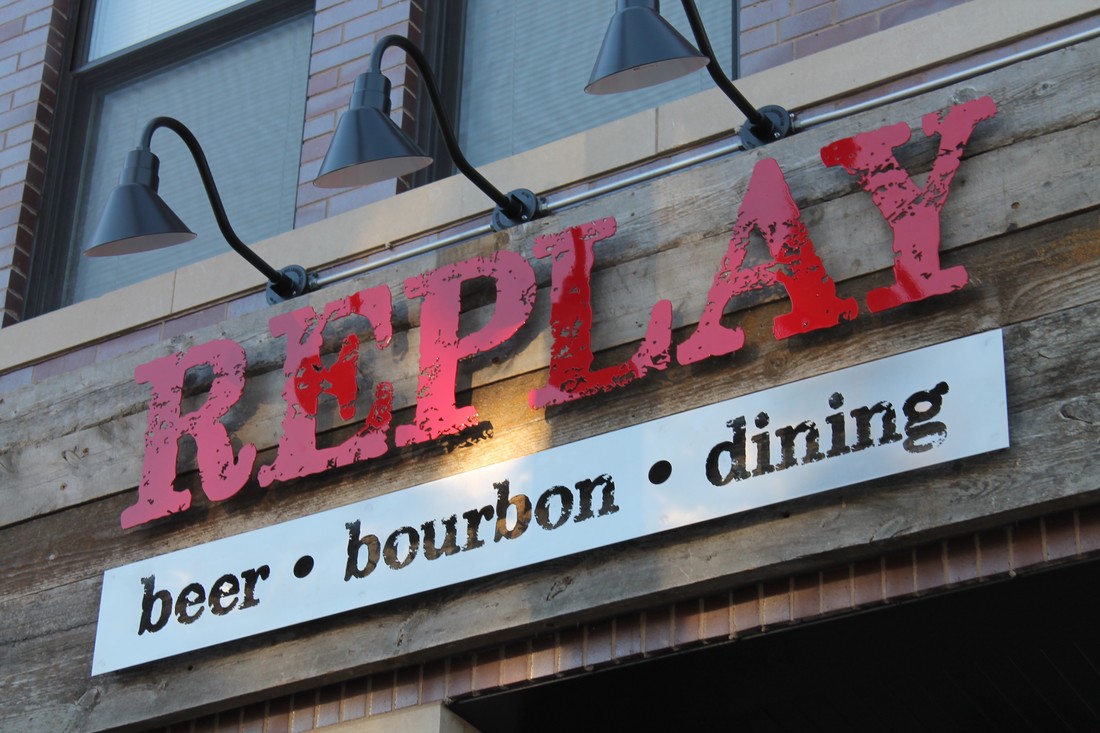 photo credit // andy ambrosius
The Boystown staples get majorly upgraded in the heart of Andersonville with bright, open spaces.
Chicago, IL - After much buzz and anticipation, two Boystown staples have officially opened sister locations in the heart Andersonville Tuesday, adding new features to the already established locations in Lakeview.
Located at 5358 N. Clark (at Balmoral),
Replay Andersonville
expands on its roots in Boystown by serving not only as a bar and vintage arcade, but also as a contemporary American restaurant. A total of 26 beers line the tap behind the bar in the 2,300-square-foot space, which is arguably much more open, airy and polished when compared to its Boystown counterpart.
However, the extensive new menu is where Replay Andersonville really stands apart from the Lakeview location. The 144-seat restaurant serves up a new breakfast, brunch, lunch and dinner menu from chefs Bernardo Ibarra and Steve Farbstein, formerly of Chicago's Girl and the Goat and Bristol & Gather, respectively. Seated around 25 contemporary vintage video games, diners can enjoy everything from applewood bacon waffles with black pepper butter to a grass-fed natural flat iron steak.
The new bar and restaurant is seated comfortably next to Elixir, close enough to be connected by a back door to Replay. Located at 1509 W. Balmoral – right next door to
Marty's Martini Bar
– the high-end cocktail lounge offers up premium concoctions from mixologists Vlad Novikov and Chad Shayes. Together the two crafted a list of drinks only found at the Andersonville location, like a floral, deep-purple number titled "Flower Power," which leads the menu.
It's all served up in a distinctly dim and "loungy" space. The 1,000-square foot location features dark wood paneling and exposed brick that delivers an inviting and intimate environment. While the location won't offer a full-service dining experience (yet, I'm told), Elixir will serve small plate dining options and simple, but sophisticated bar snacks. LKH chefs Ibarra and Farbstein partnered with Novikov to introduce signature dishes that complement the cocktails.
Both new spaces come from LKH Management, the group behind Lakeview's Hydrate, Halsted's Bar & Grill, Replay, Elixir and VII. LKH President Mark Liberson says opening both new Andersonville locations was a personal project for him, and the response from Andersonville patrons has been overwhelming.
"We're excited to bring Andersonville residents a new haven that celebrates the art of fine cocktails," Liberson said. "Elixir Lounge Andersonville is ideal for a date, casual night out with friends or a private party to celebrate a special occasion."
"We're not only excited about the food we prepare, but also passionate about the people we prepare it for," said Chef Steve. "We want guests to enjoy themselves, explore the menu and try something new, combining the familiar with the unexpected. Replay's combination of innovative food, craft beer, premium bourbon and old school arcade games creates an environment that takes you back to your formative years. We invite the community to join us to have a great time with friends and make new memories."
Guests are invited to the joint grand opening party on Tuesday evening to celebrate the new locations. Both will serve cocktails and hors d'oeuvres with a $10 donation at the door that will go to the Young Survival Coalition.
Replay Andersonville will be open from Monday through Friday from 11 a.m. – 2 a.m., Saturday from 9 a.m. – 3 a.m. and Sunday from 9 a.m. – 2 a.m. Food will be served Monday through Friday from 11 a.m. – 10 p.m., and Saturday and Sunday from 9 a.m. – 11 p.m., with late night menu offerings available every night.
Elixir Lounge Andersonville will be open Sunday through Friday from 5 p.m. - 2 a.m. and Saturday from 5 p.m. - 3 a.m. The lounge will accommodate 40 people, in addition to the outdoor patio, and sit adjacent to the new Replay Andersonville at 5358 N. Clark, which also opens on Tuesday, September 15. The two venues will share a kitchen and outdoor dining area.