Market Days 2015: Here's everything you need to know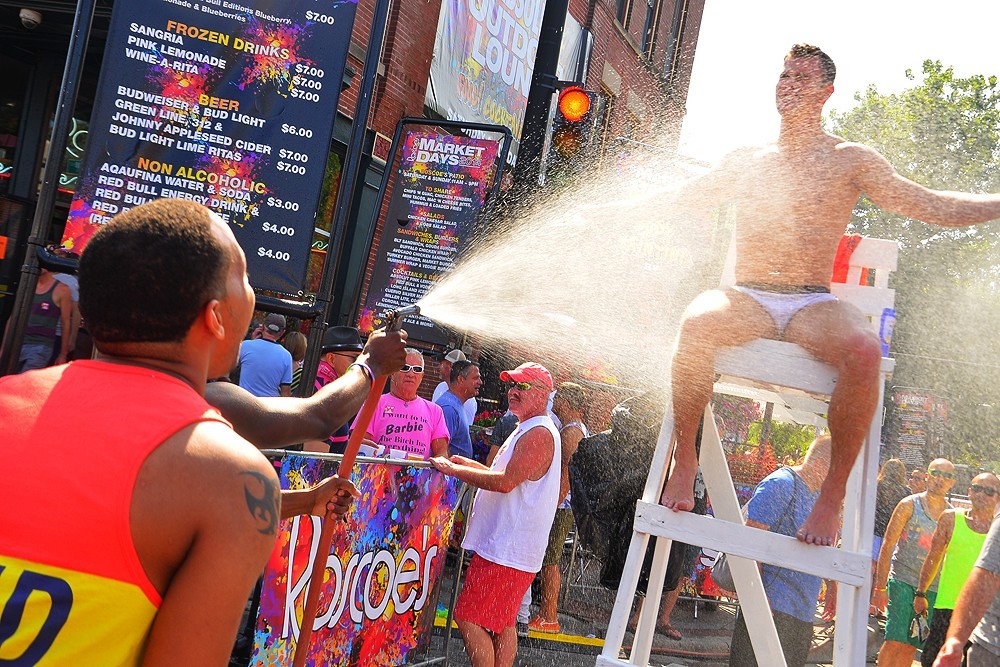 photo credit // eamonn sexton
More than 300,000 people flock to the festival, this year featuring acts Salt-N-Pepa and entirely new events for 2015.
Chicago, IL - The Midwest's largest street festival is back as Northalsted Market Days 2015 takes over Boystown with some of the biggest parties and performances in Chicago this weekend.
This Market Days celebration, however, is promised to be different than years past. Entirely new Boystown bars like SEVEN, Mahole and

Dive Bar

plan to add new flavor to the weekend mix, along with (mostly) new performers like
Salt-N-Pepa
,
En Vogue
and
Aaron Carter
.
Chicago's high-concept circuit party Neverland opened Market Days weekend on Friday night with their event titled "Origins" — previously known as "Savages," but changed
after some controversy
. On Saturday night, Circuit MOM presents the fifth installment of his yearly Revolution party as
the

House of Blues

will be transformed with an amazing set and lights to host "
Rise of the Villains
."
An over-the-top party not exactly the "family friendly" event you were hoping to attend? The

Northalsted Business Alliance

(NBA), who organizes Market Days and Chicago Pride Fest, announced a new event Wednesday to make the weekend celebration both adult and kid-friendly.
On Saturday from 9-11 a.m., NAB is hosting a "kid component" to Market Days, hosted in Boystown's Space Park at 815 W. Roscoe St. The morning family-friendly event will feature the children's entertainer Mary Macaroni, along with face painting from Paint On Me. Whole Foods will also offer up snacks.
Along with benefitting things like security and street cleaning in Boystown, gate donations to enter Northalsted Market Days go toward La Casa Norte and The Legacy Project. La Casa Norte serves youth and families confronting homelessness by providing access to stable housing and services that help transform lives and communities.
"Our events go beyond great entertainment and a festive weekend of fun," said Northalsted Business Alliance Executive Director Christopher Barrett Politan. "We strive to promote our businesses as well as our collective neighborhood's commitment to being 'Chicago's Proudest Neighborhood.' The festivals offer an opportunity for charitable partners to increase awareness of their missions. And, festival goers then understand where portions of the $10 gate donations are directed."
The 34th annual Northalsted Market Days takes over North Halsted Street from Belmont to Addison with three entertainment stages. The two-day street festival runs from 11 a.m. - 10 p.m. on Saturday and Sunday. ChicagoPride.com is a proud media sponsor.
Saturday, August 8
North Stage at Addison
1:45 pm - Blu Cantrell
3:30 pm - Who is Fancy
5:30 pm - Jack & Jack (
ChicagoPride.com interview
)
7:00 pm - Xelle
8:30 pm -
EnVogue
Roscoe Stage
1:00 pm - Funkadesi
5:00 pm - We are Nexus
5:40 pm - Erika Jayne
6:30 pm - Brynn Marie
9:00 pm - Melanie Martinez
Belmont Stage
1:30 pm - Thea Austin
4:30 pm -
David Hernandez
8:00 pm - Sandy B
Jazz/Cabaret Stage at Aldine
1:30 pm - The Cabaret Project Presents: You Bette We Did!
3:45 pm - The Flat Cats
6:00 pm - The Cabaret Project Presents: Cher the Love
Sunday, August 9
North Stage at Addison
1:00 pm -
Aaron Carter
2:45 pm - Sidewalk Chalk
5:00 pm -
Salt-N-Pepa
8:00 pm - All 4 One
Roscoe Stage
1:30 pm - Bright Light Bright Light
3:00 pm -

Chicago Gay Men's Chorus
3:45 pm - Abba Salute
5:45 pm - Catfight
8:00 pm - 16 Candles
Belmont Stage
2:00 pm - Frenchie Davis
6:30 pm - C+C Music Factory
Jazz/Cabaret Stage at Aldine
1:30 pm - The Cabaret Project Presents: Whiskey and Cherries
3:45 pm - The Cabaret Project Presents: The Gay 90s
6:00 pm - Amy & Freddy
www.northalsted.com