Security patrols, early bar closures expected to curb Chicago Pride Parade chaos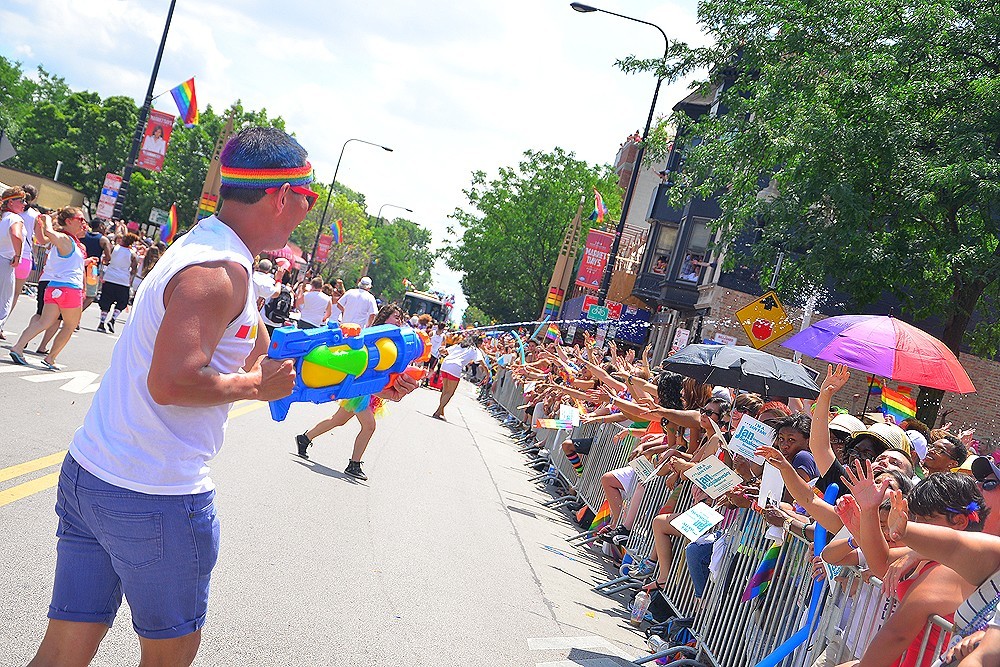 chicago pride parade, 2014
photo credit // eamonn sexton
The SCOTUS marriage equality ruling means more people at the Pride Parade than ever before. Will mayhem stay at a minimum, or will this be the last year the parade stays in Boystown?
Chicago, IL - As parade organizers expect more people than ever to flock to the annual Pride Parade following the
U.S. Supreme Court's ruling
on same-sex marriage, officials are doing everything possible to curb the mayhem – or risk losing the parade in Boystown altogether.
More than 1 million crowded Chicago's North Side in 2014 to cheer along the route of the parade, a crowd so big that many say it's outgrown its Uptown, Boystown and Lakeview home. While organizers
announced in April
the Pride Parade would maintain its roots for one more year, attendees should expect a number of drastic changes in an attempt to dial-down the chaos.
According to Lakeview Ald. Tom Tunney (44th), if these measures aren't effective, it could be the last year the Pride Parade marches on the North Side.
"If we do not see a serious improvement in behavior and the parade's impact on our surrounding residents' quality of life this year, we will have no choice but to move the parade out of Lakeview," said Tunney earlier this month. "This is a key year for determining whether or not the pride parade will stay in our community."
Drinking, Security and Partying All On Watch
First and foremost, besides the surge in additional Chicago Police Department officers patrolling the parade, organizers are providing 90 off-duty police officers to help along the route. Part of their job this year, unlike years past, is to enforce a zero-tolerance drinking policy with random alcohol checkpoints.
Fines will reach upwards of $1,000 for open containers along the routes.
That's in addition to local Boystown bars doing their part to keep the peace in the entertainment district. Licensed nightclubs that typically stay open until 4 a.m. are voluntarily closing at 2 a.m. the night of the parade.
"In keeping with Northalsted's 'Keep Pride Proud' campaign, we are more than happy to do our part as responsible members of our community," Sean Kotwa of

Hydrate Nightclub

told ChicagoPride.com. "We will do what is necessary to help ensure that the city's Pride celebrations are fun but more importantly, safe and respectful of our neighborhood."
Lastly, organizers have reduced the number of floats allowed in this year's parade to shrink the length of the parade from more than three hours to just two and a half. Tunney said the changes, which were made by an advisory group of community stakeholders, are meant to improve the parade's impact on Lakeview residents.
"Hundreds of thousands of people will be coming for the parade. Since the international theme for Pride celebrations this year is 'Color Our World with Pride,' we ask for their support in keeping the parade and the hours after the parade safe by celebrating both respectfully and responsibly," parade coordinator Richard Pfeiffer told ChicagoPride.com.
The Chicago 46th Annual Pride steps off at noon on Sunday, June 28 from the corner of Montrose and Broadway. The route continues south on Halsted, east on Belmont, south on Broadway and east on Diversey to Lincoln Park.
For updates throughout the day follow ChicagoPride.com on
Twitter @GoPride
.
Related:
All you need to know for the 2015 Chicago Pride Parade
Related:
Confirmed! Stanley Cup will be in Chicago Pride Parade