Pride Month kicks off in 'Chicago's Proudest Neighborhood'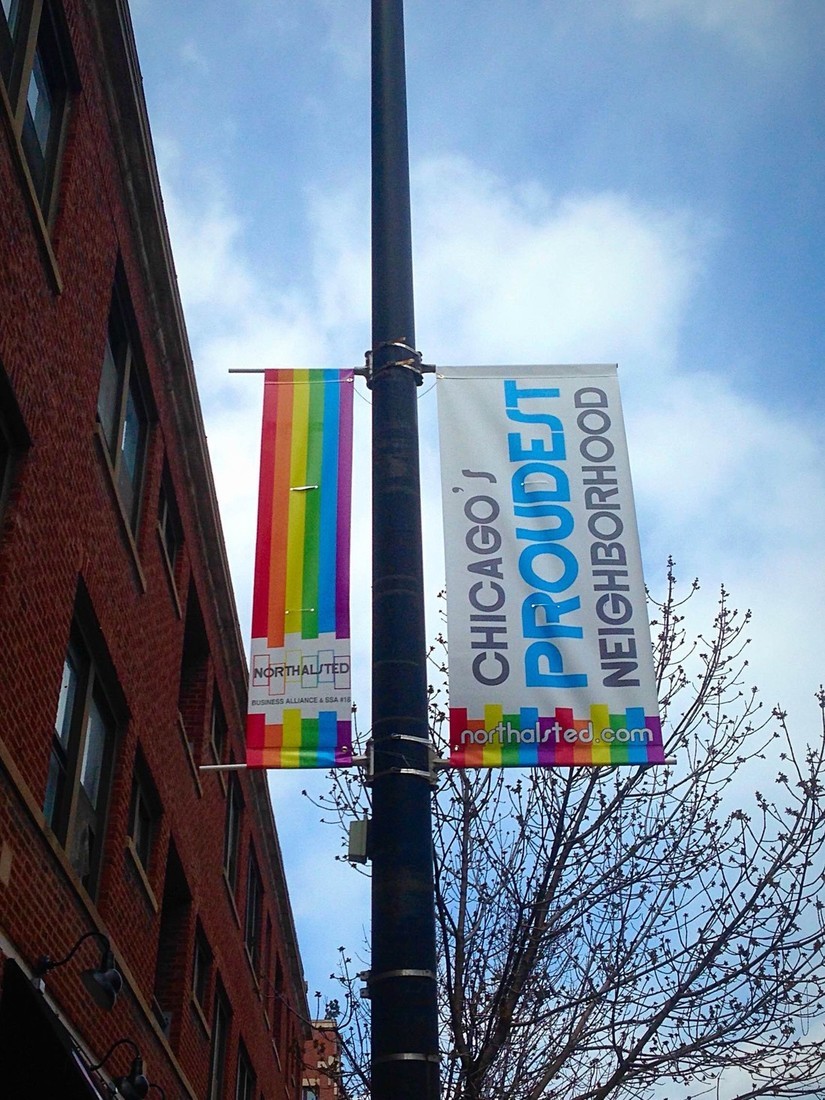 chicago's proudest neighborhood
Pride Fest, the Chicago Pride Parade, and a host of other actives ramp up during the month of LGBT pride
Chicago, IL - As LGBT Pride Month sparks festivals and political movements around the globe in June, Boystown is staking its claim as "Chicago's Proudest Neighborhood" in anticipation of some of the city's biggest events.
The declaration comes as a part of the

Northalsted Business Alliance

's "Keep Pride Proud" initiative, with the more than 80 Boystown businesses involved taking a proactive approach to both safety and fun during the rambunctious summer months.
"Celebrating Pride is about honoring and respecting our community's history as well as our future," said executive director Christopher Barrett Politan. "'Keep Pride Proud' goes beyond just a slogan; it's really the heart of a movement."
The campaign comes during a time where all eyes are on the predominantly LGBT neighborhood, focusing on both security concerns and the celebrations pinned for the month of June.
For the fourth year in a row, the Northalsted Business Alliance announced its plans to hire private security in Boystown to curb crime, specifically on the weekends and during major events like Pride Fest.

PRIDEChicago

, the parade organizers, also announced it will provide a security team of 90 off-duty police officers to supplement the Chicago Police presence during the 46th Annual Chicago Pride Parade on June 28.
Now drawing more than 1 million people, officials are still examining if the parade is too large for the North Side.
"We ask for your support in keeping the parade safe by celebrating both responsibly and respectfully," Lakeview Ald. Tom Tunney (44th Ward) and Uptown Ald. James Cappleman (46th Ward) said in a statement released to ChicagoPride.com. "If we do not see significant improvement this year, it may be the last year that the parade is in our community. Let's work together to ensure that the Pride Parade is a positive reflection of our pride in our neighborhood, city, and LGBT community."
In the meantime, however, both the parade and the annual street festival will stay in Boystown. Scheduled for June 20-21, Chicago Pride Fest takes over North Halsted Street from Addison to Grace every year, turning Boystown into a LGBT celebration with three entertainment stages.
Along with "Queen of Bounce" Big Freedia -- who is best known for his NSFW video for "Peanut Butter" with RuPaul -- other popular names like Debbie Gibson, the Pussycat Dolls' Jessica Sutta, Cazwell, and Estelle will take the Main Stage at North Halsted and Grace. Local favorites, including Cat Fight and 16 Candles, will perform the South Stage at North Halsted and Addison.
The festival and parade is coupled with other major LGBT celebrations in June, like the 34th annual Proud to Run 5K/10K race and the high-concept themed dance party Neverland that are both slated for June 27.
More than 100 other LGBT-focused events mark nearly every other day in June on the 2015 Chicago Pride Calendar.
And Chicago Mayor Rahm Emanuel has issued a proclamation recognizing June as Lesbian, Gay, Bisexual and Transgender (LGBT) Pride month in Chicago.
"Chicago's active and involved Lesbian, Gay, Bisexual and Transgender communities make an indelible impact upon the quality of life in Chicago, and Pride Month serves as a call to our collective consciousness to persist in the fight to eradicate prejudice and discrimination everywhere," wrote Emanuel.
Related:
Ty Herndon named Grand Marshal for 2015 Chicago Pride Parade