Top 6 must-see musical acts of Market Days 2014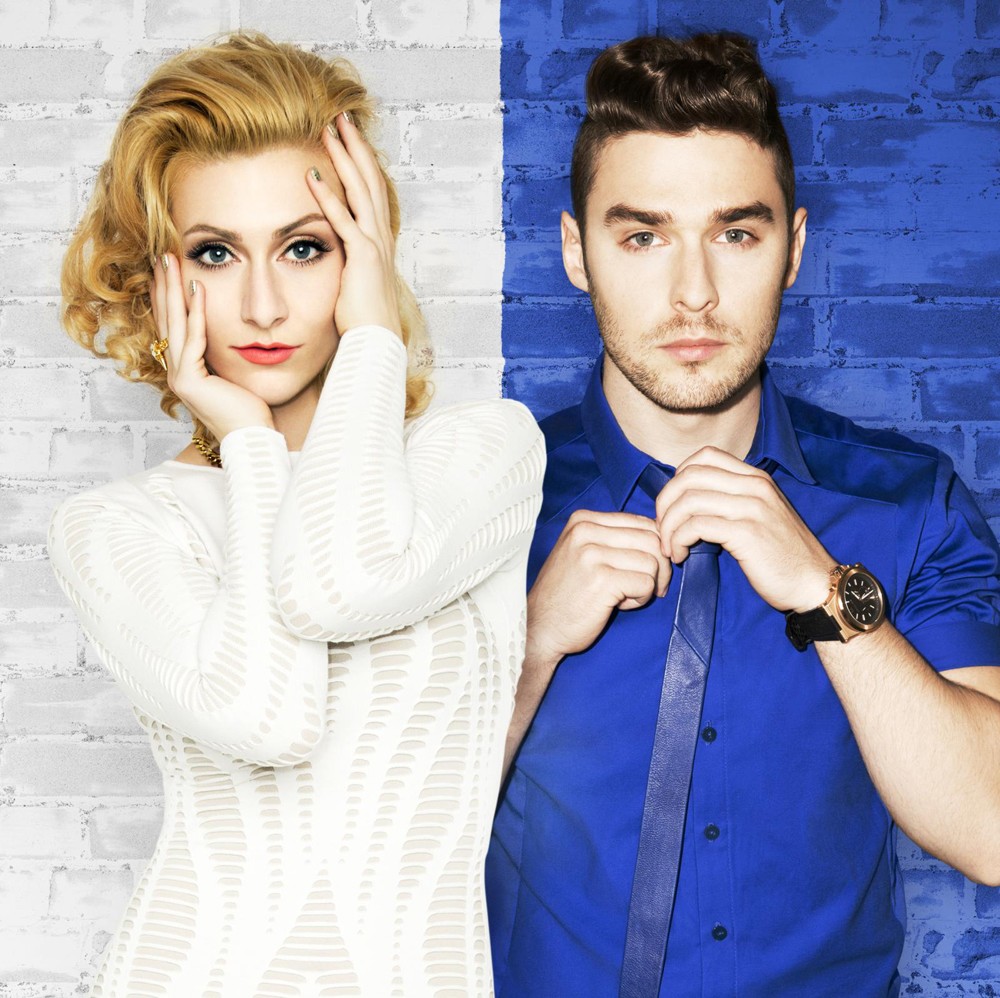 karmin headlines market days, sunday, august 10
Chicago's music experts from Fusion Radio break down the acts they're most excited to see in Boystown.
More than 40 musical acts may be taking the stage this weekend in Boystown, but there are six headliners and up-and-comers that shouldn't be missed at Northalsted Market Days.
Considered to be the Midwest's largest outdoor festival, Market Days runs Aug. 9-10 on Halsted Street for six blocks between Belmont and Addison in Boystown. And with three main music stages, the event is packed with performances.
"There is something for everyone," said Gehrig Peterson, a veteran music director for Chicago

Special Events Management

, who booked the acts for Market Days (and Pride Fest). "It's an amazing mix of music from pop, rock, punk to country. Market Days is for everyone and so are the music acts that were selected this year to perform."
Six musicians, however, have the pros at the Chicago-based Fusion Radio Network buzzing. The Internet dance radio station, who is also a media sponsor of Market Days, shares with ChicagoPride.com a few unknown artists that can't be missed. That's combined with the festival headlines who will undoubtedly draw big crowds.
"It's exciting to see Market Days organizers expand the artistic range with Karmin and Neon Trees," said Manny Esparza, CEO of Fusion Radio Network. "I'm also excited to see them open the opportunity to new up-and-coming artists such as Ariana & The Rose, Steve Grand, and Carey Nokey. I think it reflects the growing music diversity within the LGBT community.
"Ariana & The Rose is an amazing singer-songwriter with great productions and energetic live performances," Esparza continued. "She's the girl next door that completely transforms into a pop star when she's on stage."
Karmin (North Stage - Sunday, 9 p.m.)
"This feisty and fun duo commands the stage with an action-packed, energetic show filled with incredible live vocals," said DJ Ron, music director for Fusion Radio Network.
Two years after their debut at Market Days and a major world wide breakout, Amy Renee Heidemann and Nick Noonan -- better known as Karmin -- are back on North Halsted.
"When we had an opportunity to come back we decided to do it," Noonan told ChicagoPride.com.
The musicians are just coming off the second leg of their tour following the release of Karmin's first full-length album Pulses, which dropped in March.
It's a long way from where Heidemann and Noonan started, who are also dating offstage. Before "Brokenhearted" and "Hello," Karmin was nothing more than a YouTube cover band, posting videos online and drawing massive views. Now they're slated to host the 2014 Teen Choice Awards.
Neon Trees (North Stage - Sunday, 5 p.m.)
Blend new wave-pop with a dash of alternative rock, and what you get is Neon Trees, one of the top headliners planning to tear up the stage at Northalsted Market Days.
"Neon Trees is probably the biggest current act to play Market Days, along with the most production," said Peterson.
The four-person band originally born out of Provo, Utah found its roots performing as the opening act during The Killers' North American tour in 2008. It wasn't long, however, until Neon Trees moved into the national spotlight.
Neon Trees burst onto the alternative rock charts with their 2010 album Habits, and is now best known for the songs "Animal," "1983" and "Sleeping with a Friend." Since Habits, the band has produced two more commercially successful records, Picture Show and Pop Psychology.
Belinda Carlisle (North Stage - Saturday, 8:45 p.m.)
After more than 30 years in the music industry, it's clear Belinda Carlisle's still got the beat.
The lead vocalist of the Go-Go's is headed to Northalsted Market Days, bringing with her smash hits like "Our Lips Our Sealed, "We've Got the Beat," as well as songs from her solo career like, "Heaven is a Place on Earth."
As one of the most successful all-female groups of all time, the Go-Go's are responsible for a number of iconic hits, selling more than seven million albums.
"Still touring with and without the GoGo's, Belinda is a huge draw around the world," said Peterson. "She has always been very loyal to the LGBT community, which has always supported her efforts."
Steve Grand (North Stage - Saturday, 5:30 p.m.)
Although he has more than 3.2 million views of "All American Boy," a fully funded Kickstarter campaign to record a debut album and a list of accolades in the media, Steve Grand is just beginning his career.
Grand -- who hails from Lemont, Illinois outside of Chicago -- is considered the first openly gay male country musician in the United States. He's headed back to the Windy City for Northalsted Market Days after most recently headlining at WorldPride in Toronto alongside Melissa Etheridge and Deborah Cox.
The singer/songwriter is putting the finishing touches on his fan-funded album, expected later this year. On March 6, the crowdfunding campaign that financed the project became one of the top 10 most-funded music projects in Kickstarter's history.
Along with "All American Boy," Grand already released two more singles, "Stay" and "Back to California," both of which will be on the forthcoming album.
"Steve Grand and Branden James, both openly gay, first played Market Days and are now returning after a huge year of success for each of them," said Peterson.
Mary Lambert (Roscoe Stage - Sunday, 12:15 p.m.)
If you haven't heard of Mary Lambert, you undoubtedly caught yourself singing her lyrics.
"And I can't change. Even if I tried. Even if I wanted to. My love, my love, my love. She keeps me warm."
It's from Lambert's breakout collaboration "Same Love" with Macklemore and Ryan Lewis, which thrusted her onto the singer/songwriter scene and in the LGBT spotlight. The out-lesbian and Seattle-native is headed to Boystown after dropping her second EP in December, the most recognizable song being "She Keeps Me Warm."
Ariana & the Rose (Roscoe Stage - Sunday, 4 p.m.)
The singer of "In Your Bed" and "Heartbeat" is a red-hot up and comer, taking on the alternative synth-pop genre and making it her own. The "amazing singer-songwriter," as Fusion Radio's CEO refers to her, just dropped her debut EP Head vs. Heart earlier this year, and a full-length album is expected in the near future. The fresh-faced pop star will also be at the Fusion Radio booth Sunday at 5 p.m. for a meet-and-greet with fans.
Northalsted Market Days runs Aug. 9-10 on Halsted Street for six blocks between Belmont and Addison in Boystown. A $10 donation is recommended. $20 per day VIP tickets, which includes front-of-stage access at the North Stage, will be available at the information tent, 3524 N. Halsted.
Market Days Schedule:
Saturday, August 9
|
Sunday, August 10
Interviews:
Belinda Carlisle
|
Karmin
|
Tyler Glenn of Neon Trees
ChicagoPride.com is a media sponsor of Northalsted Market Days