Ald. Tunney would consider plan to move Chicago Pride Parade downtown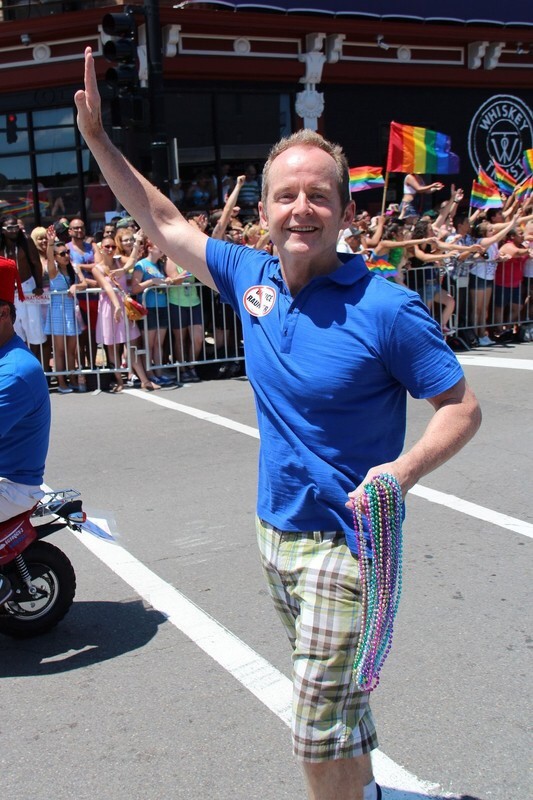 tom tunney in 2014 chicago pride parade
photo credit // chicagopride.com
Art Johnston: 'Geography is important'
Chicago, IL -
Alderman Tom Tunney (44th) said Monday that he is open to the possibility of moving the annual Chicago Pride Parade from Boystown to downtown.
"We hear from our residents that they don't feel safe in their neighborhood – that there is too much...alcohol and partying all night long," Tunney told WBBM Radio.
Tunney's comments come after Sunday's Pride Parade, which drew more than one million people to the north side neighborhood.
Chicago Police said in a
statement
released Sunday to ChicagoPride.com, "Despite the large crowd, there were only a handful of issues including eight arrests, one of which was for criminal damage to a police vehicle."
Kristen Linscott posted several
photos to Twitter
and a
video to Telly
showing crowds sitting and standing on a squad car with a broken windshield. The video was recorded near Halsted St. and Aldine Ave. in Boystown.
"This is why we hate pride," someone, presumably Linscott, can be heard saying in the video. "People destroy everything."
A second unattended squad car near Halsted and Buckingham was also reportedly damaged.
"If there is an option to go downtown, will that make the conduct of the fans more reasonable? I'm not afraid to look at it," Tunney added.
Columbus Drive is one consideration for the new parade route as it would better accommodate the large crowds in terms of public safety and transportation, according to proponents of such a plan.
Boystown business owners and community leaders say the parade is vital to the neighborhood from a cultural and social perspective.
"Geography is important,"
Sidetrack
owner and co-founder of
Equality Illinois
Art Johnston said Monday on
WBEZ Radio
. "And Lakeview, and specifically the North Halsted area have always been incredibly welcoming to people from all over the United States.
"It is important to celebrate Lakeview and to remind the world of why Lakeview is now called the very best gay neighborhood in the world. That's no accident. That says a lot about the gays and lesbians who have moved into the neighborhood. And, about the residents of the neighborhood and how they view the world."
For many restaurants and bars along the parade route and Chicago Pride Fest, the end of June marks the biggest weekends in gross sales.
"If we were to move the parade out of that community, we would lose a lot more than some beer that wouldn't be sold," said Johnston.
Roscoe's Tavern
General Manager Brenden Chrisman told ChicagoPride.com, "We would hate to see something that has been part of the neighborhood and community for so long, like the Pride Parade, moved to a different location. However we understand there are many factors involved and look forward to working with the neighborhood, fellow businesses, elected officials, and the police to come up with solutions for a safe and successful parade next year, no matter where it is held."
On parade day, Roscoe's serves approximately 4,000 to 5,000 customers.
As for moving the parade downtown, many in the community say it would be an opportunity to bring even greater exposure for the LGBT community.
"Tradition in its nature grows, expands and evolves," community advocate and personality Cyon Flare told ChicagoPride.com. "Boystown has the power to create other pride festivals, in fact, expand on Pride Fest itself, but by moving the parade downtown, I feel will have an even greater benefit to the legacy of the LGBTQA Pride Parade."
Community advocate David Hackett agreed, "There is lots of history associated with the location of the parade, which makes the parade so special and unique. But that being said, I think moving the parade might be worth a try. Since is has been so popular and attendance keeps growing, we might emulate New York City and follow the parade with a festival in
Grant Park
."
He added, "I am so glad they did the re-route a few years ago, it made a huge difference."
In 2012, the City of Chicago and parade organizers,
PRIDEChicago
, lengthened the parade route by five blocks to allow more space for spectators after crowds doubled over the previous three years. The start of the parade was moved to Montrose Avenue and Broadway in the Uptown neighborhood instead of the traditional Belmont and Halsted start location.
Pride Fest organizers, who in 2013 moved the street festival to the weekend before the annual Pride Parade, told ChicagoPride.com they would "have no comment until discussions with all parties have occurred." Parade organizer Richard Pfeiffer was not immediately available for comment.
Gay pride parades held around the nation Sunday drew huge crowds. San Francisco's Pride Celebration, which hit the one million attendee milestone this weekend, had 75 arrests, mostly for public intoxication. San Francisco Police announced one woman was injured in a shooting during Saturday's celebration.
Related:
More than 1 million people celebrate at Chicago Pride Parade
Update:
(July 1) Chrisman told
WBBM Radio
on Tuesday that the real issue is a lack of cooperation from police officers after the parade is over.
"They were acting more like crossing guards," Chrisman said. "I feel, from a management standpoint, that our security staff was more engaged with the problems on the street than the police themselves."
Update:
(July 1) 19-year-old Dionte Rice, of the 11600 block of South Church Street, was charged with criminal damage to property in the incident with the police squad car at Halsted and Aldine. He was ordered held on $25,000 bail by a Cook County judge, according to
DNAInfo
. Petronial Donaldson, 28, was also charged Monday, for aggravated battery against a police officer during the parade. She was released on her own recognizance.
Update:
(July 1) Ald. Tunney told
Windy City Times
, that, "I'm not saying 'yes' and I'm not saying 'no,'" about a potential change of venue.