Lambda Legal Bon Foster benefit honors Fred Eychaner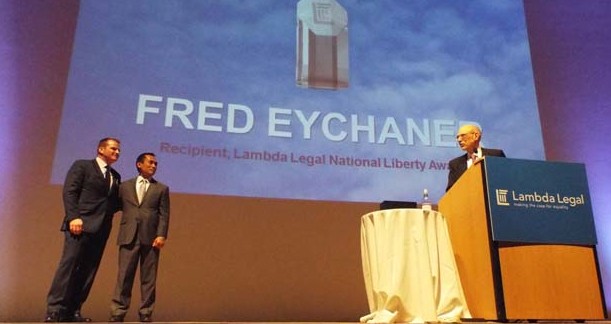 lambda legal honors fred eychaner
photo credit // gretchen rachel blickensderfer/wct
Chicago, IL - Longtime businessman, activist and philanthropist Fred Eychaner received a standing ovation from the hundreds of people attending the Lambda Legal Bon Foster benefit April 23 at
The Art Institute of Chicago
.
Eychaner was given the Lambda Legal National Liberty Award, the first time the honor has been presented outside of New York or Los Angeles.
Bon Foster's bequest of "everything he had"—according to Lambda Midwest Regional Director Jim Bennett— helped establish the Midwest Office of Lambda Legal more than 20 years ago.
The event was a celebration of Lambda Legal's work in Illinois and nationally, not just on marriage equality, but on a myriad of LGBT and HIV/AIDS issues. Speakers included Bennett; Lambda Legal Executive Director Kevin Cathcart; Camilla Taylor, Lambda Counsel and Marriage Project National Director; John McGowan, national leader of presenting sponsor Northern Trust's LGBT and non-traditional practice; and event co-chairs Ray Koenig and Johnny Song, who introduced Eychaner.
In his speech, an emotional Eychaner looked back on more than 40 years of LGBT progress, from the drag queens fighting back at Stonewall, to those in ACT UP fighting for their lives against HIV and AIDS, to the lesbians who gave blood when gay men could not, to the hatred spawned by Reagan-era Republicans, to Irwin Keller and Jonathan Katz of Gay and Lesbian Town Meeting fighting for rights in Chicago in the 1980s, and to the present battle for marriage. "Always remember, never forget," he chanted at several points.
Read more from Windy City Times