National Gay & Lesbian Sports Hall of Fame announces 2013 inductees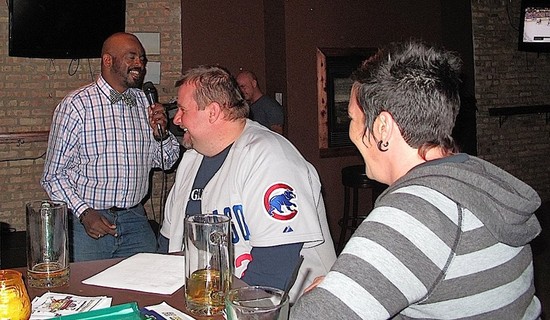 bill gubrud (center) at the oaw national anthem contest
First of its kind LGBT sports hall of fame is based in Chicago
Chicago, IL -
The National Gay & Lesbian Sports Hall of Fame, the first of its kind in the U.S.
, will recognize those who have stood up to stereotypes and worked to break down the walls of differences to bring people together for the good of the games during a ceremony in Chicago.
"The hall of fame has been established to honor individuals and organizations whose achievements and efforts have enhanced the fields of sports and athletics for the gay and lesbian community," said
Bill Gubrud, executive director of the Chicago-based non-profit organization.
The National Gay & Lesbian Sports Hall of Fame Board has selected the first induction class. Inductees include, Glenn Burke, Christina Kahrl, Renee Richards, Martina Navratilova, Greg Louganis, Billie Jean King, Jason Collins, LZ Granderson, Dr. Tom Waddell, Orlando Cruz, Andrew Goldstein, Ben Cohen, Jerry Pritikin, Chicago Cubs, Outsports.com, International Gay Rodeo Association (IGRA) and Anheuser-Busch. We are accepting nominations until July 1st at
www.gayandlesbiansports.com
.
The induction of the first honorees will happen on Aug. 2, 2013 through a ceremony at the

Center on Halsted

in conjunction with Out at Wrigley on Aug. 3, 2013 – the nation's largest "Gay Day" at a major league sporting event. Tickets for the induction ceremony will go on sale June 17th.
The Hall of Fame's official website, will feature additional information about the organization, nomination forms, and upcoming events. Commentary related to the organization's mission, along with news, links can also be found on the website.
ChicagoPride.com is a proud sponsor of Out at Wrigley.